Whether you're a full-time work-from-homer or you spend all your free time side hustling, sometimes we all need a second space to clear our heads and get to work. And get a jolt of delicious, delicious coffee. Philly loves its coffee as much as it loves its beer, both of which are taken seriously but served without pretension. When you're in search of where to park yourself and your laptop, you can find a comfortable spot in most neighborhoods, some spaces even offering table reservations. From all-day cafes that slip into night to shops serving satisfying lunches, check the city's most beautiful coffee shops that double as places to do work.
Recommended Video
Thrillist's Best (and the Rest): What You Actually Need to Know About Natural Wine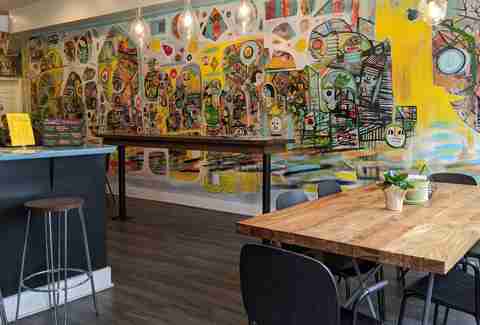 Best for working all day with a side of gelato: Flow State CoffeeBar
Kensington
This is a welcome oasis for telecommuters who are tired of getting the stink eye from baristas. Flow State offers packages in its co-working space, where $3 gives you a reserved seat and free Wi-Fi for three hours, so you don't have to linger around waiting for a good work spot to open up. You can even drop $30 to stay all day and get unlimited coffee plus food -- even an Affogato, two scoops of gelato dripped in coffee.
Best for coffee nerds who want an unplugged existence: La Colombe
Multiple locations
La Colombe has numerous locations throughout the country. But the No. 1 destination in Philly is its massive Frankford Avenue shop, a space big enough to host a wedding but usually just hosts tons of coffee lovers who may be working -- but not with Wi-Fi. La Colombe has somehow thrived even without offering any kind of internet connection, making it great for meetups or getting lost in reading (or to utilize your hotspot).
Best mid-day office escape: Elixr
Multiple locations
Hidden on Sydenham Street in the middle of Center City, Elixr is a stark contrast to the packed sidewalks and high-rise office buildings littering the noisy Rittenhouse neighborhood. All Elixr locations, including in University City and its roastery on 12th Street, are decked in a calming, dark romance aesthetic, with gothic floral wallpaper to boot. Consider it your work-day reverie.
Best for impressing at client meetings: Rally Coffee
Bella Vista
Having a professional-esque coffee meetup can be tricky if you work from home -- it's not like you want them to see you in that haven't-seen-sunlight-yet-today state. For getting work done and a bit of networking, Rally Coffee has tables specially reserved for your meeting needs. The Rally team doubles as a branding and creative agency, its staff working out of the coffee shop, so why shouldn't you? You can make single table reservations ($8/hour for a two-top) or even book for large tables up to 10. If you're flying solo, the airy aesthetic on a quiet Queen Village corner still makes it ideal for fuel and focus.
Germantown
If good coffee isn't enough to sustain your workflow, head to Uncle Bobbie's for delicious food, including a few vegan options, and to peruse the book collection. The community space holds a thoughtfully curated collection of books spanning genres, especially highlighting authors and writers of color. The event space next door welcomes authors and hosts special events all the time, the goal to make it easy for people to meet, mingle, and get inspired.
Best for transitioning from coffee to happy hour: Dock Street South
Point Breeze
The second location of Dock Street Brewery introduced coffee to the mix, making the expansive corner space an all-day cafe as well as a local brewery. Get a seat by the window and enjoy coffee, pastries, and small plates from the in-house Center of Gravity Coffee Bar. If you're there for lunch, you can get a sandwich, side salad, and coffee (or beer) for $10. From there, just glide naturally into happy hour starting at 4:30 for discounted brews and snacks.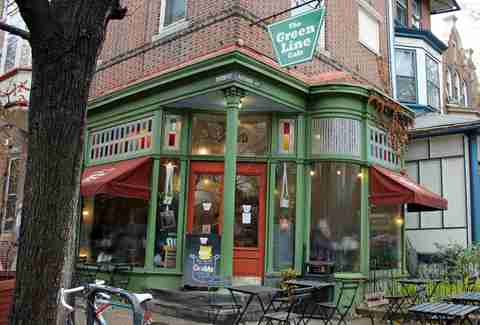 Best for a peaceful sit outside: Greenline Cafe
Multiple locations
The Greenline Cafe has seven locations all throughout Philly, including two others in the 40s and one in the heart of Center City at 17th and Arch. The original at 43rd and Baltimore, of course, is among the most beloved. It's on a peaceful corner overlooking Clark Park -- one of those little oases that makes you forget you're in a big city. It's perfect for people or park watching on that shaded corner, and it doesn't hurt that the coffee and food itself is fresh and served with a familiar warmth. There's a reason the first cafe has been dubbed West Philly's living room.
Best for an aesthetic to match your mood: Rival Bros.
Multiple locations
The South Philly outpost of Rival Bros, as well as its locations in Rittenhouse and Fitler Square, are committed to quality coffee, which means you can expect house-roasted blends as well as carefully and ethically sourced single-origin beans. The Tasker Street and Lombard Street shops feature simple, crips interiors with outdoor seating, while the Spruce Street location, connected to The Touraine, features marble tiling and dark, moody finishes.
Best for a getting a pound of cured meat to go: Bower Cafe
Washington Square West
Of course, Philadelphia has a trendy cafe that doubles as a place to buy cured meats. Of course it does. Bower Cafe serves coffee free of syrups or artificial flavoring, capturing a purified coffee experience that can be rightfully enjoyed with an open-face sandwich. You can dine in for toasts and salads, but it's the hand made, dry-cured meats that will really get your attention. After setting up shop for coffee, you can head home later with a half-pound of chorizo (or pancetta, or sopressata) under your arm. When you're inside, expect a close-knit and cheerful community.
Best for amazing coffee sans snobbery: Ultimo Coffee
Multiple locations
Ultimo Coffee has been celebrated for serving the goods without the cliche elitism that can too often plague a good coffee shop. Its first location at 15th and Mifflin has gained some siblings over the last several years, with shops in Graduate Hospital, Rittenhouse, and Germantown serving signature roasts in a placid, less-is-more environment.
Bella Vista
The ever-welcoming Chapterhouse Cafe keeps decor simple so it can line its walls with different artwork that changes seasonally to highlight local artists. The cafe boasts organic fair trade coffee as well as pastries and smoothies, plus tons of space to get to work on your own masterpiece. You can grab a hightop at the front window to people watch 9th Street, or head to one of the big back rooms, outfitted with tables and couches that together give off a relaxing, never-want-to-leave vibe.
Sign up here for our daily Philly email and be the first to get all the food/drink/fun in town.