Center City Sips has been in full swing for a minute now, and chances are you've managed to do some damage to your liver when Wednesday rolls around. To maximize the weeks we have left to go hard on discounted drinks ($3 for beer; $4 for wine; and $5 for cocktails) and half-priced food, we rounded up the best deals during Center City Sips (even if that means going to work with a hangover on Thursday). While you'll get the most bang for your buck at these places below, don't forget to check out the complete list of participating Sips bars and restaurants here.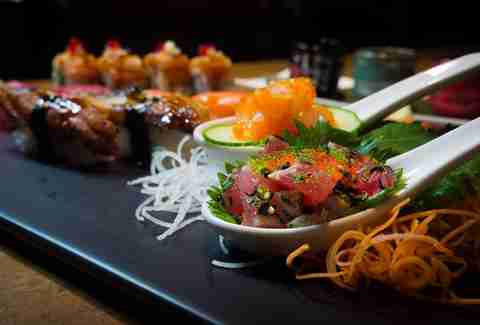 Chinatown
Turns out, one of your go-to karaoke destinations is also a generous observer of Sips, with enough half-priced sushi and seafood appetizers to fill you up (and then some) for dinner, but you'll need to eat anyway because you have over a dozen wine, beer, and cocktail options, including the signature 11th Street Ginger Mule, to choose from each week.
Rittenhouse
Tequilas is all about the ambiance, whether you score a table outside on Locust St on a perfect summer day or find a spot inside, surrounded by intricate architecture and plenty of Dia de los Muertos decor. One very special bonus: if you stay for dinner after Sips, you'll get a discounted meal (15% off). So save room for guac!
Rittenhouse
The creative cocktails and delicately crafted small plates at Fine Palate make it the spot for Center City Sips when you're looking for a fun yet low-key alternative to Wednesday party spots like Marathon on Market. Try all the skewers or some eggplant caviar ($5) and grab a seat by the large open windows where you can drink the discounted Frisky Ginger cocktail in peace.
Washington Square West
Like Tequilas, stopping by here for Center City Sips means you get a 15% discount on dinner that same evening, which is a perfect way to try Garces' tasting menu (heavy on influences from Western Europe) for a fraction of the usual cost. During happy hour, get a preview with half-priced appetizers like the house-made mozzarella with a glass of house wine. How could you not stay for dinner after that?
Logan Square
The main draw of the aptly named SkyGarten is its insane view -- the indoor-outdoor space sits on the 51st floor of Three Logan Square at Top of the Tower, quite possibly making it the tallest beer garden ever. The $5 Irish Goodbye cocktail is a good way to start out strong for the evening, and when you start to fade, just grab a half-priced bratwurst sandwich.
Midtown Village
Whether you're a dedicated vegan or just looking for some stiff drinks, you'll be pleased to come across the discounted menu at Charlie was a sinner. this summer. If you're tofu-averse, the Korean-style fried tofu here will make you a believer. The $5 cocktails include the ever-changing Charlie's Punch and the Mad King, made with Irish whiskey, pinot noir, elderberry, hibiscus, lime, and fresno chili.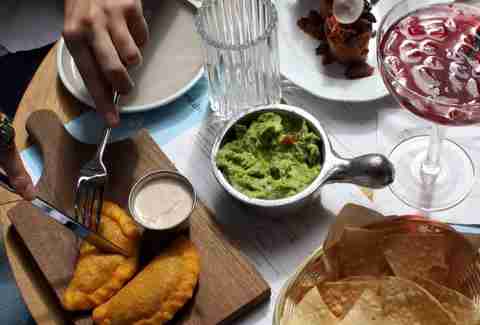 Rittenhouse
Another vegan spot appealing to carnivores as well, Bar Bombon's menu is full of plant-based Puerto Rican cuisine you can get for much less during Sips, like $3 tacos, $5 empanadas, not to mention $4 red sangria. The bartenders pick the discounted $3 beer for Sips every week.
Market East
Discounted comfort food bites are the big draw at Smokin' Betty's, where the novelty of weekly grilled pizza specials will only set you back six bucks; cheesesteak egg rolls and grilled wings are even cheaper. Smokin' Betty's has four specialty cocktails for Sips, including the Mrs. Daly, with two types of vodka, iced tea, and lemonade -- in case you want to get your adult Arnold Palmer on.
Rittenhouse
For tons of sushi for a fraction of the usual cost, Fuji is a destination like no other. More than a dozen types of rolls go for just $4 each, along with a few small plates at half price (fried calamari, edamame, etc.). The Sips beer menu isn't very thrilling, but you can always opt for a summer cocktail like the watermelon saju martini.
Sign up here for our daily Philly email and be the first to get all the food/drink/fun in town.