The Best Dive Bars in Philadelphia
Citywide specials and karaoke, coming right up.
There are only two things you need in life: A citywide (for those uninitiated, that would be a shot of Jim Beam and a PBR) and a seat at your neighborhood dive bar. Luckily, in whatever neighborhood you call home, there's likely a dive or two where spending your hard-earned dollars is well worth it. Pull up a stool, grab a bargain beer, and meet your new best friend (or at least your best friend for now) at Philly's best dive bars.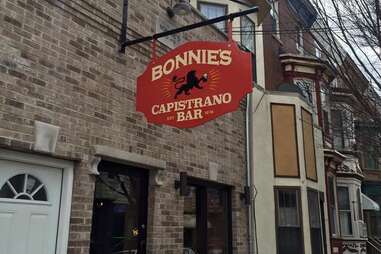 Passyunk Square
Formerly one of the few spots where smoking inside was still permitted (though thanks to the pandemic, that's no more), Bonnie's has been around for more than 45 years. A $5 Citywide will get you a pint of High Life and a shot of Evan Williams whiskey any time of day, even as early as 7 am when the spot opens its doors.
Fishtown
No night out in Fishtown would be complete without a few very cheap beers at this cash-only haunt. With an outdoor patio (complete with friendly stray cats) and charmingly dingy interior with ample seating, here is where you can get the most bang for your buck.
Fishtown
There's only one place where you can play Bingo with the neighborhood on Wednesday, eat a Fireball-soaked apple on Thursday, and sing karaoke on Saturday—and that's Les and Doreen's. With cheese fries and cheesesteaks cooked fresh in the kitchen, the food pickings aren't bad, either.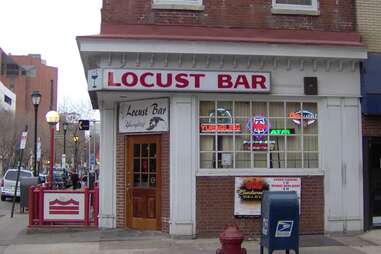 Washington Square West
Walk into any good dive bar and you should be amidst a ragtag mix of people. On any given night at Locust Bar, you might find a mix of regulars, young professionals, standard drunks, Jefferson students, and staff hanging out after a long shift—all enjoying a cheap drink and maybe some of those delicious cajun wings.
Rittenhouse
With $3 High Lifes and $4.95 onion rings, Locust Rendezvous has prices that simply can't be beat. At the Vous, as it's known by some locals, you can get a head start on your boozin' at 11 am or just simply find a seat to land in to watch the Birds.
Girard Estates
Skip Xfinity Live if you want a pre-game drink and instead head to McCusker's, where you just might skip the game to watch on the bar's TVs with the lively crowd. Wood panelled walls are decked out with sports and culture memorabilia (some of which has been there since the spot opened in 1968). Bring whatever food you want and score $3 draught beers.
Rittenhouse
This longstanding Center City dive—one of the last remaining spots where you can smoke indoors—was once dubbed the best dive of them all, and it's got the chops to prove it. Grab a hot dog and a Yuengling for just a couple bucks and take in the ambiance of the red lighting and stained glass windows.
East Kensington
The Monkey Club's decor is charmingly behind the times, but provides us with stellar bartenders, super cheap drinks, an expanded outdoor section, and an area upstairs that features a pool table, Ping-Pong, and more seating. Plus, a Free Blockbuster library sits right outside for extra nostalgia.
Bella Vista
Karaoke, bingo, trivia, drag: This basement haunt has it all. Not to mention $5 Yuenglings, tater tots, and fried oreos. Eat and drink like royalty without topping $20. A true neighborhood bar, you're liable to encounter regulars from the area plus newbies who want to see what all the fuss is about.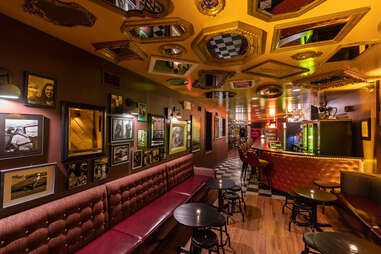 South Street
A new watering hole with dive vibes, Wine Dive serves natural wines from around the world as well as fried chicken sandwiches and sweet potato fries. Sure, it's a bit fancier than your average dive, but it's got all the essentials: checkered floor, green neon light emanating from the fridge behind the bar, and black walls.
Allie Volpe is a freelance writer based in Philadelphia. You can find her singing karaoke at Les & Doreen's. Follow her on Twitter @allieevolpe.