Philly knows a thing or two about dive bars: We've got plenty of them, including one popular fictionalized joint called Paddy's, which also happens to exist IRL, too. (Though, sadly, not operated by a gaggle of fools.) There's nothing better than strolling into your neighborhood watering hole for a cheap High Life to cap off the day with some of the city's finest characters. Keep your fancy cocktails and live the lax life at Philly's best dive bars.
Center City West | Est. 1972
Oscar's has all the things we look for in a good dive: cheap drinks, standard but solid bar food, and perfectly dim drinking lighting, thanks to year-round Christmas lights. It's cash only, but assuming you have at least a $20 in your pocket, that's enough to drink a hefty 92oz of lager while still leaving your bartender a decent tip.
Rittenhouse | Est. 1969
As the OG spot to get the Citywide Special (shot of Jim Beam and a PBR pounder), Bob and Barbara's proves that nothing unites hipsters, townies, and everything in between, quite like cheap drink. In this case, it's $2.50 PBR cans. B&B's also has its own take on standard dive bar entertainment -- also known as "watching the game on a TV slightly smaller than what you had in your childhood bedroom." Hit up the Thursday night drag show, Friday and Saturday night "Liquor Drinking Music" (jazz by The Crowd Pleasers), and Sunday karaoke.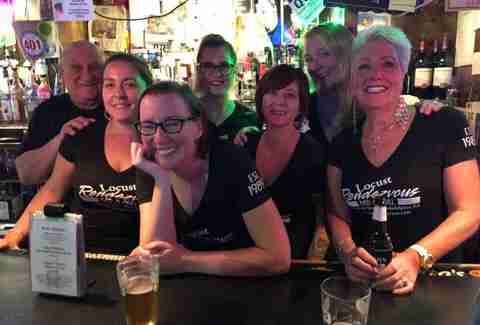 Rittenhouse | Est. 1989
Having just celebrated its 30th anniversary, Locust Rendezvous has prices that simply can't be beat: $2.50 High Lifes, $3 shots of the week, and $4.75 onion rings. At the Vous, you can get a head start on your boozin' since it opens at 11am or just simply find a seat to land in to watch the Birds.
Passyunk Square | Est. 1938
Granted you can (probably) get a free shot on your birthday at most bars in the city, but at Ray's it comes with a candle. At the South Philly institution -- open for over 75 years -- you can rub elbows with locals, people celebrating their actual birthdays, and dozens of other Philly characters. Given that it's within crawling distance of Pat's and Geno's, Ray's is the perfect place to throw a few back before convincing yourself it's a good idea to wait in line for an overrated steak.
Washington Square West | Est. 1933
Dirty Frank's is almost too popular to be a dive -- after all, when Anthony Bourdain drops in and makes you TV famous, it would be easy for that to go to your head. Luckily, Dirty Frank's is still the same bar that has been the gathering spot for all walks of life. Prices start at $2.50 for a High Life and Kamikaze shot. And don't forget: It's cash only.
Passyunk Square | Est. 1975
One of the few spots where smoking inside is still permitted, Bonnie's has been around for 45 years. A $5 Citywide will get you a pint of High Life and a shot of Evan Williams whiskey any time of day since it opens bright and early at 7am.
Washington Square West | Est. 1950s
Walk into any good dive bar and you should be amidst a ragtag mix of people. On any given night at Locust Bar, you might find a mix of regulars, young professionals, standard drunks, Jefferson students, and staff hanging out after a long shift -- all enjoying a cheap drink and maybe some of those 50-cent cajun wings.
South Street | Est. 1997
The coolest-looking dive on the list -- we actually think it's quite beautiful -- Tattooed Mom might look a little intimidating, but that hard exterior has a kind heart. A South Street staple for more than 20 years, TMoms has a downstairs that's neon green, an upstairs that's covered in graffiti, and killer pierogies.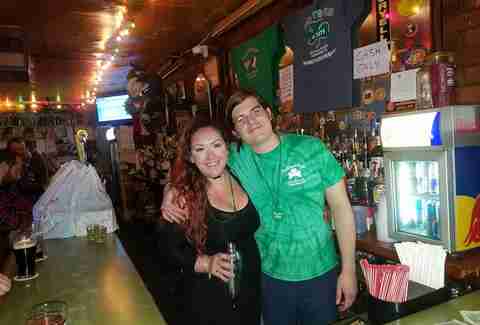 Old City | Est. 1975
Not to be confused with the fictional bar of the same name, this Paddy's reportedly inspired the one on It's Always Sunny in Philadelphia, and was around decades before the FXX show first aired. Here, instead of a featured cocktail or extravagant shot, you'll get a shot of Jameson. This is another spot where smoking is allowed.
Fishtown | Est. 1965
No night out in Fishtown would be complete without a few very cheap beers at this cash-only haunt. With an outdoor patio (complete with friendly stray cats) and charmingly dingy interior with ample seating, here is where you can get a $1 Hamm's during happy hour.
Fishtown | Est. 1989
There's only one place where you can play Bingo with the neighborhood on Wednesday, eat an Fireball-soaked apple on Thursday, and sing karaoke on Saturday -- and that's Les and Doreen's. With cheese fries and cheesesteaks cooked fresh in the kitchen, the food pickings aren't bad, either.
East Kensington | Est. 2015
Despite being new to the scene, the Monkey Club's decor is charmingly behind the times decor-wise, but provides us with stellar bartenders, super cheap drinks, and an upstairs that features a pool table, Ping-Pong, and more seating. Plus, our cup runneth over with beer specials during sports games.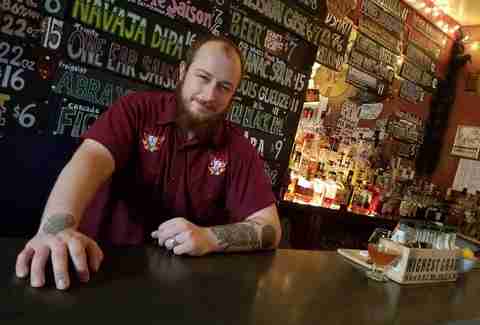 Spruce Hill
Downstairs is a killer Ethiopian restaurant. Upstairs is Fiume, a tiny bar which seats six (plus a couple of small tables) and boasts dozens of whiskey varieties, craft cocktails, and even more beer. Fiume a rarity that we hardly ever see in the wild: a successful combination of highbrow meets dive bar.
Sign up here for our daily Philly email and be the first to get all the food/drink/fun in town.