The best Fall beers: 5 Philly experts share their picks
Everyone's a beer expert by the time they're on their third, but before you even start mixing six-packs at the bottle shop, take the advice of Philly's most prominent professional imbibers, who we've tapped to pick their favorite porters and Autumn ales as amber as the leaves you're stomping your way through to pick them up.
Paul MacDonald, Bar Manager of The Farmer's Cabinet
Orval Trappist Ale (Belgian Pale Ale, 6.2%)
Paul says: "Not, strictly speaking, a seasonal beer, but quite simply one of the greatest beers ever brewed. Brewed in a Belgian Trappist monastery, this beer's flavor seamlessly balances malt, hop, and an exquisite twinge of Brettanomyces yeast."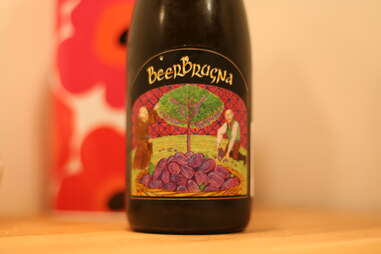 LoverBeer BeerBrugna (Fruit Beer, 6.2%)
Paul says: "One of my favorite beers in the world. Seriously. Try it. A Piedmontese sour ale brewed with plums. Floral on the nose, fruity, and balanced by a soft, intriguing tartness. So good."
William Pumphrey, General Manager of Frankford Hall
Paulaner Oktoberfest (Märzen/Oktoberfest, 5.8%)
William says: "A Märzen from Munich? You can't get a more 'Fall' beer than this."
Dogfish Head Punkin Ale (Pumpkin Ale, 7%)
William says: "Subtle pumpkin flavor that reminds you that Autumn is upon us."
Erin Wallace, Owner of Devil's Den, Old Eagle Tavern, and Barren Hill Tavern & Brewery
Hacker-Pschorr Oktoberfest (Oktoberfest/Märzen, 5.8%)
Erin says: "Just my favorite Oktoberfest -- a perfect lager."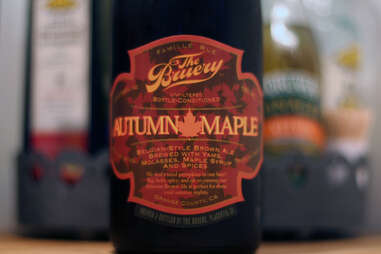 The Bruery Autumn Maple (Fruit/Vegetable Beer, 10%)
Erin says: "An imperial pumpkin without the pumpkin, and the maple syrup adds a nice touch."
Ryan Hudak, Editor of InSearchOfBeer.org
Southern Tier Pumking (Pumpkin Ale, 8.6%)
Ryan says: "I have to admit, I'm a sucker for pumpkin beers. Since Pumking is like liquid pumpkin pie, it makes my list every Fall."
Ayinger Oktober Fest-Märzen (Märzen/Oktoberfest, 5.8%)
Ryan says: "There are hundreds of Oktoberfest-style beers out there, but if you want the best, you need to go with Ayinger. Great for Autumn, and it would probably make my list of best beers year-round."
Danya Henninger, Editor at DrinkNation.com
Flying Fish OktoberFish (Märzen/Oktoberfest, 6.0%)
Danya says: "All the knowledge and expertise from the birthplace of the style goes into this local lager, and it makes for one of the easiest drinking brews of the season. As smooth as this 6.0% ABV beer goes down, it still packs plenty of flavor, especially when paired with a classic Oktoberfest matchup, like bratwurst or schnitzel."
Anchor Porter (American Porter, 5.6%)
Danya says: "First brewed in 1972, this classic American porter set a high bar for all those that followed, and it's still a great choice for an Autumn sipping session. Mellow and smooth, this is one of those beers where the malts and hops are in perfect balance. Not too sweet, not too bitter -- it's a brown-toned Goldilocks in a bottle."