Where would you spend happy hour on the Best Night of Your Life?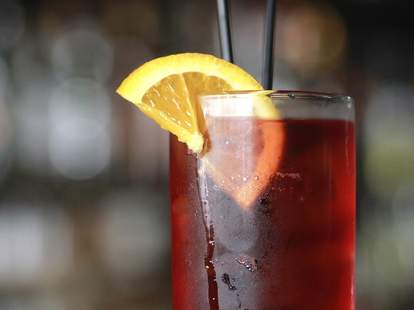 December 21st is going to be the longest night of the year, and it's also going to be the Best Night of Your Life. Obviously, a night this epic (or any night, really) has to start with a sweet happy hour, so we've picked the seven best places to and score deals on everything from $1 oysters, to something called cookies alfajores.
Check out the picks below, and make sure to fully map out a perfect evening with our itinerary builder.
Locust Rendezvous
Avenue of the Arts South
Weekly $3 draft/shot specials and daily 1/2lb burger (or steak sandwich) "recession" specials are just a few of the reasons this dive-y boozer's been a go-to since the last recession.
The Bards
Rittenhouse Square
William Butler Yeats famously once said, "But I, being poor, have only my dreams; I have spread my dreams under your feet; Tread softly, and give me 1/2-priced pub eats and $3 micro drafts." Named for great Irish authors, this boozer was happy to oblige him, and you, every day during happy hour.
Oyster House
Rittenhouse Square
This place's got white-washed brick walls mixed w/ subway tiles, an heirloom collection of 200 hand-painted oyster plates, an antique milk glass cocktail rail (also, Amtrak's short-lived post-Prohibition slogan), and, most importantly, buck-a-shuck and $3 oyster shooter specials everyday.
Alma de Cuba
Rittenhouse Square
Authentic Cuban cocktails? Yup! Not-so-authentic Cuban food? Just check out the Kurobuta Fritas (chorizo sliders), Duck Raspado w/ crispy rice, duck confit, sherry raisins, scallions & pine nuts on top of a pomegranate-marinated duck breast, plus something called "cookies alfajores"... which are presumably nice and Che-wy.
Drinker's
University City/Rittenhouse/Old City
All three similarly laid-back Drinker's establishments offer different specials every day, and a selection of "Always Specials" like $3.50 Yuengling Drafts, $2.75 Narragansett Cans, and $6 Red Bull Bombs.
The Goat's Beard
Manayunk
This sustainably sourced small-platery serves up a constantly rotating list of specials every day, but what doesn't change is its Whiskey Bible, which's got things like Maker's Mark, though you'll probably be Luke warm to standard stuff once you're versed in spirits like Four Roses Small Batch, and the local Dad's Hat Rye.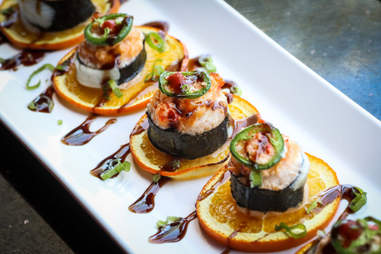 Yakitori Boy
Chinatown
Philly's only izakaya (basically Japanese for pub), this boozer's slinging daily specials like $1 yakitori skewers, $1.50 oysters, $3 Sapporo drafts, after a few of which you'll probably end up in one of their private karaoke lounges that're equipped w/ flatscreens, over 4000 songs, and a private call service button.