The Best Coffee Shops in Philly
Menagerie

| Courtesy of Menagerie
Menagerie

| Courtesy of Menagerie
Did you know that Ben Franklin was a big coffee nerd? Yep, Philadelphia's founding father was once quoted as saying that coffee was the most valuable luxury available on the table (they spoke like that back then). So it's no surprise that Philadelphians are equally as enthusiastic about the caffeinated drink. From the black bean behemoth La Colombe to micro-roasteries to diehard vegan spots, Philly is pouring some seriously good coffee. Here are 11 of our favorite places around town to try some of the city's best.
Bella Vista
When we have to get stuff done and actually focus (or at least look really busy while browsing Facebook), Chapterhouse is one of our favorite coffee shops to do it. There's a ton of space, ample natural light on the first floor, and friendly baristas. The coffee is all organic, fair-trade, and it also has a funky latte menu with options like the Mexican mocha and black & tan, made with peanut butter and chocolate.
Fitler Square
Started by lifelong friends and native Philadelphians Jonathan Adams and Damien Pileggi, Rival Bros is the brick and mortar location of its roasting operation (there used to also be a roving food truck). At Rival Bros., expect the standards: traditional drip coffee, a Chemex bar, and a variety of your standard espresso beverages. All of the coffee is prepared using beans roasted daily at its Frankford roastery and the shop also serves breads from High Street on Market.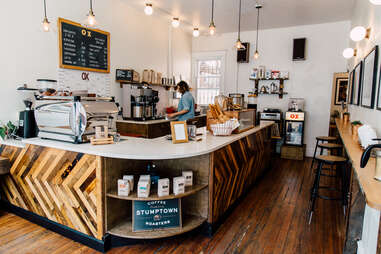 Queen Village
A short button hook off South Street, Queen Village's Ox Coffee is a throwback to what coffee shops used to be: a place where you could hang out with your friends and get a good cup of coffee without having to fight over a table with someone on their first cup and eighth hour of computer-time (there's no Wi-Fi at Ox anyway). Started by two friends, Ox focuses on serving high-quality coffee that is harvested, processed, and roasted using sustainable organic practices. Ox has also recently started selling its own line of micro-roasted coffees for the DIY coffee fans.
Kensington & Fishtown
Located in the site of a former elevator factory, ReAnimator's Kensington cafe and roastery is a coffee lover's dream. The rehabbed space is completely open, allowing customers to see (and smell) the entire roasting process. And while the space itself is cool, it's the coffee that really makes ReAnimator stick out. Every year, the ReAnimator team travels to locales like Ethiopia, Guatemala, and Costa Rica to meet with its producers, brokers, and importers for super-involved quality control.
Old City
You could call Old City Coffee a hidden gem... it is, after all, pretty damn hard to find, even if you live in Old City. The 25-seat coffee shop of the same name is located on a tiny alleyway north of Market St between Second and Third Sts, and only serves batch-roasted Arabica coffee and Chest Teas, with a penchant toward strong flavors. Prices are also some of the lowest in the area too, with an XL coffee setting you back around $3.00.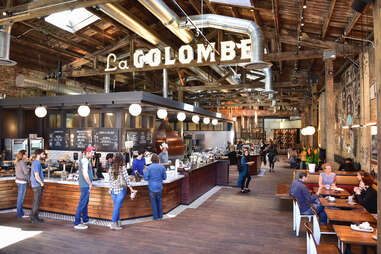 Fishtown & other locations
With 18 shops around the country, La Colombe has to be one of Philly's most famous (and successful) food exports. Of the five local shops around town, our favorite is the flagship cafe in Fishtown. Inside a former warehouse (we're sensing a theme here... ), the cafe includes a coffee lab where owner Todd Carmichael invented the draft latte and a micro-distillery, where La Colombe produces Different Drum rum, a coffee-infused craft sipping rum. Pick your poison on how you want to get your buzz.
Rittenhouse
Unlike some of the other roasters on the list that favor darker, bolder blends, Rittenhouse's Elixir is about the lighter roasts, resulting in a less bitter, but slightly more acidic cup of coffee. If that sounds a little too hipster-coffee nerd for you, then you can stick to your cup of WaWa Kona. The rest of us will be enjoying a hand-pour at Elixr, stroking our well-groomed beards, listening to the latest Radiohead album.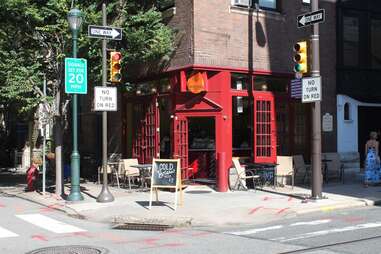 Washington Square
Quality coffee has always been at the backbone of Greenstreet -- owners (and brothers) Tom and Chris Molieri first started as coffee roasters, only to open up a cafe when they realized how much they loved teaching new people about coffee. So at this Washington Square West cafe, don't be afraid to ask questions. The Molieri brothers will be happy to help you find the perfect cup.
Pennsport
Turns out, vegan (and vegetarian) stuff isn't half bad, which is what first got us hooked on Pennsport's Grindcore House. Located on the ground floor of a row house, the vegan coffee shop is dripping with cool -- there's dark wood, tin ceilings, and a heavy metal and hardcore soundtrack on rotation at all times. And since it's a vegan shop, there's every choice of non-dairy milk you could want: soy, almond, rice, coconut.
Old City
If Bon Appétit editors are getting coffee drinks from here, you should probably follow suit. Menagerie serves up a fine cup of artisanal coffee and beverages -- think carefully selected espresso blends and hand-pours. There isn't the most available seating, but if you do nab a spot at one of the blonde wood tables or tree stumps in the front window, you'll be treated to a serene woodland vibe -- an appreciated respite from city life with a great cup of coffee to ruminate over.
Italian Market
Like most places in the Italian Market, Anthony's has a story that traces back a few generations. The coffee shop and chocolate house is in the same spot where Anthony's grandfather operated Anastasio's & Sons Produce for nearly 50 years. It timelessly focuses on the simple things done well: good espresso and Italian roasted coffee. Chocolates, cookies, and other signature sweets. We're pretty sure it's a spot that our grandads would have liked to grab a cup of coffee at 50 years ago, too.

Sign up here for our daily Philly email and be the first to get all the food/drink/fun in town.
Dan McKay has only had, like, two cups of coffee writing this... or was it three? Watch him get the coffee shakes on Instagram @dannypageviews