Philly's Best New (And Highly Anticipated) Brewpubs
Philly is a hell of a beer city. We have more than a dozen local breweries, a whole week dedicated to the sudsy stuff, and that lovely deal we call the city-wide special. With all that great beer flowing, you'd think there'd be a new brewery or brewpub popping up every other week. Yet 2016 has been a bit dry, with the exception of these four new brewpubs we've added to our favorite tap spots -- and a handful more we're looking forward to seeing open soon.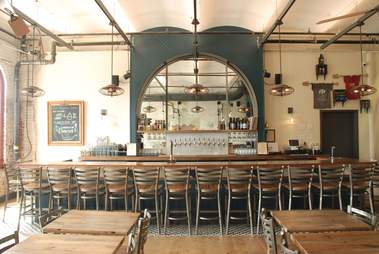 Courtesy of Saint Benjamin Brewing Company
Kensington
Original Philly brewery crawl favorite Saint Benjamin did us all a favor this year by opening its taproom in Kensington back in May. The tours of the brewery, while great, are only available from 12-3pm on Saturdays. But now that the taproom is open, you can get your fill of the Inca cream ale or Wit or Witout blonde ale six days a week along with some bites from the full kitchen. We should also mention its recently announced city-wide special -- a St. B's cream ale and shot of Kinsey 7-Year whiskey from Kensington's New Liberty Distillery. Whiskey and beer both made in Kensington? Think we've found the official city-wide.
Fairmount
The first question you're probably asking is what in the hell is a hygge? The Danish word, pronounced "hoo-guh," translates to the feeling that happens when you take pleasure in making normal occurrences into something special and meaningful. Makes sense, since beer makes everything better. Right on Fairmount Ave, the brewpub is a collaboration between the brewery team at Mount Airy's Earth Bread + Brewery and Conshi's Baggataway Tavern (equally hard to pronounce, but this is Philly after all), pumping out a rotating draft of six craft brews, from double IPAs to the herbaceous gruit pale ale, with other variations constantly in fermentation. If hunger hits while drinking all that beer, Bar Hygge has a full menu with "gastro-pubby" favorites (in the best way possible) and the option to build your own hygge board, stacked with cheese, charcuterie, and other snacky dishes like crispy Brussels sprouts and crudite, served with house bread.
Bridgeport
Two years after opening its original location, Conshohocken Brewing Company now has a second outpost down the river in Bridgeport. While the original CBC is more of a functional brewery with a tasting room, the new Bridgeport digs have a full bar and kitchen. For beer options, the Bridgeport CBC has a 12-line tap serving pints of Conshohocken-made beer as well as a few small-batch specialty beers made in the brewpub, for the brewpub. Favorites at the moment include the Puddlers Row ESB (extra special bitter) and the funky experimental series, which includes the Zone of Danger double IPA and the Singularity #1, a Belgian-style pale ale.
Media
Pizza and beer: great combo. On-site brewed beer and wood-fired pizza: better combo. That's why the Sterling Pig has become one of our go-to spots when we make it out all the way to Media (it's really not THAT far from the city, though). At Sterling Pig, head brewer Brian McConnell oversees small-batch production of eight rotating beers on tap, with a selection ranging from porters to IPAs to everything in between. Try the Snuffler, its flagship IPA, or one of the This Little Piggy series of experimental IPAs made with single varietal hops. If you're a grab-and-go type person, the Sterling Pig's growler special is an insane deal, with $7 refills before 7pm Monday through Thursday.
Coming soon...
If 2016's openings haven't fully wetted that whistle, there's good news afloat. In late 2015, the increasingly acceptable liquor control board of Pennsylvania updated its code to allow breweries to operate two satellite locations -- technically "storage" facilities -- without needing to get a new license.
So what does that mean for the average drinker? You favorite breweries can open up a new location pretty easily, which is leading to an influx of new "brewpubs" scheduled to open around town in the next few months. A few of the ones we're eagerly awaiting:
Callowhill
Known for its "Liquid Art" series of beers (with beautifully painted realism labels, to boot) and the use of local hops (shout-out to South Central PA), the Chambersburg brewery will be opening a brewpub at 990 Spring Garden St in early 2017.
Northern Liberties
Coming soon to Schmidt Commons (formerly the Piazza at Schmidt's), Urban Village promises to offer leavened dough pizza and microbrews like Citra pale ales and other standard beer offerings from the team behind the Landmark Americana chain of bars.
Fishtown
Villanova grads (and Natty Champs!) Luke Bowen and Trevor Hayward will be opening a 6,000sqft facility in Fishtown in late 2016 serving signature beers like Shut Up, Meg!, a farmhouse IPA, and Purple Monkey Dishwasher, a chocolate peanut butter porter, along with a bevy of other creatively named libations.
Goose Island Brewing
Fishtown
Despite being owned by Big Beer (i.e. Anheuser-Busch), Goose Island still makes a pretty decent product. Its first Philly outpost will be opening near the FIllmore, making it a potentially great pre- and post-concert stop.
Sign up here for our daily Philly email and be the first to get all the food/drink/fun in town.
Dan McKay thinks there are too many good places to drink in Philly. Send Dan beer money (or follow him) @dannypageviews.