The 6 best places to work remotely in Philly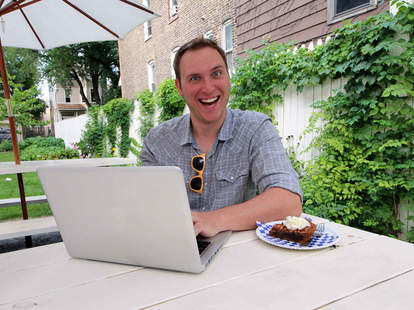 Ahh, being outside... it makes everything from drinking to watching movies better. And while it can't make working as fun as those two things (or, like, at all really), bringing your laptop to one of these six sweet places will at least make earning cash to spend on stuff you actually enjoy, as pleasant as possible.
Northern Liberties
Soy Cafe boasts a comfortable backyard patio and some healthy menu choices that will instantly make you feel smarter as you tackle your work.
Cedar Park
Posted up on the corner of Baltimore Ave and 48th St, this coffee slinger is home to many shaded outdoor tables where you can set up your laptop and pretend to work while you really Hangout(s) with your friends online. Or in person when they realize this place is also BYOB.
Rittenhouse
This is prime outdoor Wi-Fi real estate, thanks to tables overlooking Rittenhouse Park and indoor window seats as well.
Fairmont
Cafe L'Aube's Fairmont location pairs a glossy, sleek inside with a funky exterior. You can nosh on their authentic French crepes or take advantage of the coffee shop's free Wi-Fi... to work obviously, not to constantly check Google Drive for the funny GIFs your co-workers are always sharing.
Washington Square West
If you're working on your novel (like most coffee shop loiterers), then find inspiration in Cake and the Beanstalk's idyllic outdoor garden, which is situated beside a mural and surrounded by greens.
Queen Village
Boasting some of the city's best coffee/baristas, this laid-back java slinger also has outdoor corner seating AND floor-to-ceiling windows -- in case you want to feel like your outside but don't want the sun to keep you from seeing your Google docs.
Sign up here for our daily Philly email and be the first to get all the food/drink/fun in town.