Another year, another non-Eagles Super Bowl. Though we were all living high this time two years ago, the lack of Eagles-green on the field is no reason not to fully indulge in the ritual of American sports viewing. Whether you're looking for a place to begrudgingly watch football or you're just hoping to find your new favorite sports bar, Philly is home to plenty of options -- and not all of them are stock photos of Irish pubs (though we have those here too, and they're fantastic). From rowdy party halls to food-first brewpubs to legitimate Philadelphia institutions, you have plenty of options for game day, any day.
University City, Logan Square
City Tap House is home to two expansive spaces in Philly, each equipped with different areas to satisfy your game-watching needs, plus really good bar food and not-to-miss flatbreads. In University City you can take a break at the outdoor fire pits that stay ablaze all winter, and the Logan Square location seamlessly morphs into a nightlife scene if you're ready to forget whatever happened during the game.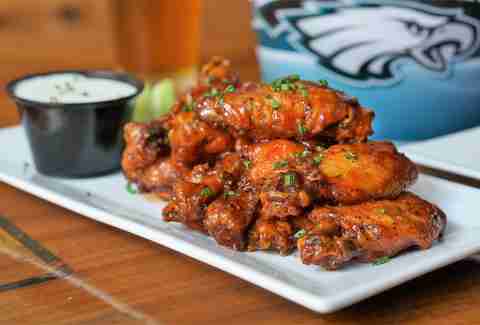 Midtown Village
Come to watch the game but stay for the thoughtful beer menu and irresistible Bru fries that come drizzled with bacon and gravy. The German-inspired beer hall is always buzzing and busy, but if you can't find room to hang out, you can always chill by the bar as you wait to snag a table, and chances are you'll make a new friend or two. If you need a break from all the sportsing, head downstairs to U-Bahn, the smaller underground bar inspired by Berlin's subway system.
Northern Liberties
Craft Hall is a blessing for city parents who want to get out for the game but still bring their kiddos. The mixed-use warehouse is home to a full-blown jungle gym and also lined with TVs and tons of seating throughout its grand 35,000 square foot space. The bar also doubles (or triples) as home to Mainstay Independent Brewing and Lost Bread Co. Bakery, because what else would you even need while watching the big game?
Graduate Hospital
While this is much more than just a sports bar, the South Philly outpost of the long-running Philly brewery would be a great place to watch a game. The space has many big tables for you and your crew in an airy, sunny space, complete with a grand projector (and delicious delicious original beers) to make game day complete.
Passyunk 
Devil's Den is a cozy destination to hole up with a rotating draft by the fire. The spot also boasts excellent bar nibbles including $12 wings, $10 nachos, $7 skewers, and other savory bites. Stop by for brunch (which extends until 3pm) and also imbibe on $4 mimosas and Bloody Marys before kick off.
Multiple locations
Cavanaugh's has three Philly locations to host game day, whether you'd like the modest surroundings of Rittenhouse, the college crowds in University City, or the homey two-story tavern in Old City. Either way, you're in for a classic laid back sports bar atmosphere with tons of televisions and a big pub food menu featuring a delicious burger, all of which can be snagged from an open-late kitchen that keeps cooking through 1am.
Roxborough
If you're looking for an option outside, Roxborough's Hilltown is a classic Irish gastropub with legitimately amazing bar food (don't skip the fried chicken sammie) and a sizable beer list -- as well as decent cocktails for the non-beer drinkers in your group. If the nine TVs aren't giving you the scores you want, find solace in the disco fries.
Rittenhouse
For a slightly more glam sports viewing experience, the clubby atmosphere at Vesper is sure to be just the thing. All during football season Vesper hosts spiked Sundays, fitting if you want bottle popping and live DJs with your viewing experience. During the rest of the year, expect spectacles of similar magnitude for all the other Philly teams, win or lose.
Stadiums
That exclamation point is there for a reason. If you can't go to the actual game but want as close an experience to fandom insanity as you can get, head to the gigantic (80,000-square- foot) XFINITY Live! venue just a stone's throw away from Citizens Bank Park and the other stadiums. Expect sloppiness, revelry, dancing on tables, and a 32-foot LED TV. Just don't go on the mechanical bull unless you can win.
Midtown Village
MicGillin's is Philadelphia's oldest bar and one of the oldest in the country, welcoming hoards of people since 1860. There are tons of drink specials on the less refined beers (with others on draft), and the atmosphere is something you have to experience in Philly at least once. If you haven't gone yet, do so immediately. But go early so you can get a table.
Passyunk, Fishtown
For the laid-back sports lovers with more eclectic taste in beer, this gritty South Philly staple offers more than 300 varieties, all canned. Both locations feature pool tables and Skee-Ball machines, plus both locations are BYOF so you can cross the street (Joe's in Fishtown, Gino's in Passyunk) and bring your feast back to Garage.
Chinatown
Any sports bar can offer you mega fries and a burger (and we love them for that), but what if you're looking for a less basic food experience whilst completing the ultimate basic task of watching football? Beyond Bar-Ly's 60-plus beer taps, find eclectic food options that put bacon-wrapped quail eggs and fried chicken gizzards on the same menu as onion rings.
Graduate Hospital
While most definitely a sports bar, Founding Fathers brings some depth to the formula with a beautiful design good for guests who aren't into the game. The open floor plan, soaring windows, neutral decor, and exposed brick make it a feast for the eyes. Speaking of feast, pair your game of choice with the seitan wings and truffle-parm popcorn.
Sign up here for our daily Philly email and be the first to get all the food/drink/fun in town.