If A) "whiskey" is really based on the Latin phrase "water of life", and B) Philly tap water can kill you, then you should probably see about doing most of your drinking in one of the city's 10 best whiskey bars, including second-floor cigar lounges, smoked-meat-slingers, and one opening to the public in a matter of days. "
"
Lloyd Whiskey Bar
Fishtown
This Fishtown boozer (named in part for the bartender in The Shining) boasts a rotating list of 80-plus bourbon, Irish, rye, and Scotch whiskeys, which you can swill in a variety of ways, including craft cocktails, half-price 1oz pours, or in flights of six for $17, so you can "knock 'em back, Lloyd, one by one."

Time
Market East
It's got a gastro-pub slinging bone marrow and short ribs, an upstairs dance spot filled with people who weren't alive in the '80s, and... guess-what!... a wood-filled whiskey bar where there's live jazz and more than 80 brown imbibeables, including single-malts, blends, etc. 

Village Whiskey
Rittenhouse Square
This speakeasy-ish spot was designed by super-chef Jose Garces to be the kind of place he'd like to hang after a shift in the kitchen, so it's got two of his favorite things: an accolade-heavy burger and close to a hundred whiskeys they use to make classic 'tails like the rye/ Peychaud's bitters/ Demerara syrup Sazerac, served with an absinthe rinse.
Ashton Cigar Bar
Rittenhouse Square
Conveniently located above Holt's Cigar Company, this second-floor boozer's equipped with state-of-the-art air purifiers, but they aren't the only things that're breathtaking -- there's also the view overlooking Walnut St, and the 250-plus whiskey list, the latter of which you can sip in a club chair overlooking the former.

Fette Sau
Northern Liberties
German for "fat pig", this picnic table-equipped spot's trying to make you a guess-what (!) with huge slabs of smoked meat (Black Angus beef brisket, St. Louis-style ribs), paired with Philly's "best whiskey list", which is over 100-strong.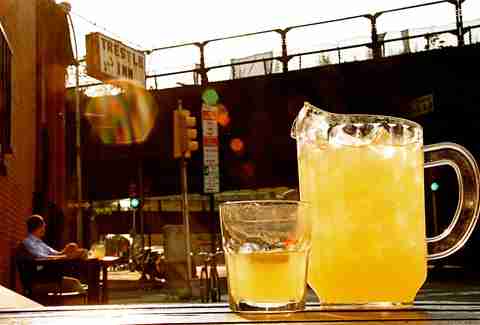 The Trestle Inn
Spring Garden
On the fringes of Chinatown, the modern version of the infamously gritty J & J Trestle Inn features lovely, be-tasseled dancers, and 65-plus whiskeys that wind-up in cocktails, like the whiskey/ Grand Marnier/ agave nectar "Fast Pussycat", and a specialized whiskey sour menu including change-ups like the currant-infused "Black Power".
Red Owl Tavern
Old City
The biggest isn't always the best, as evidenced by, well... certainly not us (why, what have you heard?!), or this particular whiskey bar which boasts two stories, a balcony, and a roof deck as well as one of the city's biggest lists of brown stuff, including rarer sips like a 12-yr Japanese Yamazaki single malt.
Stateside
East Passyunk
Ths alcohol-oriented project from the breakfast-mad folks behind Green Eggs is offering ex-Barbuzzo-chef-crafted small bites and 58 kinds of hooch, including a heady collection of small batch bourbons (Hudson Baby), ryes (Rittenhouse), and blends (Death's Door White).
Cooperage Wine & Whiskey Bar
Market East
Stocking more than 75 varieties of both American and imported whiskeys, CWWB is hidden away in the Curtis Center near Washington Square, and offering a booze-heavy happy hour with whiskeys and bar eats for $5, and beer for $3.
Bank & Bourbon
Center City
Already open to hotel guests (and open to everyone on Wednesday, April 9th), this Loews-based whiskey bar is slinging a... err, number (75) of bourbons, ryes, and international spirits, as well as barrel-aging their own hooch/cocktails behind the bar. There are also 70 lockers where customers can age their own distillates, classes taught by a "bourbon master", regular tastings in the works, and more, including food that, just like Philly's water, is killer.