Even after you set the all-time high score on Tapper, the guys at Barcade still won't let you sling suds, so head to BRU Craft & Wurst, an all-day, block-deep Midtown Village beer garden from the guys behind Finn McCools and Prime Lounge, where you can pour your own drafts by the ounce via iPad-controlled taps

More on those later, but trained professionals will fill steins with a mix of 32 German and local brews like Weyerbacher Merry Monks and Founders' All Day IPA, while the trained professionals above them play "football"

If you're really into footy, opt for this two-liter of Wurzburger

To get hands-on with your drafts, grab a stein from under the counter and hit up the East Coast's first iPad tap system, which lets you fill up on rotating beers for as little as 30 cents an ounce (tracked via a pre-paid magnetic fob)

During the day, the bar's garage doors open onto Drury St and the bar can get loud..

... which is probably why the iPads use all caps

Grab a table in the reclaimed wood-lined front dining room and order Germanic edibles like fries-sided currywurst and house-cured salmon crudo cooked up by a Bar Ferdinand and Striped Bass vet

Sandwiches include this doner kebab stuffed with slow-cooked chopped lamb shoulder, pickles, and yogurt dressing, with further options like pork schnitzel and charred onion-smothered fried liverwurst, also what you might be muttering depending on how much beer you served yourself

These pork meatballs are served on a bed of housemade sauerkraut. Oh, they're also smothered in bacon-gravy

And just like at home, if it's late and things are still too noisy, there's an old couple above you all-too-ready to chime in.
Recommended Video
Thrillist Sips: Boro Brew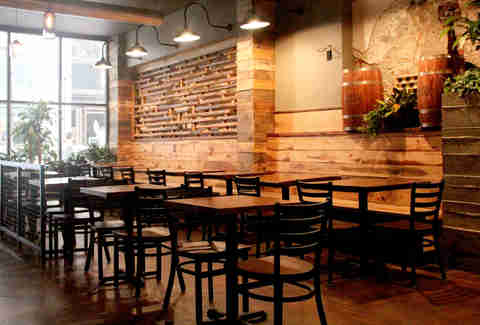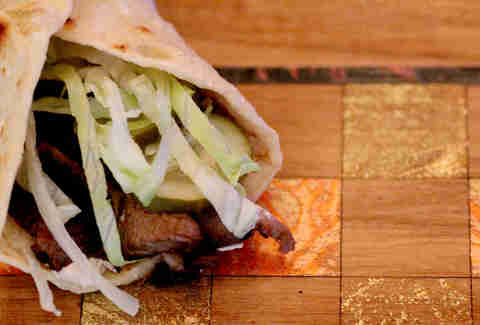 Previous Venue
Next Venue
Venue Description
1. BRÜ Craft & Wurst
1318 Chestnut St, Philadelphia, PA 19107
BRU Craft & Wurst brings the German a biergarten-like experience to Washington Square West in a block-deep craft beer retreat, from the team behind Finn McCools and Prime Lounge. An impressive beer list draws sud hounds, with Austrian, German and Belgian imports accompanied by American craft ales on a lengthy list. iPads mounted on a copper backboard control taps that you can pour yourself, allowing you to self-serve by the ounce. And all that beer needs to be soaked up somehow: here, Bavarian pretzels are dipped in smokey gouda fondue, veal cutlet is slathered in mushroom gravy, and doner kebab gets doused in spicy yogurt.