A $23 Long Island Iced Tea, plus 7 more off-menu drinks you never knew to order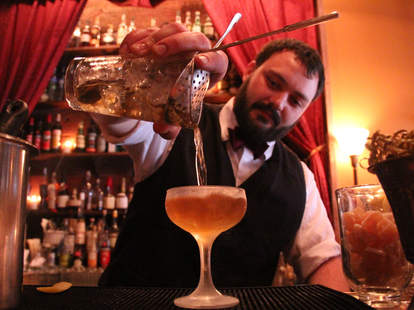 Ever wanted to know what the booze guru behind The Farmer's Cabinet can do with all those bottles behind the curtain, but found yourself too shy to order off-menu? Now you can find out. Sidling up at this Midtown Village saloon for forgotten spirits, obscure shots, and that drink your mom just discovered at your cousin's wedding is a favorite pastime of Philly's most serious tipplers.And speaking up is the only way you're going to score Philly's most expensive and best-kept-secret Long Island Iced Tea, a five-booze spicy ginger- and cola-syrup'd concoction nowhere to be found on their current cocktail menu inspired by 19th-century New York and 1930s London.What else will speaking up get you? Here are seven more secret libations sure to get a conversation going.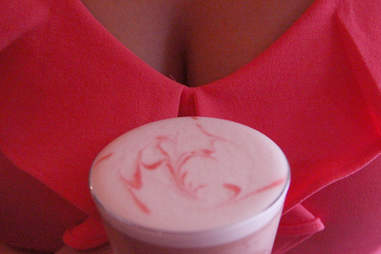 I'll have what she's having. It's a Pink Lady. I thought she looked familiar.She should, but let's focus on the drink. This one's a Jazz Age 'tail of frothy egg whites, gin, and Applejack that takes its name from a turn-of-the-last-century Broadway show tune, and its girlish hue from house-made pomegranate grenadine. Why pomegranate? Grenadine's derived from the Latin word for pomegranate, but many less-authentic syrups taste of cherry. Here, she it just looks it.
I want something a little more ancient. Order the Conquest of Gaul. The classic version's made with nothing but spirits from the British Isles, but the Cabinet's remix attacks your sobriety with Laphroaig 10yr, Benedictine, Laird's Apple Brandy, and, just like... The Trojans (who didn't conquer Gaul, but whatever), a (lemon) twist ending.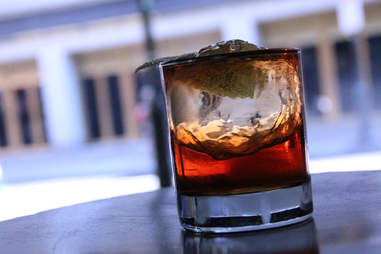 I want to be transported. Ask for the Vieux Carré. It's a sweeter take on a Manhattan, but its name's derived from the French adjectives for New Orleans' Old Square, where it was invented at the Hotel Monteleone's Carousel Bar. But does it taste like New Orleans? It tastes like Old Overholt Rye, Benedictine, and Angostura bitters... so yes, it tastes exactly like New Orleans.
I want whatever my junior year English teacher was drinking. The Smiling Villain takes its name from the Hamlet quote "that one may smile, and smile, and be a villain", or what your teacher probably muttered whenever you went all Finding Forrester on him. But his breath probably never smelled as good as this Negroni-inspired whirl of Dolin Blanc vermouth and Amaro Montenegro.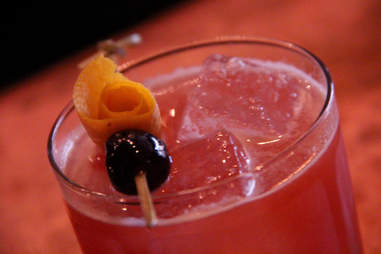 I want a fancy French-sounding drink similar to the last one, but with bourbon. You need a Nerve Specialist. Hey! No, that's the name for the bartender's update of the classic rye Boulevardier, here crafted with Buffalo Trace, OJ, sweet vermouth, and Campari.
I want people to think I'm tough. How about a mustache? I want a mustache! If it hasn't happened by now for you, order Satan's Whiskers. This '30s-era OJ-and-gin 'tail's made with Grand Marnier, sweet and dry vermouths, and a dash of bitters.
So... I heard you make... um... Long Island Iced Teas here? Unlike some fancy bars that won't even make you a vodka cocktail ahem, this is as good as one gets. Polish vodka, Swedish Aquavit, Peruvian pisco, English gin, and Rhum Agricole get shaken with freshly squeezed lemon and lime juices, plus secret-recipe Coke syrup made with dozens of herbs and spices sporting notes of vanilla, nutmeg, and ginger.
I like shots but I'm allergic to dairy, so no whipped cream. Nardini Amaro's an Italian herbal liqueur with notes of stonefruit, chocolate, and mint. And it just so happens to be your bartender's favorite drink, if you're looking to say thank you for that totally badass Long Island Iced Tea.