The Patio Power Rank: The seven finest outdoor drinking spots in Philly
What's better than a bar with everything under one roof? Seven bars with no roofs, each better than the next for soaking up sun, moon, and booze. Experience more taps than any four walls can contain, burgers encased in donuts, burgers encased in liquid nitrogen (!), plus so many whiskeys to wash them down, you can sample new browns to match your tan daily.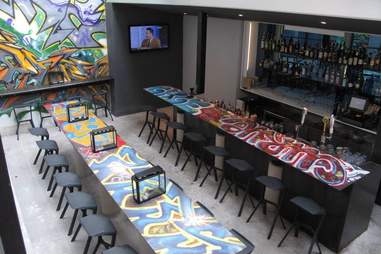 7. Graffiti Bar
124 S 13th St; 215.732.3501
A glass roof scores it the #7 slot, but it also means Sampan's chain-linked back-alley courtyard's a rain-or-shine destination for daily 3hr happy hours of $2 satay skewers and bargain cocktail specials you won't have to keep covered up.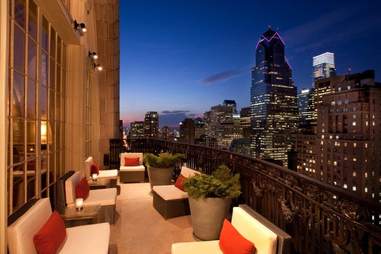 6. XIX at the Hyatt at the Bellevue
200 S Broad St; 215.790.1919
The balconies provide 19-story-high views of Center City but it's only six spots high on our list because the best 'tails are only poured on Sun nights when its award-winning mixologist shakes up a once-a-week menu. But still, they're serving up this view nightly.
5. The Piazza at Schmidt's
1050 N Hancock St; 215.467.4603
If you live in the Piazza, congrats: open a beer on your balcony and bask. If you don't, apartment-hunt the NoLibs party dome all Summer long while hitting up weekly food truck, beer, and concert fests, or watch Phillies games on the massive outdoor movie screen from the patio of Krispy Kreme-bunned burger bar PYT.
4. City Tap House
3925 Walnut St; 215.662.0105
What's good at City Tap House? 60 always-on-tap brews -- the most in Philly -- perfect for washing down 10-spice wings and wonton-stuffed hoagies on the fire-pitted second-story terrace. What could be better? A few less Penn and Drexel bros charming coeds by attempting to drain all 60 brews on tap.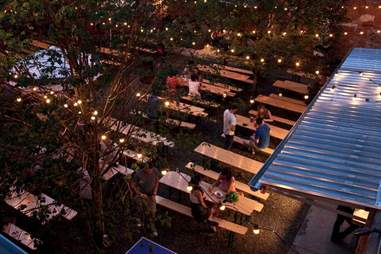 3. Frankford Hall
1210 Frankford Ave; 215.634.3338
Despite every night at Frankford Hall being a sausage fest, it's totally not a sausage fest. The brick-walled Fishtown stein-garten serves a half-dozen meats by the tube and more than a dozen beers by the liter, plus you can play games like ping-pong and finish-the-5L-keg-can 'til 2a seven nights a week.
2. Stratus Lounge at Hotel Monaco
433 Chestnut St; 215.925.2111
The Hotel Monaco's gargoyle-guarded rooftop bar's got you covered for four seasons: there's a 60-strong whiskey list, a seasonal Tiki menu boasting Polynesian Bloody Marys by the bottle, a night-lighting wall of fireplaces, plus two ski lodge-inspired lounges bookending the dance floor and your year-round, sky-lit boozing.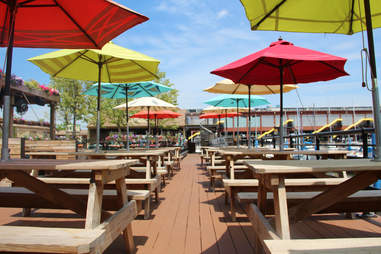 1. Morgan's Pier
221 N Columbus Blvd; 221 N Columbus Blvd
Why's it #1? Not only is it the only place to legally drink beneath the Ben Franklin, but it's also pouring seasonal booze, crafts, and sangria to wash down fried-to-order liquid nitrogen-dipped burgers and pickled bacon crab sandwiches while dancing on an elevated deck to weekly playing bands and weekend-ly spinning DJs like Cold Cave and Simian Mobile Disco. And, just like all Philly's best outdoor bars, there's literally no cover.