There are plenty of things to do and dates to go on in the winter, but what about on Christmas Day when everything is supposedly closed? If you're looking to hide out from relatives or simply enjoy the city when it's a little quieter, you're in luck. Here are 23 bars in town waiting to wish you a happy holiday.
Rittenhouse
The Library Bar will be open normal hours all day long, which means you can glimpse some of the city's best bartenders in action.

Rittenhouse
Just a few floors up from the Library Bar is Bar 210, where you can take in a quiet, Christmas-y view of Rittenhouse during the spot's usual hours.

Rittenhouse
Not only is the bar at Hotel Palomar open, but the menu will see some special additions for the occasion. Don't miss out on those winter cocktails and bacon-wrapped dates.
Rittenhouse
Both Irish Pub locations (Rittenhouse and 12th St) are open at 5pm, making the day all the merrier with $3 pints and bacon-cheddar steak fries.

Rittenhouse
Of course Cavanaugh's is open! Head over after 7pm and treat yourself to some draft brews and onion rings.
Rittenhouse
Snagging a table here any other day can be a pain, but you might have a little more luck while most people are housed up for Christmas. The kitchen is open all day from 10am to 8pm for brunch, lunch, and dinner.

Rittenhouse
This sports bar opens at 5pm, so pick the flat screen and beer of your choice and enjoy.

Rittenhouse
The diviest dive in all of Fitler Square is open on Christmas. If any relatives gave you a crisp $20 today, bring it along because Doobies is cash only.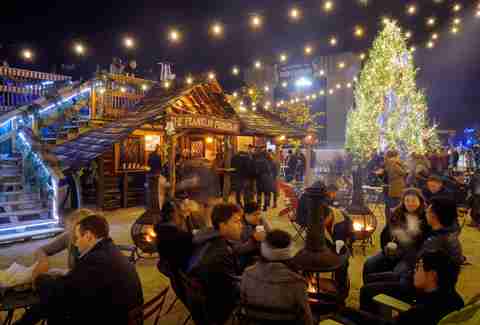 Old City
The countdown to Christmas at the Lodge includes nightly festive movie screenings to watch by the fire over tacos and spiked hot cocoa.

Old City
Head to the Khyber after 6pm and treat yourself to a Yuletide treat of bacon-grease popcorn.

Old City
What better place to wine and dine on high-brow pub fare than Eulogy? Doors (and kitchen) open at 5pm, so get there early to start making your way through its 400-line beer menu.
Old City
Besides being one of Philly's most beautiful bars with one of the city's best burgers, it's open on Christmas, too!

Old City
Another member of the Cavanaugh's family is open at 8pm. Lucky for you that Christmas falls on a Friday because it's also half-priced pub menu day.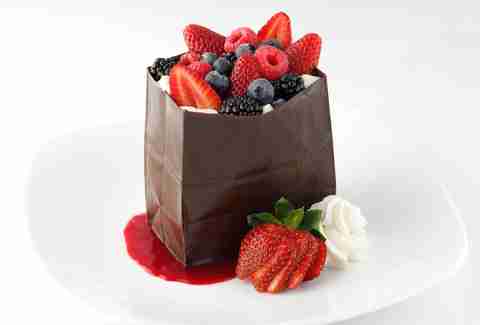 Avenue of the Arts
Class up your Christmas with the pinnacle of surf-n-turf meals. If you're not completely over tinsel and lights, the festive decor along the Avenue of the Arts makes for a scenic walk-off-that-dinner stroll.

Passyunk
The taproom is open noon to usual closing hours (so, 2am) with a menu of light snacks and finger foods.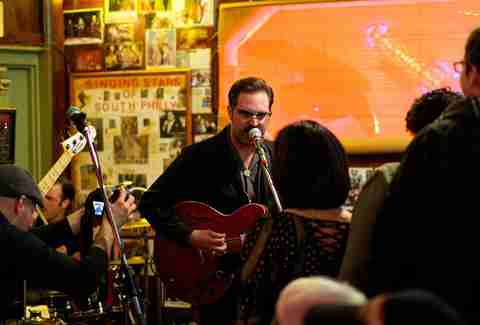 Passyunk
Ray's has been a neighborhood go-to for 75 years, and Christmas Day is no exception. Bonus: Friday is karaoke night.

Passyunk
POPE will be open in the evening, which means when your one relative notoriously complains about the lack of vegetarian options at your family's spread, you can take them here.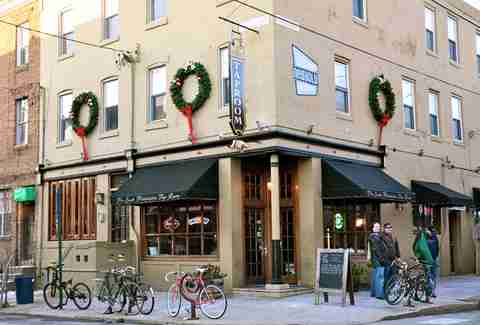 Point Breeze
Open from 6pm to 1am, the Tap Room is stocked and ready if you need to pop in for an emergency beer purchase after your relatives devour your stash.

Point Breeze
One of the most important places to eat and drink in Philly is open Christmas from 6pm to 1am, just in case you want to extend Christmas into Boxing Day.
Queens Village
New Wave will open its doors around 7pm, so you can spend the last few hours of Christmas with 20 draft beers and a few games of pool.

Queens Village
Resigning yourself to a notorious Steelers bar may be worth it if your usual Christmas plans fell through this year. Don't worry, no matter how long you need to hide out, you'll never starve (or go thirsty), as the kitchen will be partially open all day, starting at 11am.

Italian Market
The below-ground bar opens at 7pm when you can imbibe from a selection over 70 bottles and eight craft beers, plus grilled cheese sliders and tomato soup.

Tacony
This North Philly favorite always opens its doors on Christmas, so stop in after 8pm to wring out the last of your holiday spirit with a few festive seasonal beers.
Sign up here for our daily Philly email and be the first to get all the food/drink/fun in town.
Marielle Mondon is a Philly-born writer who would LOVE some bacon-grease popcorn on Christmas. See whatever else she does: @MarielleMondon.