Where to Get the Best Booze-Free Drinks in Philadelphia
These spots are serving up non-alcoholic fun.
Whether you're experimenting with Dry January or looking to cut back on booze all year long, going spiritless doesn't mean you're resigned to soda and water—especially in Philly. The city's finest cocktail makers have found fresh ways to infuse depth and layers to the mocktail game, from zero-proof takes on familiar favorites to revolving menus where each drink is more surprising than the last. We scoured some of our favorite bars and restaurants and found the very best non-alcoholic drinks you can sip on right now.
Fairmount
This restaurant, located just a stone's throw from The Met Philly, has an impressive cocktail menu, but there are quite a few zero-proof drinks on its side as well—and it's available all year long. General manager Jesse Andreozzi has been introducing new zero-proof cocktails to the spot (and documenting his "sober sommelier" life on Instagram) to Clementine's benefit. One current standout is the Zero-Proof Appletini, made with Clean Co.'s apple vodka alternative, cranberry, and sweetened lime.
Manayunk
The Volstead is the first fully non-alcoholic bar in Philadelphia, offering booze-free drinks from an expensive menu alongside vegan fare. From seasonal specials to a sober take on the Citywide special, the bar offers a range of drink options that rival any standard bar. In honor of Dry January, the spot's signature Gold Rush cocktail is on special, featuring botanical spirit, fresh lemon juice, agave simple, and edible gold flake for a dash of decadence. As part of the Unity Collective, The Volstead makes a mission of hiring individuals in recovery and/or returning from incarceration, and donates some of its profits to community-based recovery services.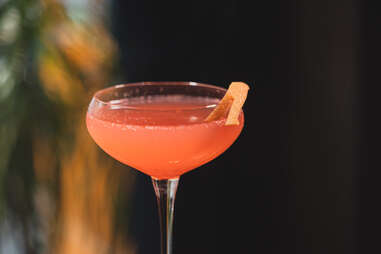 Old City
The year-round "Temperance Cocktails" section at Royal Boucherie just refreshed its options for Dry January and beyond, offering an array of fancy-feeling sippers and other options for sober-curious drinkers. Highlights include the Pretty in Pink with strawberry, lime, and sparkling grapefruit soda; the Lavender Bow Tie with lavender-pea flower, grapefruit, and club soda, and the Liz Lemon with elderflower, rosemary syrup, and lemonade. You can also find a couple non-alcoholic wines and IPAs on the menu if you're looking for something simpler.
Midtown Village
The aptly named No Regrets zero-proof cocktail at Charlie was a sinner celebrates one of the best outcomes of not drinking: waking up with no remorse. This cocktail uses a light and refreshing combo of lemon and sparkling water, mixed with an exclusive housemade zero-proof gin. Like much of the spot's plant-based menu, you'll quickly forget you're not consuming the real thing. After January, you can expect the bar to continue serving a small selection of housemade zero-proof drinks that change throughout the year.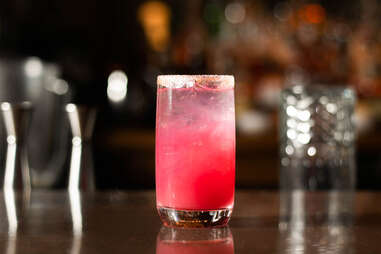 Rittenhouse
If tequila seems to be calling your name, get your margarita fix without the hangover thanks to The Love. The Straight Arrow is a booze-free prickly pear margarita made from chamomile tea (which has extra health benefits!), lime, and agave, served with a salted rim. It may be the lone NA cocktail on the menu, but it pairs great with the restaurant's fresh tuna crudo and ginger-miso collard greens.
Graduate Hospital
If Dry January has you missing espresso martinis most of all, Rex has a booze-free option that could speak to some of those cravings. Made with cold brew coffee, smoked pear, lime, rosemary, and demerara, it packs unique flavor combinations that unfold as you take a sip—and some caffeine to charge you up. Rex's elevated bar program means you can find new cocktails all year, including spirit-free options made with the same artful flair.
Washington Square West
Talula's Garden is big on fresh ingredients and local sourcing, and its spiritless cocktail options are no exception. The Pilot 10 mocktail is designed to let you bubble up and take flight, served with shaken orange-spiced sunrise, rosemary, and fizzy ginger soda. Consider it the ideal alcohol-free alternative to pairing mimosas with a stack of griddled lemon and blackberry buttermilk pancakes.
Fishtown
R&D Cocktail Bar is a preeminent option for cocktail lovers, especially if you like to keep things classic with a reverence for mid-century modern aesthetics. As such, the retro kitsch of the Virgin Colada will help transport you to a place and time, all without the booze. The year-long spirit-free menu features other virgin takes on classic drinks to enjoy with a double smash burger.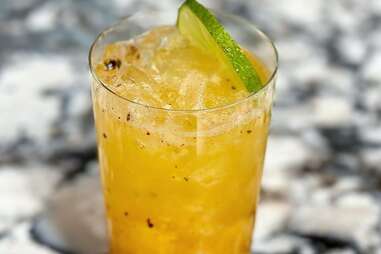 This Must Be The Place from Wilder
Rittenhouse
The multi-level Wilder has a lot to love, from its daily happy hour oysters to its plentiful selection of artful pizza and pasta. Even better? They have a spiritfree cocktail list all year long, so you can order the softer sip of your choice well after January. A favorite of the moment is This Must Be The Place, featuring passion fruit, morita chili, and lime. This and other non-alcoholic beverages go for $8 each and all feel equally worthy of Wilder's elevated atmosphere.