The Bad Decision Bar: where what starts as "I'll have one" ends with you spooning a half-eaten cheesesteak at 3am and hoping the stain on your pants is only Cheez Whiz. Philly's got more than its fair share of spots that spawn the kind of questionable choices that lead to such situations and these are our 13 best (or worst?) "Bad Decision Bars":
XFINITY LIVE/Stadium
The music, the mechanical bull, the rage – either because the Eagles just lost (again!) or because the drinks cost how much?! -- they all contribute to some pretty bad decisions, which start with asking the really bored/barely dressed "dancers" that work there for their numbers. Oh, and stop staring, man.
 
South Philly
The infamously crusty couches, the cheap drinks, the... um, moderately attractive strippers, and the dancing dog make going here a great decision, until you wake up smelling like what you hope is just said cheap drinks, or crusty couches.
NoLibs
No, not that 700 Club. Up this row home-based boozer's creaky stairs is a tiny dance floor where (usually awesome) DJs and some incredible mixed drinks are sure to have someone grabbing some part of yours and laughing about it, usually right before her boyfriend who isn't laughing about it shows up and ruins everything. Something that you totally wouldn't have to worry about if it was that 700 Club.
 
Rittenhouse Square
They say it's a sports bar but maybe it's a club or a 1980s fraternity house… or a bowling alley, or a disco minus all the disco. Who cares? Its wristband happy hour specials make this place a go-to for cheap boozing, at least until the guys currently living in 2010's fraternity house show up.
 
NoLibs
Going to Philly's largest (and presumably only) "Irish Pub, nightclub and entertainment complex" can't possibly go wrong unless a few too many drink specials, like $1.50 Yuengling drafts, mean you find yourself at their occasional all-male strip sho.... OMG how can I unsee that?!?!
Rittenhouse Square
Judging by the name alone, this place obviously attracts a class of clientele tha... SHOTS! Gimme four shots of vodka! ...And a drink menu! Whoooooo!
 
NoLibs
Beer pong tournaments; scantily clad beer tub babes; possibly apocryphal stories of sex on the dance floor; and $12 cases of Miller Lite -- though be careful, 'cause too much of the last of those things could lead to the third of them with one of the second, who was impressed by your performance in the first. But that would be a bad decision, right? Right?!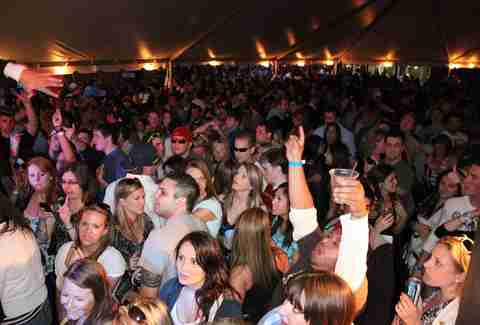 Manayunk
Mad drink specials (dollar beers, $5 whiskey, etc.) mean that those six Sigma Chis by the bar are getting more and more angry that the incredibly blonde co-ed they came with is grinding on you, but you don't care because: incredibly blonde co-ed grinding on you!
 
Manayunk
Despite some surprisingly dope eats and a raft of drink specials (half-priced drinks!), this boozer on the shore of the Schuylkill has a little bit of the Jersey Shore inside. Though the next morning, you'll probably just ending up doing gym tan laundry. 
South Philly
Fingers crossed that the go-go dancer you picked up at the Dolphin is a bycatch... cause she almost definitely isn't a good one.
 
South Street
Boozy slushies! Boozy slushies! Boozy slush... ugh, brain freeze!
NoLibs
You can tell it's a country bar 'cause it's painted like a cow, and the bartenders are sooooo friendly, they'll gladly dance with cute customers instead of making you a drink, and will totally set the mechanical bull to just-fast-enough-to-make-your-girlfriend's-boobs-jiggle. Such great guys. Wait, what?!
 
NoLibs/Fishtown
A chaotic mess of a row home with half-hour wait times for (pretty inexpensive craft) beer; no place to sit except a picnic table across from a pinball machine beneath a portrait of Tupac Shakur; and shows that start way later than advertised can't keep hitting this ultimate Bad Decision Bar from being one of the best decisions you'll ever make... besides washing your pants. Immediately.