Where to Watch the 2018 FIFA World Cup in Philly
Philly soccer hooligans, rejoice! The four-year wait is over and the FIFA World Cup is upon us, which means diehard football fans from South Philly to Fishtown will soon be packing bars morning and night -- since the Cup's being held in Russia -- to catch as many of the 60-plus tournament matches as possible.
From June 14 through July 15, scores of Philly pubs will be hosting World Cup live-streams, complete with enticing food and drink specials and plenty of riotously cheering (or jeering) fans. With so many distinctive bars to choose from, the good news is, you don't have to pick just one. We've curated the huddled mass down to a lean lineup of great soccer-friendly watering holes all over the city (and even tapped FOX Sports broadcaster John Strong for his top picks), and we'll also be updating this page with deals and specials as they're announced. And, since Cup month will be absolutely dense with matches, you could feasibly hit each spot below (and then hit them all again).
Wash your jerseys, set your alarm clocks, and get ready to drink early and often. These are some of the best locales in Philly to watch the 2018 World Cup.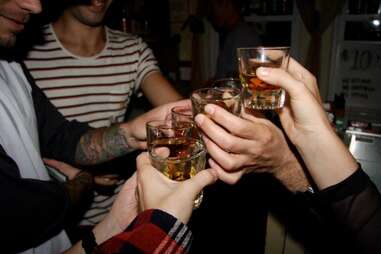 Northern Liberties
Divey, lively NoLibs staple that's fit for fans of any affiliation
This neighborhood mainstay may not be the most tricked-out sports bar in Philly, but when it comes to watching "footy" surrounded by fellow fanatics, there are few better spots. During a good match, this cramped corner bar can get boisterous -- in the most jubilant of ways. Be prepared to make many new friends. But be advised: The 700 doesn't have a food menu. Patrons are welcome to bring their own eats, though.
Specials: There will be drink specials, but the specifics are still hazy. During past World Cups, the bar's also had free giveaways for T-shirts and posters, etc.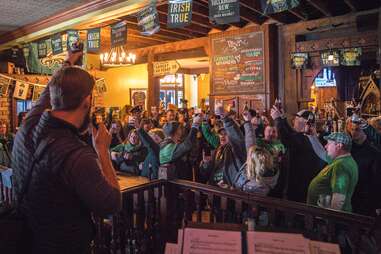 Center City
Classy Irish pub that's rooting for Iceland
As authentic Irish pubs go, this one's on the elegant side, with a food menu so good you'll think you're actually dining on the Emerald Isle. Tír na nÓg has four large TVs spread out around the bar, and many of its tables have (working) beer tap centerpieces -- so it's basically World Cup heaven. Though fans of all teams are welcome, management says the house will be rooting for Iceland (since, y'know, Ireland isn't competing).
Specials: $4 Carlsberg drafts and $7 Tombstone pizzas
Center City
Tried-and-true soccer bar, and a great spot to root for England
A low-light hangout along South 17th Street, The Black Sheep is a known landmark for soccer fans -- which makes it a no-brainer for anyone looking to slug beers, slap shoulders, and shout at TVs while watching the World Cup during the wee hours of the morning. It's normally a haven for Manchester United fans, so you can expect a good deal of England supporters, but you won't be booted out for wearing an Argentina jersey. Probably.
Specials: TBD
Graduate Hospital
Business-casual sports bar with good eats, good beers, and minimal craziness
A straightforward sports bar with an upscale twist, Founding Fathers offers more traditional American fare (big-ass burgers and savory wings) as well as a few options for the no-meat crowd (tasty seitan wings). With 13 TVs spread out all over the barroom, football will fill your view no matter where you're seated.
Specials: TBD
Rittenhouse
Casual hot spot that's bound to get packed for the Cup
There are two Irish Pub locations in Philly (both on Walnut), but the one at 2007 Walnut is definitely outfitted with enough screens -- 12 TVs and a pull-down projection screen -- to satisfy the viewing needs of all attending soccer hooligans. An array of beers and Irish-inspired pub fare (try their signature "chicken thumbs") make this spacious bar an optimal spot for morning-to-night soccer watching.
Specials: TBD, but management says to expect Carlsberg specials.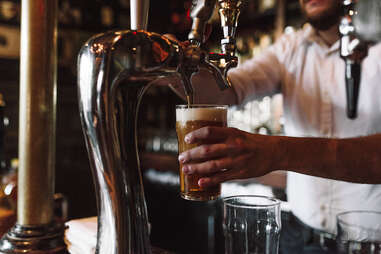 Center City
Mellow spot for sophisticated foodies & England fans
While not the largest location on this list, The Dandelion -- a legit British pub dropped into the heart of Philadelphia -- is one of the coziest, classiest, and most ornately designed. Plus, the Stephen Starr-stamped menu is flat-out unreal; the decadent English Breakfast (complete with black pudding and baked beans) alone makes this a go-to pub for an early morning Cup watch.
Specials: $9 cask flights and bar snacks, including deviled eggs (with curry, paprika, and cayenne pepper), marinated bar olives (herbs, spices, olive oil, and balsamic vinegar), and house-made ricotta (extra virgin olive oil, dried herbs, and toasted sourdough).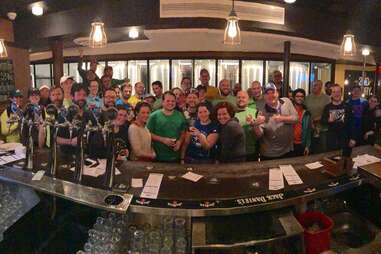 Old City
Laid-back brewpub where fans of all teams are welcome
A little over three years since it opened, this two-floor brewpub has become a staple of Philly's historic Old City district. Exposed brick walls give 2nd Story a laid-back, rustic feel, and the joint's eight scattered TVs ensure ease of viewing from any perch in the house. With two full bars (one on each floor), there's also easy access to the pub's many exceptional house beers.
Specials: $10 beer flights featuring in-house favorites Que Hora Es? (Mexican lager), Farm Buzz (farmhouse ale), Fritzie's Larger (Vienna lager), and Declaration IPA (American IPA).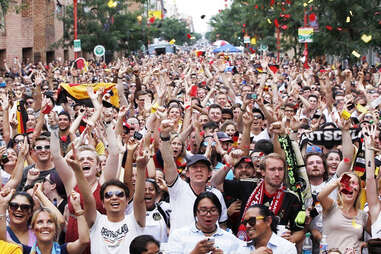 Queen Village
German beer hall that's throwing down for the Cup in a big way
This schnitzel-laden South Street highlight was bound to be a World Cup viewing hotspot, but with Germany (the reigning champ) qualifying in the tournament, Brauhaus promises to be a true destination. With as many as 80 different German beers (draft and bottle) available at any given time, plus a lush menu of Deutschland-style cuisine (start with the laugenbrezel pretzel), this authentic bierhall is a must.
Specials: Brauhaus is going all out. Beer and food specials will abound, but $60 will get you "Brauer Bund (backroom) Access," which includes bottomless beer, food, and a view of a 10-foot projection screen. During the July 15 World Cup Final, the entire 700 block of South Street will be closed off for a massive viewing party. Details & tickets can be found here.
Center City
Solid Philly sports bar for the unaffiliated soccer fan
If a panorama of screens is what you seek, look no further than The Field House; this Philly-famous sports bar, tucked into the Convention Center, boasts an enviable 35-plus TVs, arranged all over the establishment. In other words, whether you're camped out at the bar, holding down a table, or leaning against the wall in some far corner, you're sure to catch every breathless second of the tourney.
Specials: $3 Bud Light drafts and $4 Neshaminy Creek drafts.
Sign up here for our daily Philly email and be the first to get all the food/drink/fun in town.
Dutch Godshalk is a writer living in Philadelphia. His words have appeared in
Men's Health
,
The Guardian
,
Billy Penn
,
Time Out London
, and various other media outlets. Follow him on Twitter: @DutchGodshalk.