Allagash's Suzy Woods Previews Philly's Most Buzzworthy Spring Beers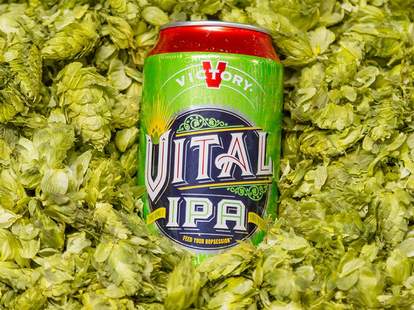 <strong>Vital IPA |</strong> <a href="https://www.facebook.com/victorybeer/photos/pb.64172538654.-2207520000.1458228016./10153293414818655/?type=3&amp;theater" target="_blank">Victory Brewing</a>
For most of us, spring means swapping our heavy winter coats for lighter jackets. But for Suzy Woods, Allagash Brewing Company's Mid-Atlantic territory manager and founder of the all-ladies beer club, In Pursuit of Ale, the coming of a new season means a new crop of Philly beers to taste. I sat her down and grilled her on the ones she's most psyched about sipping.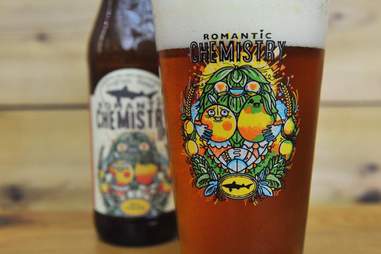 <strong>Romantic Chemistry |</strong> <a href="https://www.facebook.com/dogfishheadbeer/photos/pb.19377487015.-2207520000.1458166640./10153323848442016/?type=3&amp;theater" target="_blank">Dogfish Head Beer</a>
IPA, 7.2% ABV
Delaware
Dogfish Head Romantic Chemistry is the new spring release from Delaware's Dogfish Head. This IPA is part of its seasonal art series. The label features a hop character with hearts in his eyes embracing both a mango and an apricot. Regional manager Wendy Domurat shares that mangos, apricots, and hops all have an essential oil named myrcene, which lends flavors of balsam fir, ginger, and citrus. This IPA celebrates the chemistry of all three. It has its share of handles around the city, but I would suggest heading to Point Breeze's Buckminster's and pairing it with chef Rob Marzinsky's pork & rice meatballs.  
 
IPA, 6.5% ABV
Downington, PA
Victory Vital is a fairly new addition from local brewing giant Victory Brewing Company. When crafting this year-round IPA, co-founder Bill Covaleski and his team asked themselves, "What are the vital components and characteristics of an IPA?" They answered with a fresh, crispy, fruity beer only available in can and keg. As I was cruising around the Collegeville-area Wegmans, the mantis-hued cans reminded me that spring was around the corner. They also reminded me to pick up a bag of celery.
<strong>Cultivator Helles Bock |</strong> <a href="https://www.facebook.com/troegsbrewingco/photos/pb.99353136737.-2207520000.1458244135./10153900844066738/?type=3&amp;theater" target="_blank">Troegs&nbsp;Independent Brewing</a>
Helles Bock, 6.9% ABV
Hershey, PA
Tröegs Cultivator is a helles bock brewed out of Hershey, PA, that celebrates the onset of hop growing season. But the beauty of the beer lies in the soft, biscuity notes. Helles bocks are strong golden lagers favored between the lengthy Bavarian winters along the northern edge of the Alps and the long summers. Enjoy one in Fairmount at Kite and Key or London Grill after taking in the cherry blossoms at Fairmount Park Horticulture Center.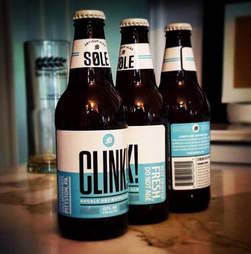 <strong>Sole Clink! |</strong> <a href="https://www.facebook.com/Soleales/photos/pb.1533175953619883.-2207520000.1458228525./1600410846896393/?type=3&amp;theater" target="_blank">Sole Artisan Ales</a>
Dry Hopped Session Ale, 4.9% ABV
Emmaus, PA
People commonly cheers with "Slainte," "Prost," perhaps "Salud." But Dave, a witty friend of Søle owner Joe Percoco, simply says, "Clink!" So Percoco decided to name his 4.9% golden pale ale just that. He refers to it as an anytime beer, and I agree, but it makes for a delicious springtime beer. Boisterous in aroma, shy in bitterness, it will satiate any citrus craving you might have. Try it at Strangelove's and order the cheese plate when you do. Søle is currently brewing out of the Susquehanna brewery in Pittston, PA.
Bonus: Any beer at Bar Hygge. Tom Baker has long been one of my favorite brewers. I was going to mention his golden double IPA Ripsnorter, but was compelled to open it up to anything on tap at this new Fairmount brewpub. Hygge is a Danish concept that doesn't really translate into English. The menu says it's the "art of building sanctuary and community, of inviting closeness and paying attention to what makes us feel open-hearted and alive." And, yes, it's as wonderful as it sounds.
Sign up here for our daily Philly email and be the first to get all the food/drink/fun in town.
Anna Goldfarb is author of the humor memoir, Clearly, I Didn't Think This Through, and will try anything served in a frosty pint glass. You can follow her: @MsAnnaGoldfarb.