Philly Is a Bar: What's Everyone Doing?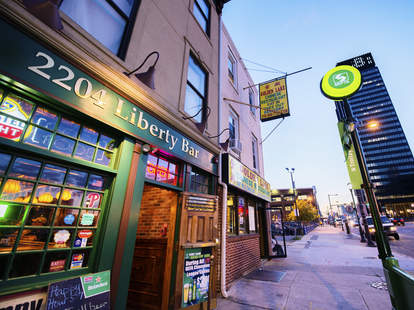 A thread on Reddit recently posted the question: if the USA is a bar, what is each state doing and drinking? And while the answer for PA is pretty clear (we're drinking beer and yelling at the football game on TV), we thought what if this same idea was applied to Philly's many 'hoods? So, if Philadelphia were indeed a bar, what would each neighborhood be up to tonight?
Fairmount is on their way but hasn't been able to find parking yet.
South Street's been bar-hopping since noon and looks a little bit tipsy -- nothing a slice of Lorenzo's or a cheesesteak can't fix.
Conshohocken is throwing a house party and would love for everyone to skip the bar and come out -- it's only 20 minutes on SEPTA and they've just renovated their house.
Art Museum is sitting by their phone, listening to the Adele CD, waiting for someone to call.
Manayunk got a keg of Natty Light and a bottle of Fireball for the pre-game. Manayunk will be there around midnight as soon as the keg's kicked.
Passyunk is going out to dinner tonight... like they do every night... because they have the city's best restaurants and won't stop talking about it. Then they'll be out and the sloppiest on the dance floor because they pre-gamed with wine.
East Falls is heading to Manayunk's because they're bored and have nothing to do.
Someone just called Roxborough asking for the address of Manayunk's party thinking it was theirs. Roxborough is pissed that everyone always hangs out at Manayunk's.
iStock/gradyreese
Old City is celebrating a birthday party, bachelorette party, actually we're not sure what Old City is celebrating but they just ordered a large round of cheap tequila shots.
Kensington has been drinking PBR and chain-smoking cigarettes all night -- Northern Liberties thinks this is cool, Fishtown just rolls their eyes.
Rittenhouse says they'll be here after their dinner reservation at Parc -- really they are still in their "comfy" clothes and just ordered takeout for the second time this week.
South Philly is on their third drink of the hour and is starting to mumble something very offensive. Time to get South Philly a glass of water.
Society Hill just ordered the most expensive bottle of cab on the menu and is aggressively swishing the wine around in their mouth -- wait, who invited Society Hill?
Port Richmond has been sitting at the bar for hours, ordering a beer and a shot, beer and a shot. Port Richmond isn't even remotely buzzed.
Graduate Hospital has had one too many Yards and is now getting handsy.
iStock/Marc Dufresne
Dammit Queen Village, we told you to stop bringing your kid to the bar!
Well this is awkward. Point Breeze just saw Graduate Hospital hitting on Logan Square and is ready to throw down.
Bala Cynwyd's coming out tonight but has to be in by 10:30 to drive the babysitter home. Once dropped off, the babysitter is going to Manayunk's.
Pennsport just showed up in their Mummers costume and is now pounding drinks as part of their "training" regimen for New Year's.
University City is trying out their brother's fake ID tonight and it totally looks just like them. Just remember that their name is "Kevin" and that they're a fifth-year senior.
Logan Square isn't trying to get into any fights with someone from "that part of town" -- they just paid their tab and left.
Fitler Square was having a good time until someone said their name was "Filter," now they are in the bathroom crying.
iStock/TommL
Washington Square West just took their eighth selfie of the night and hasn't had anything to drink in about 30 minutes.
Midtown Village can't figure out if its a beer, wine, or cocktail night so screw it, they'll just order all three.
Chinatown won't stop talking about how much better the drinks are at Hop Sing... we get it, Chinatown!
Brewerytown seems to be having a good time, but they keep jumping every time they hear the door open.
Bella Vista would go out but they spent all their money buying cheese at Di Bruno Brothers... don't feel bad for Bella Vista, they do this, like, every Saturday.
Fairmount finally found parking but now the bar's closed.
Sign up here for our daily Philly email and be the first to get all the food/drink/fun in town.
Dan McKay once was a major-league beer drinker but was forced into early retirement thanks to adult life. You can follow him on Instagram or Twitterat @dannypageviews.