Beer cocktails and giant balls of ice in a Rittenhouse library
Hushing any debate over where to drink after work tonight, the Rittenhouse Hotel's Library Bar is a two-room study hall with only one book worth reading: a 17-page booze menu cataloging rarefied libations crafted by a legendary Main Line master mixologist and paired edibles like... what's that? You want to know about that fist-sized ice globe being ceremoniously extracted from a $1000 cube carver? Click the tongs up top to see how baller your night's about to get, and just wait to see how they pour your champagne.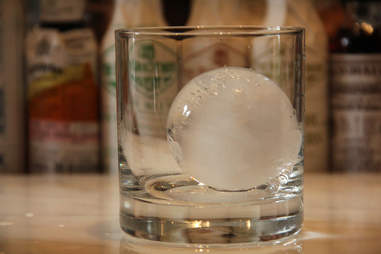 45sec is also about how long it takes to fill your glass with one of 16 classic and contemporary 'tails like a Petrus Aged Pale Ale and vanilla vodka Orlov...
Before the whole world's in your glass, it's inside this aluminum alloy ice sculptor that transforms a brick of ice under 45sec, which is a baller move.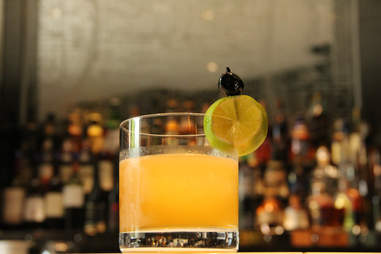 ... or this anejo tequila New Fashioned, blended with agave nectar, maraschino liqueur, and 300yr-old-recipe vermouth that was totally new fashioned at the time.
The map-etched mirror bar's stocked with top-shelf spirits sourced from as nearby as Philly and as far away as the Kingdom of the Crystal Skull.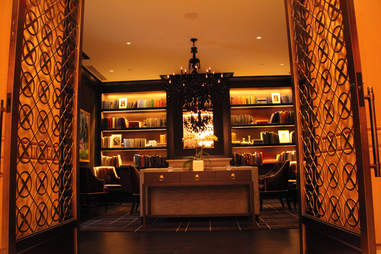 It's also stocked with a fireplace you can try to find by pulling the right book from the wall... or walking around that couch.
The back bar room's floors are stained with the New Fashioned you just spilled herringbone, and lined with gold leather stools and banquettes.
Look past this bourbon-soaked, cherry-skewered Perfect Square, blending Blanton's and Licor 43, out to a perfect square window revealing garden views. Enough garden? Okay, back to the drink.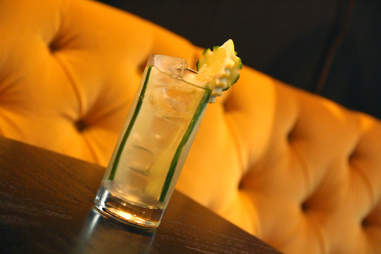 Consume an entire garden in this Scottish-ginned JT Collins blended with lemon and cucumber juices and topped with just a splash of Jean-Pierre Legret champagne, because that stuff doesn't grow on trees.
Champagne does do this, though -- swirling around a long swizzle into your glass.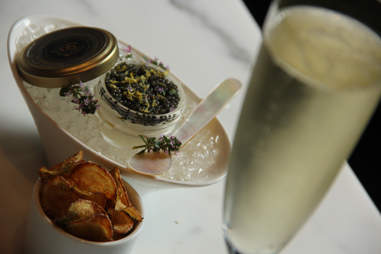 And it pairs well with this, because if you're going to wash down a glass of Dom Perignon with chips and dip, it should be warm tarragon potato chips and a jar of American caviar blended with creme fraiche, lemon zest, and dried flowers.
Craving a bigger jar of bar snacks? Open a can of black-truffled foie gras on yourself. (Just not too loudly -- you're still in a library!)