Philadelphia is full of secret-ish bars that pay homage the Prohibition era, and the stiff, luxurious drinks that came along with it. It's not all wannabe flappers and Manhattans, though; this is Philly, after all, and it wouldn't feel right if all our hidden bars had a dress code and a password. As such, you'll find a number of laid-back speakeasies that do the trick when you're feeling more like a cheap beer than a craft cocktail -- assuming, of course, you can find them. From candlelit basements with lush leather booths to hidden attic dives, here are Philly's best "secret" bars (and how to get into them).
Midtown Village
Kontrol is the latest bar from Teddy Sourias, who is plotting a "U-Bahn Trilogy" that includes U-Bahn, Kontrol, and a yet-to-open third bar that will be called Verdickt. Of the trilogy, Kontrol is the only one without a street entrance -- instead, it's in a passageway that connects the U-Bahn properties with the Tradesman's Trust building next door. The kitchen at Kontrol stays open late, serving burgers, cheese curds, fried chicken, and other savory bar bites, and the eight-item drink list includes alternating drafts and signature cocktails.

How to get in: Enter through either Tradesman's or U-Bahn, the two establishments each connected to Kontrol.
Manayunk
If you feel like going out on Main Street Manayunk while avoiding the spots that tend to draw a rowdier crowd, head downstairs at SOMO for strong cocktails, music, and "Scarface" projected on the wall on a loop. The space is mostly empty save for the bar and a side couch for lounging, so make the most of it if you're in the mood to dance.

How to get in: The street entrance to SOMO is clearly marked on Main Street. Walk in and head straight to the back, through the kitchen; you'll see a staircase heading downstairs leading to the secret bar.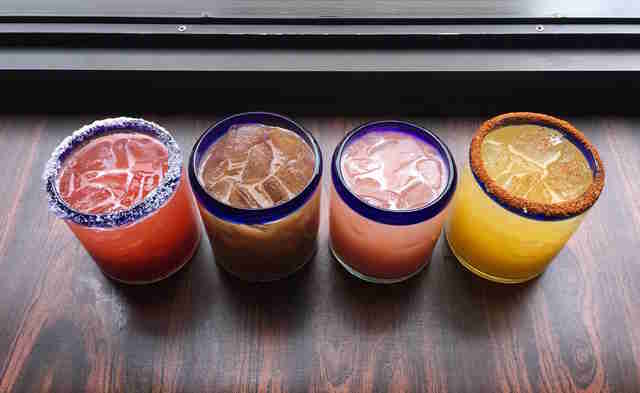 Rittenhouse
Once you score a booth in this dimly lit hideaway, you probably won't want to leave, especially after you help yourself to a few strong cocktails. If you're not much of an expert when it comes to more extravagant drinks, servers are more than happy to tailor an order to your liquor and taste preferences. House-made mixers, hand-chipped ice, and fresh-squeezed juice make for drinks worth every penny. Don't just stay for drinks, either: Bites from El Rey are also available here, and what goes better with absinthe than tacos?

How to get in: On 20th Street, turn onto Ranstead and look for the dark door with a backward-forward set of Rs. You can also find your way to the secret bar by going through the kitchen at El Rey.
Chinatown
Hop Sing is home to one of the largest collections of liquor in the country. The vast collection of alcohol is paralleled with experts in craft cocktailing and an air of exclusivity (and a strict no-photo policy) has made it one of the most heralded bars internationally. If you're making the commitment to visit Hop Sing for a night, don't take it lightly: It will take some time (did we mention the line of people waiting for a seat?) and you'll need to dress up a bit, please -- no shorts or sneakers.

How to get in: Look for the door with the black gate and stainless steel buzzer on Race Street. If you go on a weekend it won't be hard to find, since you'll likely be joining a queue of people waiting to get a seat.
Rittenhouse
Franklin Bar is careful to not let more people inside than there are seats, so sometimes snagging one can be a waiting game. Formerly known as the Franklin Mortgage & Investment Co., the revamped Franklin Bar serves the same stiff cocktails in a subterranean setting, outfitted with tufted leather booths, a swanky bar, and so much absinthe.

How to get in: The entrance is to the right of Byblos, down the unmarked stairwell. On the weekends you might be able to spot the place thanks to a long line or, better yet, a host directing outside.
Spruce Hill
Fiume has all the mysterious elements of a speakeasy -- winding entrance, intimate space -- without any of the over-the-top formalities (or prices) that make you feel like you don't belong. Instead, you'll find all the facets of the diviest dive, including a couple beer taps and a great bottle selection. Some nights you might catch local musicians; other nights you might be allowed to sneak some Ethiopian food upstairs. You can at least always expect a friendly crowd and bartenders happy to talk beer.

How to get in: Fiume is hidden above Ethiopian restaurant Abyssinia, so once you're inside, look for a small flight of stairs marked "Restaurant Entrance." Keep going up, past the bathrooms, and you're there; if you're having trouble finding it, someone in the restaurant will probably be happy to point it out to you.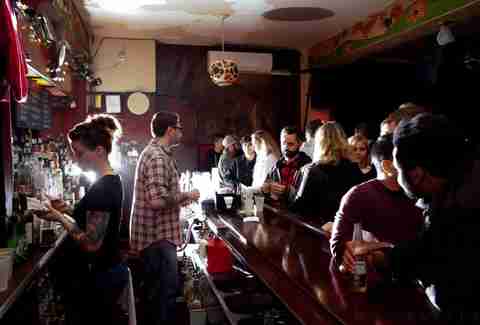 Northern Liberties
This is one of a handful of Philly establishments that stay open past 2am, so make it your go-to when the bars close but you still haven't had enough. There's usually a cover charge for non-members, and on any given night you'll find something different: musical performances, burlesque, theatrical acts, cabaret, film screenings -- or, if the place is a little empty, pingpong tables, flip cup, and pool tables all to yourself. You'll notice the dance floor fill up when the "after" hours start, so you can also head up to the second floor bar if your feet are tired.

How to get in: Head down an alley off Green Street; it could prove helpful to have a friend in the Russian United Beneficial Association.
Rittenhouse
Thanks to Quig's members-only status, last call doesn't roll around until 3am, with the doors shutting at 4. Drinks usually won't run you more than $7 each, making it easier to make your cash last until the wee hours of the morning (if you can stand the cigarette smell for that long). Overall, it's a kitschy, homey place to get to know different people in the Philly performing arts community and escape your usual dives.

How to get in: It's easiest if you happen to be at the theater for a production -- after, you'll just head to the third floor for this tucked away pub. On off-nights, it would be best to show up to this "members only" bar with your actor/improv/performer friends.
Midtown Village
Graffiti Bar is Sampan's all-year outdoors bar, a bit more favorable in warmer weather yet still equipped with heating lamps in the winter. It can get packed on the weekend, but grab your friends to split a fish bowl and some pan-Asian bites to enjoy the hideaway on 13th Street.

How to get in: This one is hiding in plain sight: Look for the red neon "Graffiti Bar" sign next to Sampan, then make your way down the alley and turn right.
Midtown Village
As the country's oldest press club, the Pen & Pencil Club hosts all kinds of media-centric events in daylight, from meet-and-greets to guest speakers and "off-the-record" idea sessions. At night, all that hard work fuels late-night benders that can last until 4 or 5 in the morning and produce many regretful stories that'll be legendary one day. There are many dark corners, and if you can't find something interesting to do in them, you can always opt for eating four of P&P's signature crock pot hot dogs.

How to get in: This is another members-only spot, but if you're interested, current members are typically friendly about sponsoring you (particularly if you're a journalist or in media). The entrance is just by the bright blue parking sign.
Rittenhouse
It's not exactly a speakeasy, but it's not exactly marked anywhere outside either. The Library Bar lining Rittenhouse Square is known for serving some of the best cocktails in the entire city, serving the Rittenhouse Hotel's patrons and like minded cocktail lovers nightly in a cozy space outfitted like a lux library -- fireside chairs, shelves of books, and a long list of drinks offering everything from classic cocktails to house creations to wine and local beer.

How to get in: Enter through the Rittenhouse Hotel and head downstairs, following signs for the Library Bar.
The Upstairs Bar
Rittenhouse
During the Franklin Bar's rebranding last year, the tiki-focused Upstairs Bar was born, offering more kitschy decor, lots of cocktails out of quirky glassware, and an overall more relaxed setting compared to the ritzy scene downstairs. Head up there for bamboo and surf rock and elaborately garnish cocktails with freshly squeezed juice served out of golden pineapples.

How to get in: Once you're in the Franklin Bar, simply head upstairs for its mid-century modern sister concept.
Sign up here for our daily Philly email and be the first to get all the food/drink/fun in town.