Philadelphia is full of secret-ish bars that pay homage to the era of Prohibition and stiff, luxurious drinks. Wander into these spots (whenever you manage to find the entrance) and you'll likely forget what time of day it is; if your memory remains intact, said stiff drinks will help. It's not all wannabe flappers and Manhattans, though -- this is Philly, after all, and we don't want all of our hidden bars to have a dress code and a password. Luckily, there are a number of laid-back speakeasies that do the trick when you're feeling more like a cheap beer than a craft cocktail. From candlelit basements with lush leather booths to hidden attic dives, here are Philly's best modern speakeasies.
Recommended Video
Cigarettes Are Bad, so Make This Smoked Rosemary Oil Dirty Martini Instead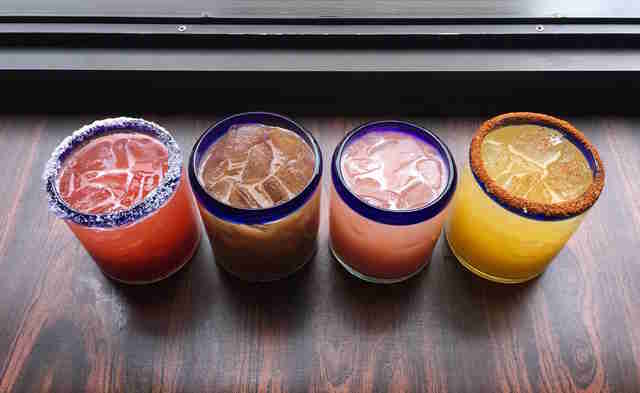 Rittenhouse
How to get in: On 20th St, turn onto Ranstead and look for the dark door with a backward-forward set of Rs. You can also find your way to the secret bar by going through the kitchen at El Rey.

Once you score a booth in this dimly lit hideaway, you probably won't want to leave, especially after you help yourself to a few strong cocktails. If you're not much of an expert when it comes to more extravagant drinks, servers are more than happy to tailor an order to your liquor and taste preferences. House-made mixers, hand-chipped ice, and fresh-squeezed juice make for drinks worth every penny. Don't just stay for drinks, either: bites from El Rey are also available here, and what goes better with absinthe than tacos?
Chinatown
How to get in: Look for the door with the black gate and stainless steel buzzer on Race St. If you go on a weekend it won't be hard to find, since you'll likely be joining a queue of people waiting to get a seat.

Hop Sing is home to one of the largest collections of liquor in the country. The vast collection of alcohol is paralleled with experts in craft cocktailing and an air of exclusivity (and a strict no-photo policy) has made it one of the most heralded bars internationally. If you're making the commitment to visit Hop Sing for a night, don't take it lightly: it will take some time (did we mention the line of people waiting for a seat?) and you'll need to dress up a bit, please -- no shorts or sneakers.
Spruce Hill
How to get in: Fiume is hidden above Ethiopian restaurant Abyssinia, so once you're inside, look for a small flight of stairs marked "Restaurant Entrance." Keep going up, past the bathrooms, and you're there. If you're having trouble finding it, someone in the restaurant will probably be happy to point it out to you.

Fiume has all the mysterious elements of a speakeasy -- winding entrance, intimate space -- without any of the over-the-top formalities (or prices) that make you feel like you don't belong. Instead, you'll find all the facets of the diviest dive, including a couple beer taps and a great bottle selection. Some nights you might catch local musicians; other nights you might be allowed to sneak some Ethiopian food upstairs. You can at least always expect a friendly crowd and bartenders happy to talk beer.
Rittenhouse
How to get in: Again, a line of people waiting for a table might be your first tip. If not, look for the entrance to the right of Byblos -- that will take you to the underground bar.

Franklin Bar will never allow more people inside than there are seats, so snagging one can be a waiting game. Formerly known as the Franklin Mortgage & Investment Co., Franklin Bar still serves all the same stiff cocktails in an appropriately art deco setting, but its makeover last year does away with some of the superfluous exclusivity, opting for a more casual setting at the upstairs bar. The result is two bars in one space: the leather booth, '20s-era speakeasy downstairs where cocktails will be infused with half a dozen ingredients, and the more mid-century modern upstairs bar, where cocktails are still strong but simplified.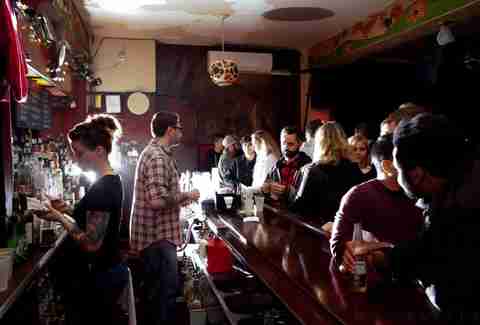 Northern Liberties
How to get in: Head down an alley off Green St; it could prove helpful to have a friend in the Russian United Beneficial Association.

This is one of a handful of Philly establishments that stay open past 2am, so make it your go-to when the bars close but you still haven't had enough. There's usually a cover charge for non-members, and on any given night you'll find something different: musical performances, burlesque, theatrical acts, cabaret, film screenings -- or, if the place is a little empty, ping-pong tables, flip cup, and pool tables all to yourself. You'll notice the dance floor fill up when the "after" hours start, so you can also head up to the second floor bar if your feet are tired.
Midtown Village
How to get in: This is another members-only spot, but if you're interested, current members are typically friendly about sponsoring you (particularly if you're a journalist or in media). The entrance is just by the bright blue parking sign.

As the country's oldest press club, the Pen & Pencil Club hosts all kinds of media-centric events in daylight, from meet-and-greets to guest speakers and "off-the-record" idea sessions. At night, all that hard work fuels late-night benders that can last until 4 or 5 in the morning and produce many regretful stories that'll be legendary one day. There are many dark corners, and if you can't find something interesting to do in them, you can always opt for eating four of P&P's signature crock pot hot dogs.
Rittenhouse
How to get in: It's easiest if you happen to be at the theater for a production -- after, you'll just head to the third floor for this tucked away pub. On off-nights, it would be best to show up to this "members only" bar with your actor/improv/performer friends.

Thanks to Quig's members-only status, last call doesn't roll around until 3am, with the doors shutting at 4. Drinks usually won't run you more than $7 each, making it easier to make your cash last until the wee hours of the morning (if you can stand the cigarette smell for that long). Overall, it's a kitschy, homey place to get to know different people in the Philly performing arts community and escape your usual dives.
Rittenhouse
How to get in: This place is all about the hidden speakeasy vibe, but is quite easy to find: just look for the black awning marked "V" on Sydenham St. Say goodbye to your cellphone -- the downstairs bar bans them.

Staying open through multiple iterations since 1901, Vesper has a unique history that has molded its current status as a dinner club and bar wreaking of exclusivity and secrecy. Always swanky, the space housing Vesper has a past replete with less-than-legal meetings and bathtub gin. These days, everything is perfectly legal but Vesper still evokes that old timey feeling, incorporating a "smart casual" dress code (i.e., no flip-flops). Pop in for a quick happy hour or a long night of dinner and dancing.
Sign up here for our daily Philly email and be the first to get all the food/drink/fun in town.