How to Spend a Perfect Day Hitting All of Philly's Best Breweries
Not that we don't talk about it from time to time, but Philly is one of the best beer cities in the country. And we don't just mean bars -- there are around a dozen active breweries in the area putting out some fantastic beers. To commemorate Philly's superiority in the art/science of hops and malts, we've mapped the city's first beer trail -- an all-day, beer drinking schedule that will test your wits, wallet, and water-holding ability. Perfect for a sunny, brisk Saturday.
It's gonna be a busy day, so head to PBC early to get in line for their free brewery tour.&nbsp;Sample one (or all) of the six beers in the tasting room. We mentioned it's all free, right?<br />
<!-- single line template -->
Tours take around 30 minutes, which gives you just enough time to see the operation and grab a sample of Saint Benji's lavender-y Liaison saison or Hopligation IPA.
Unless your last name is Bolt, you'll need to take a cab or Uber to get to Yards to make it in time for one of the last tours of the day (they run until about 3:30pm). While there, you can get your third tour of the day, and sample some more free beer.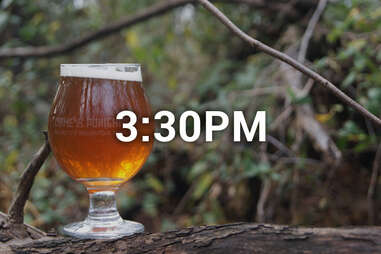 Zero beer dollars spent so far! Unfortunately, the brewery tours end here but there's still lots more great beer to be had, like their hoppy 100 IBUs To Life or the Russian-inspired Grod Inquisitor. C&P also has a full kitchen, so it might not be a bad idea to grab a midday snack.
Now's the crucial moment where you're either in or you're out. Power through, and grab a quick pint of one of the lighter offerings, like the Hidden Lily Witbier or the Bohemian Blonde, at the original brewpub in Manayunk.
You've made it to dinner, bravo. You're gonna need fuel to make it the rest of the night. Earth Bread + Brewery has some tasty (and healthy) bites, along with a small selection of house-made draft beers. Alternatively, you can opt for one of their alcohol-free house-made sodas, like sarsaparilla or 'nojito' (lime and mint), if you need a breather.
You could order one of the nine other house-made beers on tap, but the IPA is our particular favorite. The choice is yours. At this point, you're probably making some poor ones.
At the Ardmore brewpub, the beers are pretty serious, so you'll want to make sure you can actually enjoy them. Tired Hands is always brewing new, genre-bending concoctions, so come ready to dabble in experimental beers.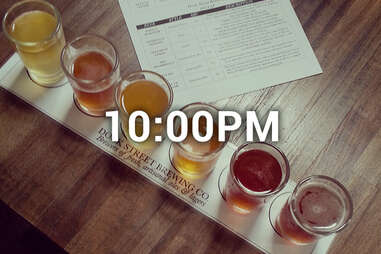 You need to head back to the city anyways, which makes Dock Street the perfect pit stop along the way. At the West Philly brewery, be sure to sample one of its flagship beers, like the Royal Bohemian pilsner or Amber ale.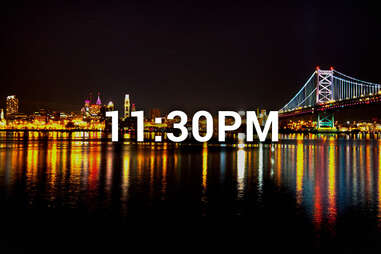 Last call is still a few hours away, so...
The night's still young, and your crawl doesn't have to be over. Maybe pop into one of the best beer bars in the city? Or head home after 12 hours of drinking... yeah, it's probably about time to head home now.
Sign up here for our daily Philly email and be the first to get all the food/drink/fun in town.
Dan Mckay has tried -- and failed -- to make it all the way through the beer trail with his wallet, cell phone, and dignity in tact. Follow him on Instagram or Twitter @dannypageviews