This Eagles-Themed Bar Is the Ultimate Super Bowl Destination for Philly Fans
Tinsel Takes Flight is fully decked out in footballs, Eagles gear, and all things green.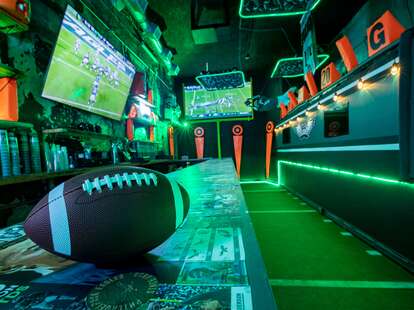 Photo by Cody Aldrich, courtesy of Tinsel Takes Flight
In Philadelphia, there are three holidays worthy of a pop-up bar: Halloween, Christmas, and an Eagles appearance at the Super Bowl. In a city that takes its teams as seriously as Philly, it shouldn't be surprising that a dedicated Eagles-themed bar has taken shape to celebrate the team's excellence.
Tinsel Takes Flight, a pop-up bar that typically offers Halloween- and Christmas-themed experiences each year, transitioned into a space dedicated to the intensity of Philly's sports fandom and is now decked out in all things Eagles just in time for the Super Bowl.
"It was insane in here when the Eagles beat the 49ers," says Josh Leva. He's the general manager at Tinsel and the dedicated Eagles fan that shepherded the space from Halloween and Christmas themes to its current status as the home for the city's biggest birds fans.
Leva plays the role of general manager, host, and overall hype man of the over-the-top football viewing parties thrown for each game. As the resident DJ, he highlights local artists and Philly-themed songs, while also dreaming up the Eagles-themed cocktail program and hyping up the crowd with a megaphone he keeps stowed behind the bar. After the most recent Eagles win, he said it took him a day or so to recover from the energy he put out during the game.
"I don't think this would work if I wasn't a huge Eagles fan," Leva says. "Everyone we've hired, it was like, baseline, you have to be a fan, otherwise it wouldn't be fun."
The space is decked out with all kinds of football decor, plus plenty of massive televisions to ensure you catch all the action. A huge poster of the Eagles' stadium overlooks the bar, and a sign that flashes "No one likes us, we don't care!" greets revelers when they enter the room.
With footballs suspended above the bar and flashes of green as far as the eye can see, it's hard to imagine this place was ever decked out in another theme. Levy says it took two days to strip the space of the Christmas theme and transition it to the de facto home of Eagles fans.
The drink menu focused on football classics—you'll find tons of beer and hard seltzer ideal for guzzling throughout the game, but also a menu of specialty cocktails inspired by Philly sports, like the Weapon X, named for Brian Dawkins, or the Philly Especial, a spicy margarita with melon and jalapeno.
When the Super Bowl airs on February 12, Tinsel Takes Flight will be at its peak. Levy says tickets will be available online to make sure they can control the crowd.
"The vibe is kind of like a very intense Eagles house party in some rich dude's basement that is, like, totally decked out," Levy says. "We just want to share our genuine love for this team."
Maddy Sweitzer-Lamme is a freelance food writer and restaurant reporter based in Philadelphia. Find her drinking martinis, eating pasta, and baking extravagant layer cakes on Instagram or find her work in publications like
Philadelphia Magazine
,
Eater
,
Food & Wine
,
Bon Appetit
, and more.