You don't have to brave the crowds and rowdy kids of Center City Sips to get a good happy hour deal in Philly (though, if you want to do that, more power to you). Restaurants and bars in just about every neighborhood have good deals going on all year, from classic Irish pubs to colorful Mexican cantinas to posh rooftop bars. Whether you're in the mood for a cheap craft beer or a massive fishbowl to share with friends, there's an option for you in the vicinity. 
Avenue of the Arts
Attico
Rooftop lounge and raw bar at the Cambria Hotel
When: Monday-Friday from 5-7pm
The deal: Come for the rooftop views, stay for the sweet discounts. This rooftop hotel bar smack dab in the middle of Center City offers discounted beer, wine, and bartender's choice of cocktail, as well as nibbles as low as $4 a pop, including jerk chicken bao bun ($6) and a $10 cheese and charcuterie board.
Bella Vista
Bainbridge Street Barrel House
Neighborhood corner draft house
When: Monday-Friday from 4:30-6:30pm
The deal: The self-proclaimed "best happy hour in Philadelphia," Barrel House lives up to the hype with half-price deals on all drafts, which is pretty impressive considering there are usually about 25 alternating drafts at a given time, and their attention to craft beer means the deal goes beyond what most bars offer in the way of discounts.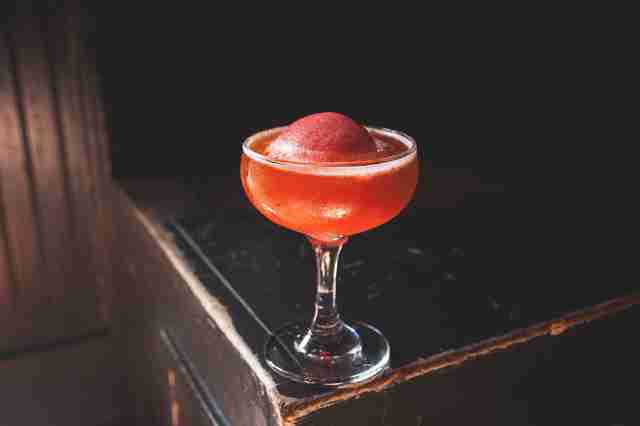 Callowhill
Prohibition Taproom
Sprawling beer hall with local craft drafts
When: Monday-Sunday from 5-7pm
The deal: Get $4 select drafts and $1 off small plates during Prohibition's happy hour, which features a lovingly collected array of beers and ciders that are usually local. Come by on Tuesdays and score an extra deal during gluten-free fried chicken and cider night.
Chestnut Hill
El Poquito
Brightly colored Mexican cantina with outdoor patio 
When: Monday-Friday 5-6:30pm
The deal: El Poquito has daily happy hour specials that can be made gluten-free or suited for vegetarians. You can expect perfectly made $6 house and frozen margaritas, the $6 La Casa beer-and-a-shot special, $3 beer selections, plus a daily pick of discounted food items including street tacos and guac.
Chinatown
Bar-Ly
American-Asian sports bar with 60 taps
When: Monday-Sunday from 3:30-6:30pm
The deal: Bar-Ly has a longer-than-usual three-hour happy hour every single day, which includes no less than 15 different cocktails and martinis that are only $4.50 each. If you're there for the beer, drafts and domestics are $3.50, with craft beer for $4.50.
East Passyunk
Bing Bing Dim Sum
Vibrant Chinese plates with Jewish influence
When: Monday-Friday from 5-7pm and Saturday-Sunday from 3-5pm
The deal: Bing Bing gets bonus points for a seven-days-a-week happy hour, offering a daily $7 cocktail and $7 wines as well as $1 off select drafts. The spot's notorious "Happy Family" pitchers, which come in two sizes for big groups, are also $8 cheaper. Remember, though, happy hour isn't complete without a couple orders of $5 dumplings.
Fairmount
Urban Saloon
Cozy brick tavern with comfort food
When: Monday-Friday from 5-7pm
The deal: All drafts (and there's a lot of them) are a buck cheaper during happy hour, plus wines are just $5.50 each. Everyday you can get a half-priced trifecta of bar snacks (buffalo cauliflower, chicken tenders, hummus), but depending on what day you stop by, Urban Saloon will also have a weekly special going on, including the $15 burger-beer-bourbon deal every Tuesday or $5 champagne every Thursday.
Fishtown
Nunu
Trendy all-red Japanese bar 
When: Monday-Friday from 5-7pm and Saturday-Sunday from 3-5pm
The deal: Happy hour at Nunu includes the spot's own version of a Citywide: a kirkin lager and Tombo shochu for $7. There are also discounted sake and cocktails, as well as delcitibly cheap bites off the regular menu. You shouldn't skip the wings ($5) or chicken and veggie skewers ($1 each).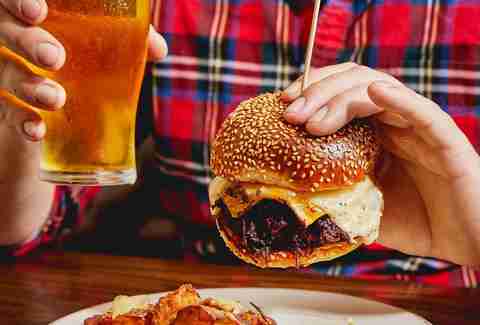 Fitler Square
Pub & Kitchen
Upscale yet relaxed farm-to-table dining
When: Monday-Friday from 4-6pm
The deal: This tastefully cozy neighborhood haunt opens for happy hour, ready to serve peach Jim Beam highball ($6) and a refreshing Moscow Mule ($6), along with $4 pilsners and other beer. For food, you can't go wrong with the $10 cheese plate to the half-shell oysters (6 for $12).
Gayborhood
Sampan
Glossy Pan-Asian restaurant with outdoor bar
When: Monday-Sunday from 4-7pm
The deal: Sampan is quite generous at Happy Hour, including $5 wine, $9 cocktails, and discounted so-called Scorpion Bowls, fishbowl-vesseled drinks designed for sharing (or not). Even more generous, however, is the food menu at happy hour, when everything is basically just 5 bucks. Six types of buns/wraps, three types of dumplings, and all types of other bites are just $4 or $5, so you probably won't be needing post-happy hour dinner.
Graduate Hospital
Rex 1516
Tucked away Southern comfort and strong drinks
When: Monday-Sunday from 5-7pm
The deal: Sit at the bar at Rex and you're welcome to $5 wines and $5 bites, including smoked turkey tails soaked in the spot's signature Alabama White sauce. You can also expect weekly specials on daiquiris, whiskey sours, and julips, plus a $6 Citywide special on weekends that includes a Philadelphia Brewing Co. Newbold IPA and shot of whiskey, bartender's choice.
Kensington
Cedar Point Bar & Kitchen
Homestyle brewpub with vegan options
When: Tuesday-Friday from 6-7pm and Monday-Friday from 10-12am
The deal: Why stop at one happy hour when you can have two? In case you didn't get there in time for imbibing, return at 10pm for a second coming of happy hour, with $1 off wine and beer and $4 off wings (including those of the veggie variety).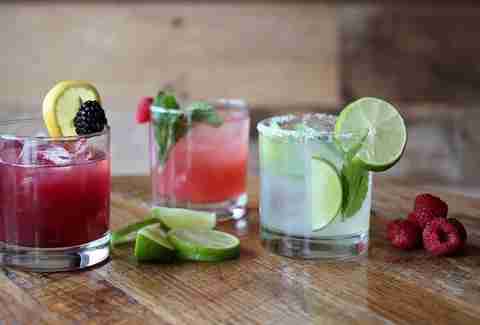 Logan Square
City Tap House
Massive beer hall and sports bar
When: Monday-Friday from 4-6pm
The deal: City Tap, both the Logan Square the U-City outpost, make great happy hour spots thanks to an expansive menu of tasty draft beers. Logan's proximity to all the bug corporate offices is also quite useful, so enjoy $5 drafts and $6 wine/sangria when it's quitting time. Best of all, bar snacks are $6 or less during happy hour, including sliders, dip, hummus, and other bites.
Manayunk
Taqueria Feliz
Bright, casual Mexican restaurant with frozen drinks
When: Monday-Friday from 4:30-6:30pm
The deal: Well, let's start with the tacos. Taqueria Feliz welcomes Manayunk's after-work hungriest with amazingly cheap $5 offerings. A crisp Lincoln will get you two pork carnitas tacos, or two chicken skin tacos, or... well, there are a few taco varieties to choose from. To wash all that sweet tortilla goodness down, house margaritas and sangria goes for just $4 each, while select drafts and bottles are just $3.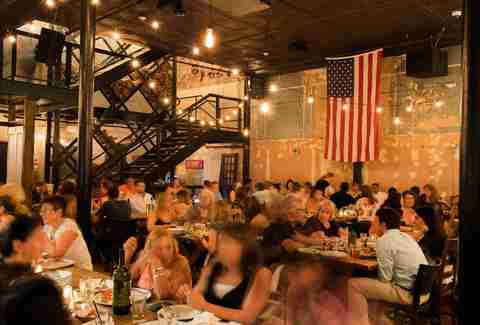 Midtown Village
Porta
Lively and spacious multi-level pizzeria
When: Monday-Friday from 4-6:30
The deal: Porta's colorful, buzzing Philadelphia outpost lures the thirsty with $4 craft beer, $5 wine, and $7 cocktails during the week. The discounts extend to the food, so you best take advantage of the $7 artisanal pizzas and $5 mozzies while you can!
Newbold
Thirsty Soul
Church-themed tavern with all-day brunch
When: Monday-Sunday from 4-7pm
The deal: Thirsty Soul mixes South Philly classics with New Orleans-style food and throws in a lot of heavy-handed churchy imagery for a wildly fun, eclectic experience, only further enhanced by the fact that you can get happy hour there every damn day. Punch bowls are half off during happy hour, and the Soul Burger is just $7.
Northern Liberties
Standard Tap
Iconic multi-level craft beer house
When: Monday-Friday from 4-6pm
The deal: Standard Tap offers beers and half price, as well as cocktails and small plates for $6 during the week. This is especially great considering that all the drafts at Standard Tap are carefully curated and constantly updated with the newest locally made brews. Cheers!
Old City
The Continental Martini Bar
Eclectic American fare in mid-century modern digs
When: Monday-Friday from 5-7pm
The deal: Stephen Starr's Old City outpost of this Americana classic packs quite a punch in its happy hour deals. Among the dozens of offerings are fried chicken dumplings ($5), Szechuan fries to share ($8), and many, many drinks. Try the $6 gimlet to get happy fast.
Penn Center
Giuseppe & Sons
All-day Italian deli and subterranean restaurant 
When: Monday-Sunday from 3pm-close
The deal: Giuseppe & Sons happy hour starts at 3pm daily and... just... never... stops. It's certainly a concept more restaurants should adopt. Head here after work anytime and enjoy wine, classic cocktails, and daily drink specials that range from $4 to $7. Yep, nothing is more than seven bucks. Equally affordable is the happy hour food menu, where you can grab flatbreads, square slices, meat, cheese, and a slew of other Italian goodies at single-digit prices.
Point Breeze
Second District Brewing
Vegan friendly neighborhood brewpub
When: Monday-Friday from 5-7pm
The deal: This food-focused brewpub offers all pints for $2 off during happy hour, leaving more room in your wallet to try all the discounted food items they have waiting for you. The selections update frequently, but you're likely to find bar snacks like candied bacon or fried chicken sammies on the menu.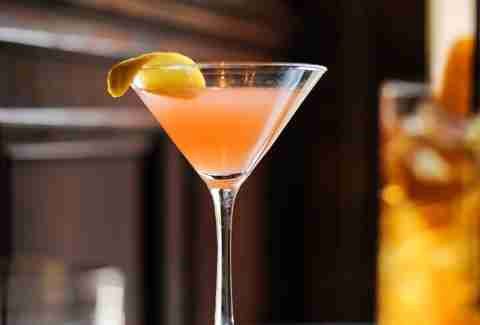 Rittenhouse
Barclay Prime
Ritzy steakhouse on the park
When: Monday-Friday from 4:30-6:30pm
The deal: Barclay Prime is one of the most celebrated Philly steakhouses -- but not without a price. Happy hour gives you a chance to go there without going there, with a smattering of food options, including wagyu beef meatballs ($10) and parm gnocchi ($10) that give you that Barclay taste at a fraction of the price. For drinks, your best deal comes from the $6 wine and $7 cocktail selections.
Society Hill
Zahav
Inventive modern Israeli fare
When: Monday-Friday from 5-6pm
The deal: Sigh. It's getting harder and harder to book a table at Zahav any less than two months in advance. For those of us who don't spend our mornings scouring OpenTable, however, there's still a way to taste all that Zahav has to offer, and that's via the no-reservations happy hour. It begins when the restaurant opens its doors at 5pm weekdays, and if you snag a bar seat you can order $3 beer and $3-4 off wine and cocktails. TBH, the real deal here is being able to order off the award-winning food menu without having a rez. 
Spring Garden
SOUTH Kitchen & Jazz Bar
Airy, inviting Southern-inspired jazz bar
When: Monday-Friday from 5-7pm
The deal: As if SOUTH wasn't perfect enough with its gorgeous interior, live music, and charming skylight, its happy hour is equally attractive. Happy hour drinks are between $4 and $7 and include four local beers, four wines, and five cocktails. For food, enjoy a taste of the spot's New Orleans' influence with options such as $4 hushpuppies, $5 hot chicken sliders, and $7 crawfish critters. SOUTH also has a completely different, full menu specifically for the bar should you decide to stay for a full dinner.
Spruce Hill
Clarkville
Cheery artisanal pizzeria with craft beer and wine
When: Monday-Friday from 5-7pm
The deal: Clarkville advertises a family-friendly happy hour, so keep that in mind depending where you fall on the okay-with-children scale. The West Philly pizzeria has a $6 kids meal (including milk box) and pizzas for just $7 for all us adults (plus some $4-5 beer and wine).
Roxborough
Hilltown Tavern
Traditional Irish pub with elevated pub food
When: Monday-Friday from 4-6pm
The Deal: Hilltown is the quintessential Philly bar, located in close proximity to a water ice shop and sprawled in the midst of Roxborough's never-ending rowhomes. The bar has a killer outdoor patio and surprisingly amazing pub fare. Why not start with the wings? They're a mere 75 cents each during happy hour, and they go very nicely with drinks that are all $1.25 less than usual.
University City
CO-OP Restaurant & Lounge
Seasonal dishes with indoor-outdoor seating
When: Monday-Friday from 4:30-7pm
The deal: Leave it to the college kids to have some of the best happy hour deals around. CO-OP boasts a cute outdoor seating space and welcoming lounge area for happy hour, which includes wine and cocktails starting at $7, as well as discounted snacks including burrata toast, brussels sprouts, and fried calamari.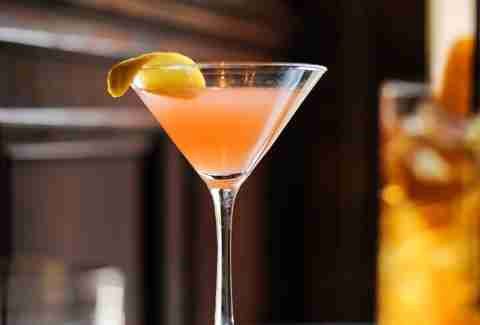 Washington Square West
Tria Cafe Wash West
Artisanal wine, cheese, and beer cafe
When: Monday-Thursday from 5-7pm
The deal: Tria abides by a 5 for 5 promise, offering a selection of three wines, one beer, and one cheese or meat board that you can order in its entirety for a grand total of $5. Tria only stocks the good stuff, so you know you're not getting scammed for the low price. This deal also works at the Tria Cafe in Rittenhouse.
Queen Village
Tattooed Mom
Quintessential hipster dive bar with pool
When: Monday-Sunday from 5-7pm and 10-11pm
The deal: One of South Street's most iconic bars doesn't disappoint at happy hour, offering not one but two chances, in a single day, to imbibe in a cost-effective manner. During happy hour all drafts are half priced, chosen from the bar's rotating selection of a dozen local and national independent beers. During the week, Tattooed Mom also has a rotation of food specials, including half-price vegetarian food on Monday, $1 tacos on Tuesday, and $4 burgers on Wednesday.
Sign up here for our daily Philly email and be the first to get all the food/drink/fun in town.