As Confucius once said, "Everything has beauty, but not everyone sees it." This is especially true after you've downed a few and are having trouble seeing the barstool you were just sitting on. And because some bars are objectively more beautiful than others, we're giving you a list of the most prepossessing places to grab a drink in Philly.
Recommended Video
This Rooftop Bar Makes the Biggest Ice Cream Sandwiches & Cocktails
Penn's Landing
Located at the site of the former high-pressure fire system building -- a structure erected in 1903 that enabled firefighters to combat fires in Center City's tallest buildings -- La Peg is a co-owned space with FringeArts that opened in 2014. With a turn-of-the-century, industrial-inspired design, the massive space houses a bar, restaurant, and multipurpose events stage.
Midtown East
It's a little cliche to describe a bar as sexy, but Charlie Was a Sinner. definitely has a vibe that will raise the body temperature a few degrees. The dark-painted walls, intimate lighting, and antique, plush velvet seating in the lounge create an atmosphere that is perfect for a first date (or second, or third... really any date).
Old City
Outside of Le Bec-Fin (which is closed), there probably isn't a more historically relevant restaurant in Philadelphia than the Original Bookbinder's. What was once THE place to eat and do business in Philly has long since closed, but thanks to Jose Garces, you can now slurp cocktails and oysters in the new, restored Olde Bar. To really get a feel for the place, order one of the signature cocktails like the Moravian Garden or Fish House Punch.
Rittenhouse
At the Ashton Cigar Bar in Rittenhouse, everything is decidedly masculine, from the leather couches to the large glass-faced humidor. The sleek and modern bar is the perfect place to enjoy a cocktail & stogie, and engage in conversations about axes, tie clips, and R/C helicopters.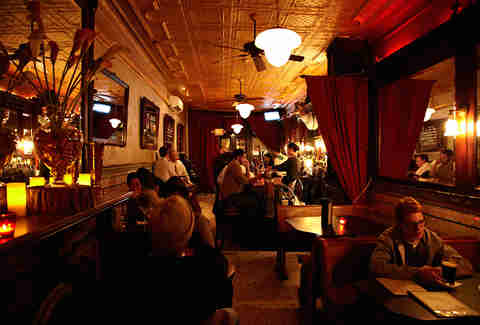 Old City
Walking down 2nd St in Old City, it's easy to miss Sassafras among the row of dives, tattoo parlors, and the underrated Khyber Pass. Inside, however, is a reprieve from the blandness that is most of Old City: Victorian tiled floors, tin ceilings, small marble cafe tables, and a large wooded bar. It's simple but a throwback to what bars used to be (probably before any of us were old enough to drink in one...).
Penn Center
With R2L, it's not the inside of the bar we're focused on -- it's the view. Located on the 37th floor of Two Liberty Place, the bar and restaurant offers panoramic views 500ft above the city floor. A spot to impress, R2L also participates in Sips, allowing you to catch those sunsets at a fraction of the cost it would for the regular price.
Rittenhouse
Odds are, if you're staying at the Rittenhouse -- or have reservations at Lacroix -- you aren't afraid to open up the checkbook for the night. And if you're looking to spend like Rich Uncle Pennybags, the intimate Library Bar should more than fit the bill. Designed, as the name implies, to look like a library for the 1%, the 20-seat bar has art-filled walls, a roaring fireplace, and an expansive 17-page cocktail menu. Yep, pretty much exactly how we remember every library growing up.