The 10 Best Wine Bars in Philly
Le Virtu's menu is one long, extended nod to the Italian region of Arbuzzo, and the wine selection follows suit. The expansive list is divided by areas with a price point for whatever amount you're looking to spend, plus a knowledgeable staff is there for when you realize you have no idea what any of the regions of Arbuzzo actually mean for you and your wine.
Graduate Hospital
Jet Wine Bar is a hideaway on South St, though its extensive wine list will trick your palate into thinking it's anywhere else in the world. Alternating seasonal wine lists bring in the best from France, Italy, Bulgaria, Spain, Chile, Morocco, Georgia... you name it. If you want to up your wine game, opt for one of Jet's laid-back, informative wine tasting classes -- you get to sample five wines and spend a couple of hours learning how to perfect your taste for the good life in the bar's lounge area.
Old City
With more than 120 wines on tap and 150 served by the glass, Panorama is one of the largest wine bars in the world. That's not even a facetious exaggeration: the Guinness Book of World Records named it number one when it comes to the largest wine preservation and dispensing system, and the restaurant typically sees a total of 800 unique wines a year. If the numbers intimidate you, ease in with the happy hour a whopping seven days a week, which includes discounted wine flights and Italian appetizers.
With its newest location in Fitler Square, Tria is swiftly becoming a go-to spot for beer lovers and winos alike. At the Walnut St location you can choose from a dozen wines on tap, meaning you're always getting the freshest seasonal choices with which to enjoy artisanal flatbreads.
Vintage is a staple of 13th St, mostly thanks to a slightly overwhelming by-the-glass menu with over 60 wines from countries all over the world. Obviously you'll need help choosing, so why don't you try not choosing and instead sampling several at a time with one of VWB's 3oz wine flights? Or, head over during happy hour and snag yourself some $4 house wines, too.
No respectable Spanish tapas menu is complete without a killer wine list repping the best Iberian wines -- this one's so killer, in fact, that if you look too closely at it you'll find yourself lost in the triple-digit price points of BF's by-the-bottle selections. Our advice: stick to the earlier by-the-glass pages where you'll find some seriously good vinos, but still have enough scratch for the fig & gorgonzola bruschetta, and/or Brie en croûte.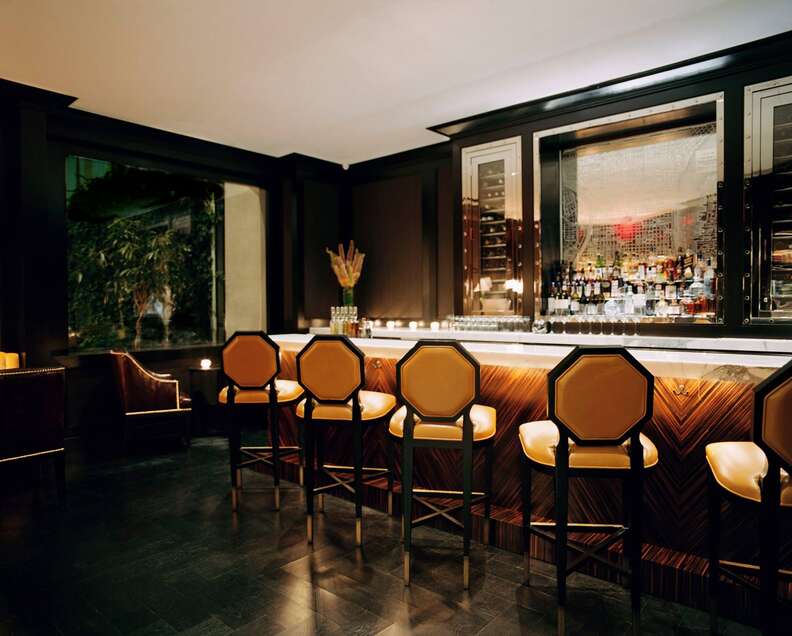 Not only is Lacroix a sweet choice for brunch, The Rittenhouse spot offers perfectly paired food and wine selections in its Library Bar. It's not all just cheese spreads and berries either: craving ribs or cod fries? Lacroix has a wine for that.
This restaurant by the square gets a special mention thanks to its unusual by-the-glass wine menu, where your favorite French or Italian wines can be sold right alongside specialties from Slovenia (there is also a very detailed by-the-bottle list that's pricier). Even better, you can opt for one of two wine glass sizes depending whether you're looking to save some bucks or planning to… ugh, take SEPTA home.
Fairmount has plenty of eateries influenced by culinary expertise in France or Belgium, but this spot sets itself apart with a localist edge, serving wines exclusively from Pennsylvania. This fact makes the bar's name a bit of a misnomer, but think of it more as a nod to Parisians' impeccable ability to enjoy every last drop of wine -- plus, it turns out PA wines pair well with French specialities.
For a quintessential Italian experience in Old City, La Famiglia is a great choice for grade-A winos and newbies alike. Besides offering whatever French, Italian, or California wine you have in mind, the wine list also boasts a high number of hard-to-find Chilean wines that can typically make non-wine drinkers into believers.
Sign up here for our daily Philly email and be the first to get all the food/drink/fun in town.
Marielle Mondon is a Philly-born writer and editor who wrote this while finishing a rosé. Follow her @MarielleMondon on Twitter and Instagram.