The 7 best outdoor drinking spots in Philadelphia
The best thing about Summer... is the way she totally put up with Seth's Captain Oats obsession, obviously. But all the great things to do, like outdoor drinking, aren't bad either. And since we already told you about Philly's best rooftop bars, we decided to assemble a list of Philadelphia's seven best patios. You're welcome...
Rittenhouse Square
The dream of the '90s is alive on South St, and Cambridge's low-key, twinkly light courtyard does not disappoint. Plus you can order Champagne from the can!
Essential Outdoor Drink: Hammonton Smash -- a refreshing mix of gin, mint, and cucumber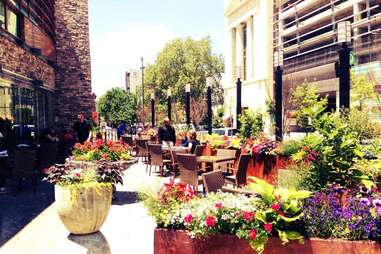 University City
The outdoor patio at Harvest separates you from University City traffic with a nice garden wall and comfortable seating.
Essential Outdoor Drink: Try the Harvest Peach Bourbon with one of Harvest's awesome flatbreads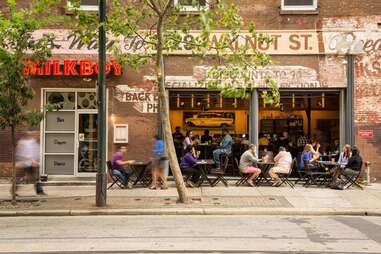 Market East
Sometimes it's difficult to have outdoor sidewalk seating in Philadelphia without feeling like you're about to get robbed, but thanks to breezy wall-length doors that open to the street, MilkBoy pulls it off.
Essential Outdoor Drink: The Handsome -- the Maker's Mark and thyme will make you feel mighty fine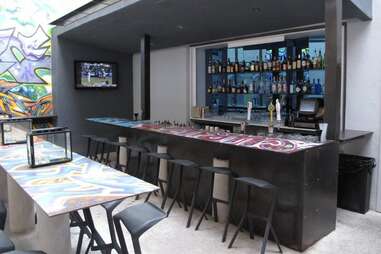 Market East
The outdoor deck doubles as a great place to nosh on top-quality Asian cuisine AND cheer on your favorite sports team with top-quality obnoxiousness.
Essential Outdoor Drink: Sake bombs. Many, many sake bombs.
Fishtown
Picnic tables made of reclaimed wood deck out the patio at Fette Sau (German for "fat pig"), where you can gorge yourself on BBQ cuisine.
Essential Outdoor Drink: Anything off the extensive whiskey list
Rittenhouse Square
Get that pinky up for Rittenhouse neighborhood dining with a French twist.
Essential Outdoor Drink: A carafe of wine, because that's simply what you should do here
Northern Liberties
The outdoor patio at Silk City is all about preservation with reclaimed tables and old kegs that become furniture for your dining experience.
Essential Outdoor Drink: The Painkiller -- spiced rum, coconut, Malibu Black, and pineapple with a hint of nutmeg to alleviate any and all aches and pains
This list -- and all the rest -- look even sexier in our iPhone app. Get it now!