Philly's best beer minds give you their picks for warm-weather imbibing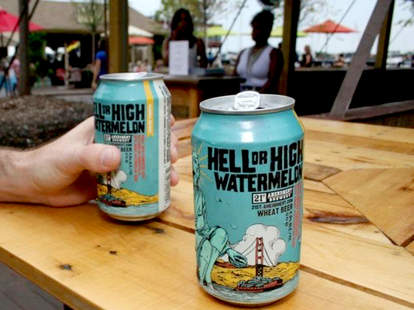 Philadelphians know all-too-well it was Thomas Jefferson who wrote that all men are created equal, and they also know that if he'd been writing about Summer beers, he'd be WRONG! Because they aren't. Fortunately, we've tapped (!) some of Philadelphia's best beer minds to give you the lowdown on what brews to choose to maximize your fun in the sun.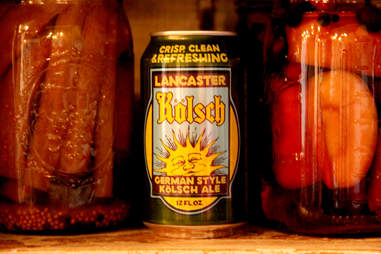 Don Russell, Executive Director of Philly Beer Week; Beer Columnist at the Daily News
Lancaster Kolsch (Kolsch, 4.8%)
Don says: "It's an old German style that may be unfamiliar to many beer drinkers; if it makes you feel any better, think of it as a light beer with actual flavor. This version has a surprisingly smooth, malty body and a refreshing hoppy bite. And it comes in cans, which makes it my go-to brew down the shore."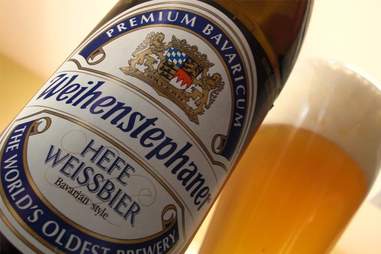 Weihenstephaner Hefeweissbier (Hefeweizen, 5.4%)
Don says: "I'm a sucker for Bavarian wheat beer, and this one might be the best. It's perfect as a Summer refresher when served in a tall glass with a cloud of foam and no f***ing lemon."
Erin O'Shea, Chef/Partner at Percy St BBQ (home of the country's largest all-can beer list)
Brooklyn Summer Ale (English Pale Ale, 5%)
Erin says: "It's white bread in a can, very malty and sweet with a tart finish -- great for Summertime drinking."
Harpoon UFO White (Witbier, 4.8%)
Erin says: "Wheat beers are my favorite, and I really like the UFO because it's well-balanced and the orange and coriander are really subtle. It also goes really well with our new grits & fried oyster dish."
Andy Farrell, Beer Steward at City Tap House (home of Philadelphia's largest tap list, with 60 taps)
Narragansett Summer Ale (American Blonde Ale, 4.2%)
Andy says: "Why? The can alone reason enough... the dude shooting the curl on that wave is probably the happiest guy on the planet. If drinking this beer gets me closer to that, I'm in. By the way, it's also a seriously underrated crisp Summer session beer. 4.2%. Good for drinking all day."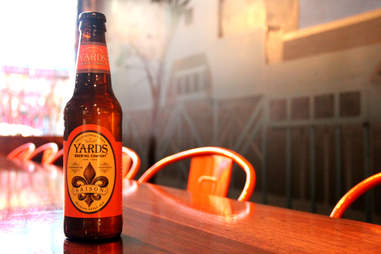 Yards Saison (Saison, 6.5%)
Andy says: "Dry, peppery, and brings just enough acidity/citrus for good BBQ... I'm working on a campaign with Frank Rio from Yards: 'Keep Calm and Saison'. I'm coining that."
Stephen Lyford, Philly Beer Week's Official Photographer; Writer for the Philly Beer Week News Section
Flying Fish Farmhouse Summer Ale (American Blonde Ale, 4.6%)
Stephen says: "A little earthy, a little hoppy, but light and refreshing -- not too heavy for a warm Summer's day."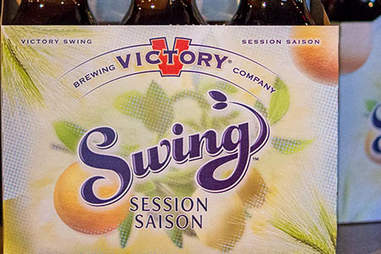 Victory Swing Session Saison (Saison, 4.5%)
Stephen says: "A saison that isn't too 'yeasty' or fruity, but instead has an herbal nose and flavor that don't overpower the rest of the beer and that I find to be refreshing! I found it to be reminiscent of the 'Saison du BUFF', but dialed down a bit."
Danya Henninger, Editor-in-Chief of TheDrinkNation.com
21st Amendment Hell or High Watermelon (Fruit Beer, 4.9%)
Danya says: "Skip the picnic and bring a this to the beach -- it's fruit salad, thirst-quenching, and fun all in one little can. The watermelon flavor is not at all overwhelming, and low ABV means you can sip them all day long."
Dogfish Head Festina Peche (Berliner Weissbier, 4.5%)
Danya says: "This fruit beer is no wuss. Its mouth-puckering peach flavor and delicate hop backbone make it a perfect stand-in for brunch on days when it's too hot to bother eating."