Party like it's 1899: these are Philly's 5 oldest bars
Marielle Mondon
Marielle Mondon
Sadly, Philadelphia finds itself at the top of some not-so-great lists: most overweight major city, most difficult-to-imitate dialect, etc. But we're also number one when it comes to having lots of cool, old stuff everywhere, including bars -- like these five fine drinking establishments (and one honorable mention) where, instead of making bad decisions, you're taking a trip through our city's alcohol-soaked history, and where you just might meet a Ben Franklin impersonator or two.

5. Established 1921:McNally's Tavern
Chestnut Hill
McNally's opened as a pit stop for travelers/car operators on the Route 23 trolly. Today, the sandwiches are still delicious, but you can actually stay a while and enjoy the bar.
Fun Fact: McNally's gigantic signature steak-and-grilled-salami sandwich, the Schmitter, is available at Citizens Bank Park and Lincoln Financial Field, and has even been served at Super Bowls in Jacksonville and New York.
4. Established 1905: Cherry Street Tavern
Logan Square
This place is so old that women once had to use a separate door, and stay in one section of the bar. Today it's a cozy -- and coed -- Logan Square staple.
Fun Fact: During the Prohibition, the place stayed open as a "barber's shop".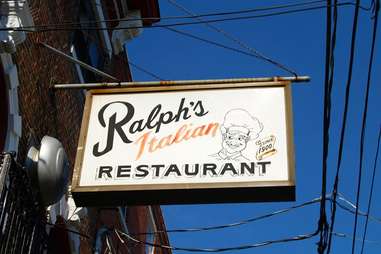 3. Established 1900: Ralph's Italian Restaurant
Bella Vista
Established by an Italian family fresh off Ellis Island, Ralph's is the oldest Italian restaurant in America.
Fun Fact: Theodore Roosevelt was one of the first, but hardly the only, big-name guests to eat at Ralph's during a visit to Philly.
2. Established 1894: The Mask & Wig Club
Center City
Owned by UPenn's musical comedy troupe of the same name, the former stable/church/carriage house, and current historic landmark, has a seriously old-school hunting lodge-inspired interior, and is even available for parties.
Fun Fact: During the mid-20th century, the troupe's songs were kinda a big deal -- even Frank Sinatra did a cover of one.
1. Established 1860:McGillin's Olde Ale House
Center City
The city's oldest, continuously operating bar -- one of the oldest in the US -- was opened the year Lincoln was elected, and has been serving Lincoln's least-favorite thing, shots, ever since.
Fun Fact: Robin Williams, Will Ferrell, the geniuses behind Drunk History, and a slew of famous names have swilled spirits here, and why not? It's one of America's best Irish pubs, after all.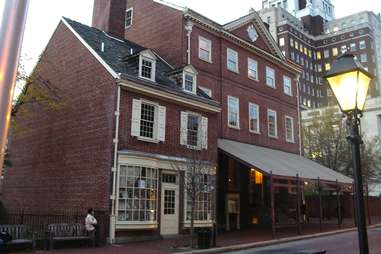 Honorable Mention: City Tavern
Old City
Commissioned by the likes of John Penn and other ye olde Philebrities, this tavern was opened before there was a United States in 1773, but hit tough times in 1834 when a fire destroyed half the space, leading to full-on demolition 20 years later. Today, it's a re-imagined, and very tourist-friendly, 18th century-style saloon staffed by people in period costume.
Fun Fact: City Tavern was the cool hangout for the First Continental Congress, and hosted the first Fourth of July anniversary party in 1777.