The Philly Mint Julep You Need This Spring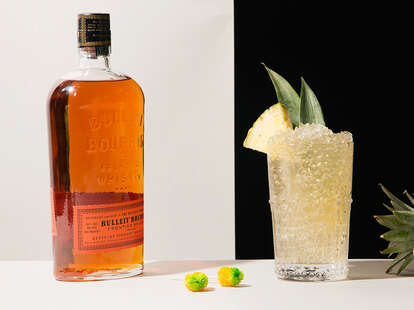 Photo: Eric Helgas / Styling: Ali Nardi
The Kentucky Derby demands mint juleps, but even old classics can still benefit from an update. We asked bartender Davey Jones (real name) for a new spin -- one that speaks to his, ahem, seafaring roots.
A Southern Pirate's Julep
INGREDIENTS:
1 ounce Bulleit bourbon
.5 ounce El Dorado 12 year rum
.75 ounce pineapple Demerara syrup (1 cup of 2:1 Demerara, blended with 1 cup fresh squeezed pineapple juice)
DIRECTIONS:
Add ingredients to shaker and dry shake.
Pour into a julep cup.
Add some crushed ice swizzle.
Top with crushed ice garnish with fresh sliced pineapple wedge and pineapple bract ("or leaves? whatever you call those things that stick out of the top of a pineapple") and powdered sugar.