These are Philly's 5 best Bloody Marys
In honor of football, drinking, America, and YOU, we proclaim the Monday after the Super Bowl shall henceforth be known as National Hangover Day. It's a day for hangovers to be celebrated, embraced, and combated in the most enjoyable of ways -- namely, eating delicious food, and possibly drinking more. The ultimate goal? Getting the entire country a day off work, a beautiful dream you can help make happen by signing this petition to our sports-loving President right here and tweeting it.
The immediate goal though? Fixing that hangover with Philly's best Bloody Marys...
National Mechanics
Old City
Even better than this place's screening of "the funniest p**n ever made" is their Make-Your-Own Bloody Mary Bar, which features tons of hot sauce options, the chance to infuse some tequila, and National Mechanics' own signature bacon vodka.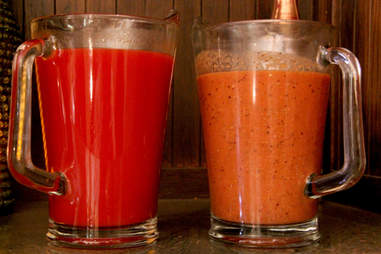 Lacroix at the Rittenhouse
Rittenhouse Square
This spot's chef went to places like Portugal, Thailand, Japan, and even America to get inspiration for an all-you-can-eat buffet featuring things like a raw caviar bar, hand-carved meats, sausage beignets, and, most importantly, ice cold Bloody Marys you mix up yourself w/housemade tomato mixers and a massive selection of hot sauces and garnishes.
Standard Tap
Northern Liberties
This Northern Liberties spot offers up a robust take one this tomato-based 'tail that features several types of peppers, celery seed, three hot sauces, horseradish, a shton of pickled vegetables, and a certain seasoning you don't know nearly enough about.

Pub & Kitchen
Rittenhouse Square
"The Wrangler" boasts extra horseradish and is garnished with so much chili, it's almost guaranteed to get rid of the pain your head is in right now... and replace it with a whole new kind of pain. 
The Sidecar Bar & Grille
Southwest Center City
If you were smart enough not to get in any kind of car last night (except maybe a taxi), then you're definitely smart enough to get into the Sidecar this morning for their no-nonsense Bloody made with house vodka, since it's really a no-brainer.