The Best Places in Philly to Watch the Eagles Win the Super Bowl
The Philadelphia Eagles have never won a Super Bowl. Hell, the team has only ever been to the big game twice in 52 years. So, for a city full of some the country's most notoriously rabid sports fanatics -- where the street poles are greased up to (try, and fail to) keep blissed-out fans from climbing them -- the Eagles facing off against the New England Patriots at the Super Bowl is a seismic event. But what if the Birds actually win, putting an end to a streak that has lasted for more than half a century? Now that will be a historic event.
No one in town on Super Bowl Sunday should be cooped up at home; they should be out in the city, surrounded by diehard fans. But you'll want to plan accordingly, as tickets for game-day events are selling out fast. Some of the most obvious, big-name spots -- like XFINITY Live and Chickie's & Pete's -- are already completely sold out.
There likely won't be a bad place to watch the Super Bowl this Sunday night -- but there are more than a few great places to watch it, with specials and deals galore. Here are some of the best bars in Philadelphia perfect for catching every ecstatic (or excruciating) moment of Super Bowl LII.
The Philadelphia Eagles face off against the New England Patriots at 6:30pm EST on Sunday, February 4. Watch at any of these bars or live on NBC.
Center City
For the first time in its history -- and it's a long, 150-plus-year history -- McGillin's in Center City is serving green beer on Super Bowl Sunday. (Green brew is something the massive, two-floor ale house normally only serves on St. Patrick's Day.) If verdant brews don't tickle your fancy, other special offerings include the "Iggletini," an Eagles-inspired cocktail made with vanilla vodka and green crème de menthe. High-def and projector screens await all sports fans. No reservations. No tickets needed. Just a $5 cover at the door.
University City & Logan Square
A pub so great there's two of them -- one in Logan Square and another in University City -- and they're both hosting Super Bowl parties. A general admission ticket ($25) gets you a drink token good for one draft beer, but for a guaranteed spot to sit, you'll want to drop $60 for a reserved seating ticket. If you've never checked out this spot before, have faith: Tap House, with its lengthy list of craft beers, definitely lives up to its name.
Logan Square Tickets: here
University City Tickets: here

Chinatown
This might be the best locale in Chinatown for sports fans, or anyone looking for food and draft menus so extensive they should be written on scrolls. Boasting 60 beers on tap and appetizers ranging from the ordinary (onion rings and wings) to the somewhat outlandish (chicken gizzards and bacon-wrapped quail eggs), Super Bowl fans should bring an empty and adventurous stomach. Also important: this place has TV screens filling an entire wall.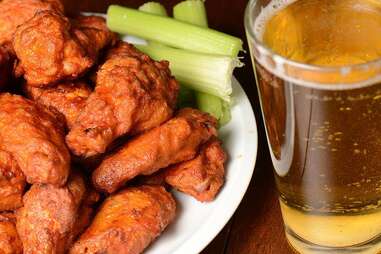 Center City
Looking for pure screen inundation? This haven on the corner of Broad and Walnut boasts a whopping 34 HDTVs, and is hosting a mega-Super Bowl Party on game day, with tickets ranging from $75 to $900. Depending on the size of your wallet, a pass to this event gets you a four-hour open bar, access to a game-day buffet, and even some reserved seating. Move on this quickly, though. It will sell out.
Old City
One of the more laid-back spots on this list, Buffalo Billiards, located in Philly's historic Old City, has a large bar and plenty of TVs. There's more than a few pool tables, but we're thinking no one's going to be focused on the cue ball this Sunday. Domestic beers will cost $3.50 during the game, but BBs isn't taking reservations, so get there early.
Spruce Hill
A tried-and-true Philly sports bar, Cavanaugh's will definitely be throwing down on game day. While not the roomiest cantina on this list, Cav's will observe a first come, first serve policy on February 4, so you won't need to worry about grabbing a ticket ahead of time. Plus, if the crowd gets too thick, you can hop over to City Tap (a mere block away).
Center City
Located a stone's throw from Reading Terminal Market -- and nestled inside the Philadelphia Convention Center -- you can't get more in the heart of Philly than the Field House. A $25 ticket buys you entry to all Birds-related festivities, including a special game-day menu highlighting this Filbert Street staple's Sicilian pizzas. And, with 35-plus TV screens practically tiling the walls, there's not a bad seat in the house.
Center City
Don't let the nautical theme and upscale pub fare throw you: Misconduct is well-equipped for Super Bowl exuberance. Throw back a couple craft beers and devour one of this classy tavern's signature mac & cheese plates (fondue, mozzarella, and fontina -- so good). There's no reservations and no cover charge, so the space could fill up fast, but with two locations (one on Locust Street and one on JFK Boulevard), you've got good odds of holding down a spot.
Rittenhouse
There will be no reservations at this spacious Spruce Street sports bar, but there is a somewhat steep-ish cover charge ($30). Even so, a thirty spot not only gets you in the door, it enters you in a raffle held at the end of every quarter. The raffle prize? An "authentic" Carson Wentz jersey -- and if that's not enticing enough, one of those jerseys will actually be autographed. Also: A $30 cover might keep the crowd from getting too dense? Maybe -- but probably not.
Fishtown
If you're looking for more of an offbeat choice, or you're just into playing games while watching other people play games, consider Fishtown's Revolutions bowling alley. With giant screens looming over each lane, you can bowl a strike while watching someone kick a field goal -- we think there's something distinctly great about that. Make sure to come hungry, though: wings are going for 50 cents each, and you can wash them down with $2 PBRs. Go wild.
Sign up here for our daily Philly email and be the first to get all the food/drink/fun in town.
Dutch Godshalk is a writer living in Philadelphia. His words have appeared in
Men's Health
,
The Guardian
,
Billy Penn
,
Time Out London
, and various other media outlets. Follow him on Twitter: @DutchGodshalk.