The Best Places in Philly to Watch the Eagles Win the Super Bowl
A superfan's guide for the best spots to watch the big game.
In a city home to the country's most notoriously rabid sports fanatics—where the street poles are greased up to (try, and fail to) keep fans from climbing them—the Eagles facing off against the Kansas City Chiefs at the Super Bowl is a seismic event.
No one in town on Super Bowl Sunday should be cooped up at home; they should be out in the city, surrounded by diehard fans. So we tapped one diehard fan to share all the best spots to watch the big game.
Aunt Mary Pat, the green eyeshadow-donning, chain smoking, Delco-accented grande dame of Acme, first entered public consciousness in 2018, the last time the Eagles played in the Super Bowl (and won). Five years later, Aunt Mary Pat, performed by Troy Hendrickson, is reveling in another Eagles Super Bowl berth.
As Hendrickson prepares to retire Aunt Mary Pat from live performances later this year, the serendipitous bookending of the character's tenure with a local showing in the Super Bowl isn't lost on him. "So I planned it perfectly," Hendrickson says. "I started with an Eagles Super Bowl, I'm ending with an Eagles Super Bowl."
Read on for the devoted Birds fan's picks on where to watch the Eagles take on the Kansas City Chiefs in Super Bowl LVII.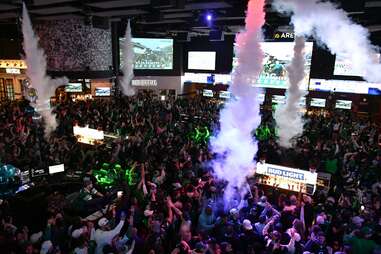 Stadiums
The massive entertainment center a stone's throw from the stadiums is one of Aunt Mary Pat's favorite spots for revelry and a lively crowd. "But you're not going to get a table because everyone and their mom's going to be there," Hendrickson says. Xfinity contains five unique bars within its 80,000-square-foot footprint, making it one of the biggest spots to crowd into on game day.
Tacony
"You have to go to an Irish pub," Hendrickson says, "That's a staple in Philadelphia." This Northeast bar is famous for its wings and has ample TVs, making it an ideal spot for watching the game.
Stadiums
Crowd around the bar at the South Philly outpost of Chickie's and Pete's (and try to steal a few crabfries while you're at it), an Eagles fan's rite of passage. There are tons of TVs, a huge bar, and plenty of space to mingle about. "It's a staple," Hendrickson says, "Everyone starts there," before migrating to other locations or celebratory bashes. The bar isn't the partner of the Philadelphia Eagles for nothing.
Stadiums
Listen, even though the game is taking place some thousands of miles away in Arizona, being in proximity to where the magic happens at home is a vibe. For Hendrickson, it's all about the people: "They have their baked ziti at 6 am, they have their 30 pack even though they sent their cousin out to pick up another one," he says. "It's just magic, you know?" Like a picnic for beer-loving adults, gather some friends, organize a potluck, and get festive with hundreds of like-minded fools.
Midtown Village
A sports bar with drag? Yes please. "The first floor in Tabu is like, pure sports bar, which doesn't make any sense whatsoever," Hendrickson says. Not to be confined to only one level on Super Bowl Sunday, every TV in the entire multi-level bar will be playing the game. Hendrickson is also a fan of the fried ravioli.
Pennsport
This South Philly bar has an astroturf outfitted outdoor patio for additional game-viewing space. "The owners are wonderful," Hendrickson says. "They have great food, great cocktails." It's a more intimate space, so be prepared to rub shoulders with fellow fans. (You can make a reservation for a four-top table though.)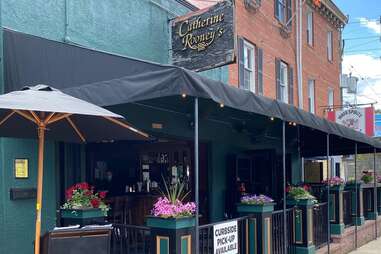 Wilmington
Birds fans in Wilmington would be remiss if they didn't sip a green Miller Lite at Catherine Rooney's, an Irish pub with an authentic aesthetic. A spot for regular sports viewing in the area, this is Wilmington's spot for the Big Game.