There comes a time in every life when you trade in a beer for an Old Fashioned and a night out in Old Town for a swanky night at a cocktail lounge. After all, who wants to be that 40-year-old dude fist bumping in Scottsdale until last call every weekend? (Or maybe you do -- we don't judge). For those of you who are ready to trade up for a little bit of sophistication, we've done all the delicious and slightly intoxicating work of finding the absolute best cocktail bars around town.
Phoenix
The Southern concept offers a wide selection of both classic and modern craft drinks, including a variety of mint julep cocktails -- what else would you expect from a Southern-style eatery and cocktail joint? Okra's daily happy hours boast half-priced bites at the bar, including smoked focaccia and fried chicken skins as well as $3 cocktails. Try like the standby Old Fashioned or a bubbly French 75 -- made with gin, Champagne, fresh lemon juice, and sugar. If you're lucky, you might just find sommelier and award-winning mixologist Micah Olson working his magic behind the bar.
Downtown Chandler
This Prohibition era-style cocktail lounge really takes you back in time. It sits in the basement of a pizza joint, in a building that dates back to 1912, and was once a watering hole for secret traveling drinkers and well-to-do locals alike. Its basement tunnels here provided the perfect escape if Phoenix's finest were to wander in. Today, the bar is led by the nationally recognized mixologist Brandon Casey and thirsty patrons don't have to be quite so secret about enjoying The Ostrich's long list of libations, including the award-winning AZ sunshine shandy made with Arizona Distilling Co. moonshine, a couple syrups, fresh lime, Angostura orange bitters, and topped with a sweet raspberry cider.
Old Town Scottsdale
This Scottsdale cocktail bar has earned a whirlwind of local and national buzz for its innovative rotating theme and menu concept called "episodes," which changes three times each year to include themes such as Shanghai Social, 19th-Century New Orleans, and Picasso's travels to Cuba (semi-obscure boozy historical references are right up our alley). Counter Intuitive loves their agave spirits, but that doesn't mean you can't get a good Negroni or Old Fashioned.
Phoenix
Since its 2013 opening, this Asian-inspired kitchen and cocktail bar has quickly become a Phoenix favorite -- not just for the steamed buns and house-made dumplings, but their wide spectrum of fine craft cocktails. Co-owner and Bar Manager Joshua James (formerly of The Parlor Pizzeria) ensures that food and drink co-exist nicely -- have any drink on the rocks, on a cube or tall, shaken, stirred, or even tiki-style. Try the enabler, with 12-year-old whiskey, grilled lemon juice (don't ask us how), grade B maple, hibiscus bitters, and smoked sea salt. If you'd prefer your cocktail on the rocks consider riding the pine -- a fruit-forward cocktail formulated with St. George Terroir gin, Lillet Rouge, and lime. If tall drinks get you going, try the crisp Fill Collins, with Austrian dry gin, elderflower tonic, a little lime and lemon, grenadine, and celery. Clever Koi has plans to open up a new spot in Downtown Gilbert this fall.
Downtown Phoenix
We can't get enough of Downtown Phoenix's Bitter & Twisted. Located in the historic Luhrs building (which, ironically, was once the Prohibition headquarters of Arizona!), the space here has just as much charm and character as the drinks. From the carefully purveyed ingredients -- which range from edible flowers to fresh fruits and juices, and even ice -- everything that goes into a single cocktail is treated like an art. The bar recently launched its third Book o' Cocktails, which lists 60 unique cocktails including the B&T flawless martini, the ridiculous Duck Punch, and a section dedicated to cocktails done right from B&T's friends around the world. The book also features a page of the Top 10 drinks at B&T if you need a little help choosing just one.
Downtown Chandler
This Chandler bar specializes in small plates and craft cocktails. Bobby Kramer, head mixologist here, offers a long-list of his very own original recipe craft drinks like the crisp Boston 85, the velvety and citrusy Sonoran Sour or the tangy Desert Rose. And of course we can't forget the toasty Some Mores libation. It's made with 12-year-old rum and light rum, a splash of coffee liqueur, and cocoa bitters to finish. The cocktail is clearly a play on words and the sweet-tasting cocktail even delivered to right to you with a graham cracker crust and a toasted marshmallow.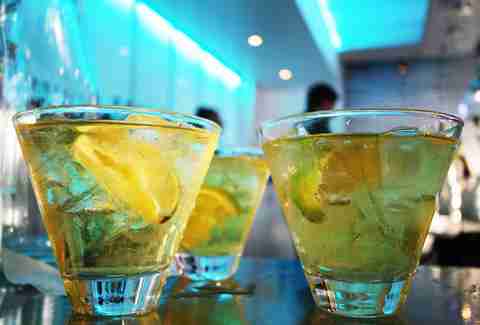 Downtown Phoenix
This ultra-modern, heavily Polish-influenced Downtown Phoenix spot serves up cleverly crafted drinks and a variety of Slavic fare and European comfort food. You can choose from a selection of vodka flights, European beer, and a long list of wines. Signature drinks such as the Napoleon complex, comprised of old barrel vodka, absinthe, Riga Black Balsam, sweet vermouth, and some tangy orange zest, and the dirty commi martini top the cocktail menu.
Phoenix
If you fancy yourself some sort of whiskey aficionado, chances are the mixologists here can give you exactly what you want. This Arcadia neighborhood lounge offers 90 varieties of whiskey (we counted, of course), but also serves plenty of other spirits. You can fill your daily serving of veggies with the alcoholic salad, a cocktail made with Effen cucumber vodka, or forget the food pyramid and try the Hiso. This cocktail with a kick is contrived from serrano-infused tequila, sweet pineapple syrup, some fresh lime, hellfire habanero shrub, vida mezcal, and fresh thyme. Stop by for happy hour, which happens every single day (hallelujah!) from 4pm to 7pm.
Phoenix
Honor Amongst Thieves is the newest cocktail bar in The Colony's buzzworthy Seventh St dining district. This windowless, semi-secret cocktail spot is hidden just above the gastropub Stock & Stable and has a swanky old-timey feel without being too pretentious. The Rutte of the Problem, a libation procured with gin, honeydew matcha, wasabi, yellow chartreuse, a splash of lime, and garnished with a melon sphere is a refreshing respite from the Phoenix heat. There's also no shortage of the classics on this menu, but we suggest that you be adventurous and try something new. You've got good reason to -- the new cocktail program is led by Bar Manager Lyndsi Hastings-Mundy and wine expert/General Manager Corbin James.
Downtown Scottsdale
Contemporary craft cocktails and award-winning gastropub fare earn this Old Town drinkery two thumbs up. Stop by for the Good Citizen's Social, a half-priced drink event happening each day from 3 to 6pm, and sip on something delicious. Favorites are the unusual society, a mix of Hendrick's gin, Giffard apricot, chamomile syrup, Cardamaro, orange bitters, and a dose of bitter lemon soda, and the the import, which blends Jameson Irish whiskey, tawny port, tobacco bitters, Four Peaks oatmeal stout, foam finished with a smoked sugar rim, served on the rocks.
Phoenix
Bar Manager Michael Allmandinger and the ever-talented barmaster Libby Longlott use premium ingredients and artisanal products to construct craft cocktails just as The Parlor chefs do their beloved wood-fired pies. Standouts include the smoky and herbal chupacabra, made with mezcal, green chartreuse, lemon and cinnamon honey simple, and the camelback collins, a refreshing seasonal drink using local mission vodka or commerce gin, seasonal fruit, herbs, and citrus. Catch happy hour daily from 3 until 6pm for deep discounts on pies, draft beer, wine, and well liquor.
Phoenix
Phoenix's MercBar is an outpost of the original New York-located MercBar. Unfortunately, the Soho cocktail lounge shuttered in 2014 but lucky for you, the Phoenix spot is still slinging drinks. MercBar was a leader of The Valley's cocktail renaissance, effortlessly capturing the posh, sexy speakeasy vibe with delicious drinks to boot. Try the Double A, built from agave spirits, grapefruit and lemon juices, a touch of raspberry simple, bitters, and grapefruit peel for garnish. Or stick to the classics, like a spirit-forward Moscow mule, classic Bellini, or Mercer sour. This summer the cocktail lounge celebrates its 20th year in business.
Phoenix
This vintage-style Phoenix lounge is the place to be if you like vinyl records and old-school arcade games with your craft cocktails. Every Wednesday, all day, you can get your favorite drinks, like an Arizona mule or Mexican peach on the rocks, for just five bills. Or if you're feeling adventurous, order a beer or wine cocktail like the peach melba straight up with Brut rose, or the be fashioned with Four Peaks Kiltlifter -- a rather tasty Scottish-style ale. You can even get a "roadie" (a drink to go for those not hip to the lingo).
Sign up here for our daily Phoenix email and be the first to get all the food/drink/fun in town.