Arizona may still be on the cusp of greatness, food-wise, but drink-wise we're already there -- having three college campuses, multiple local breweries, and the need to constantly stay hydrated definitely hasn't hurt. So whether you're looking for your next favorite dive, a killer local brew, or the craft-est of cocktails, we've got you covered...
Flagstaff
An award-winning restaurant and bar with a strong focus on local and organic ingredients is always a great pick, especially for the environmentally conscious Flagstaff scene. The extensive wine list, variety of beers, and unique range of craft cocktails definitely don't hurt either.
Tucson
Local is key at Agustin Kitchen, where you'll be greeted with an "all domestic" wine list (you'll even find some Arizona wines!) and plenty of local draft beers. However, no great bar would be complete without craft cocktails, and fortunately Agustin Kitchen serves nearly 20 to choose from.

Jerome
There's no better place in America's largest ghost town than the aptly named Spirit Room. It's your one stop shop for live entertainment, great drinks, and a lot of fun in a small-town, unpretentious environment.
Oro Valley
If you're looking for a great beer, you're in luck, because at Noble Hops you have 175 to choose from. Yes, 175. While trying all of those will probably keep you busy for a while, you still have the option of trying one of its wines, or anything else you can dream up from its full-service bar.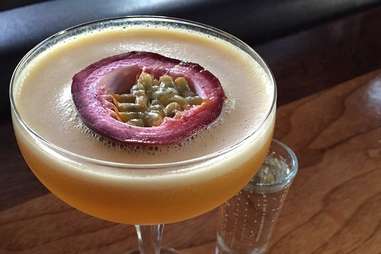 Phoenix
Bitter and Twisted is a clear Phoenix favorite. Despite the fact it just opened in Downtown Phoenix last year, it's already a staple and has been awarded the title of "best cocktail bar" by numerous sources. While you can stop in for some beer and wine, it would be shame not to take advantage of some of the creative, one-of-a-kind liver destruction it's created.

Flagstaff
The Museum Club is one part bar, one part country music venue, and all parts fun. It's the kind of place everyone in the area seems to have a story about, and it's not surprising given its historic background -- the bar is housed in a building that was built in 1931!
Peoria
No list of great bars would be complete without a classic sports bar -- cue our shining example: The Moon Saloon. This spot exceeds all expectations with a killer happy hour, friendly staff, classic drinks, and did we mention sports?
Tucson
Flights of beer, local wines, and top-notch craft cocktails make Good Oak Bar a must-visit Tucson establishment, and as if the great drinks weren't enough to keep you, the fun and upscale, yet casual atmosphere makes for an environment you'll want to visit a lot more.

Prescott
During the day, Prescott is a beautiful artsy town with frequent craft fairs, beautiful historic sites, and a calm, quiet atmosphere. At night, it's a different story -- especially on Whiskey Row. To get your night started off right, we recommend stopping by the renowned Bird Cage Saloon, where you'll find taxidermied animals, great live acts, and stiff drinks.
Lake Havasu City
It's pretty much impossible to have a bad time in Havasu, but in case you want to guarantee the time of your life, sipping a cold beer while looking out on the London Bridge isn't a bad idea. Barley Bros was the first microbrewery in Havasu, and needless to say it has brewing down to a fine art -- save yourself the regret and get the sampler so you can test them all.

Surprise
There's nothing quite like an Irish bar, and while not in Ireland, Irish Wolfhound is able to come pretty close to the real deal with a great selection of beers that perfectly complement the authentic Irish fare. To get the full experience, try out the Irish beer flight, which includes 6oz of Guinness, Smithwick's, and Harp.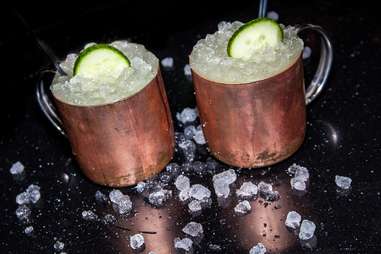 Scottsdale
If high class is your thing, this is your spot. You can expect an elegant atmosphere complete with chandeliers, a view of the city, Champagne cocktails, and of course, plenty of top-quality bottles of wine.

Sedona
Oak Creek Brewery & Grill is known, especially in Northern Arizona, for its delicious beers crafted by Oak Creek Brewing Co., which opened its doors back in 1993. The restaurant, which opened nearly a decade later in 2001, offers undeniably good food, but the award-winning, seasonal beers are the real draw.
Sign up here for our daily Phoenix email and be the first to get all the food/drink/fun in town.