Brunch: a weekend ritual when we collectively seek out a means to cure our hangovers after a night of overindulgence at the bars, and question whether or not we made any bad decisions (probably). This ritual should not be taken lightly, and any old breakfast spot just won't do. We've curated a hood-by-hood guide to the best brunch offerings around town, no matter which part of The Valley you live in.
Downtown Phoenix
Located inside an old neighborhood house, The Vig Fillmore is the top destination for a boozy brunch in Downtown Phoenix. With a spacious patio and lots of space for yard games like cornhole and bocce, this spot may just turn into your regular Sunday hangout. The menu combines the classics with regionally inspired dishes like chicken enchiladas, tres leches French toast, and the chorizo burro with house-made chorizo and a chipotle tortilla. A section of the menu is dedicated to "Hangover Helpers," spirit-heavy cocktails that include the Famous Ramos, a classic take on the gin fizz, and the vodka-based Pineapple Sunday. And of course, there are plenty of mimosas.
Arcadia
This Arcadia-area eatery is known for its use of local ingredients and American-style fare. Brunch offerings include chilaquiles with pulled roasted chicken and roasted tomatillo salsa, a French toast special whose toppings change weekly, and a tender braised pork omelet. As for cocktails, brunch-goers can order bottomless mimosas for $15, bloody mary boards for $11, or the seasonal bellini for $10.
Midtown
Stick a fork in any of this New Mexican restaurant's brunch offerings and prepare to sweat out that hangover. Expect dishes like carne adovada and eggs -- a smoked pork dish that's been simmered in red chile -- or opt for something more mild, like the Midwestern, a plate of ham, three eggs, potatoes, toast, and New Mexican sausages. Brunch here is served daily until 4pm. Lucky for you, that also overlaps with happy hour, so you can order some of those house margaritas.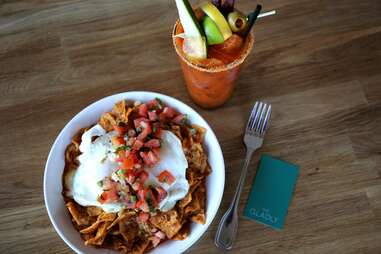 Biltmore
Chef Bernie Kantak is at the helm of this Biltmore neighborhood eatery, and his attention to detail and flavor is present in each of the carefully crafted dishes. Each Sunday, Kantak and The Gladly crew present an impeccable brunch from 9am to 3pm. The French toast, made with a chunk of Noble bread, mascarpone, apple-cherry compote, maple syrup, and pecans is like heaven for your mouth. The chilaquiles are always a good choice, but you can't go wrong with hearty the eggs Bernie'dict, a dish comprised of over-easy eggs on a pretzel roll with smoked sausage and cheese fondue. Pair your meal with a spiced bloody mary or house-made blood orange sorbet mimosa.
Midtown
Head to St. Francis for brunch, craft drinks, and jazz each Saturday and Sunday. Start with a handcrafted cocktail made with fresh-squeezed juices and house-made syrups, or just get the St. Francis Bloody with horseradish, Worcestershire, and Tabasco. Egg dishes like the chorizo scramble, bakers quiche, and farmers market frittata are excellent options. Carb lovers will appreciate the goods available from Phoenix Public Market Cafe, St. Francis' sister restaurant, which includes cinnamon rolls, scones, iron skillet pancakes, and the bakers board, an assortment of breads and pastries.
Uptown
This auto shop-turned wine bar swings opens its doors each Saturday and Sunday at 10am for a booze-infused brunch. Here you can pair $5 sunrises, mimosas, or Bloodys with griddled brunch favorites like the Kahlua French toast, lemon ricotta pancakes with blueberry compote, or the hangover burger stacked with eight-ounces of beef.
Tempe
Although housed in an unassuming location, Jeff Kraus' Crepe Bar is anything but. The counter-order spot features a wide selection of espresso, coffees, and teas, and is well-known for its use of locally grown produce. If you're new to crepe bar, start with The First Time, a sweet crepe loaded with Nutella and banana brûlée. Pair it with a sparkling cocktail or a mimosa made with hand-squeezed orange juice.
Gilbert, East Valley
A community staple since 1935, Liberty Market in Old Town Gilbert pays homage to the little neighborhood grocer it once was with a menu that's chock full of locally sourced ingredients, many of which come directly from the community's farms. The award-winning counter-order spot offers up handcrafted craft drinks and espresso in addition to breakfast classics like biscuits and gravy, buttermilk pancakes, egg scrambles, and Southwest-inspired plates. And for your brunching pleasure, the Gilbert provides carafes of mimosas or sangrias for $28. Irish coffee, screwdrivers, and Caffe Corretto made with espresso grappa or sambuca and raw sugar, are also listed alongside Liberty's speciality brunch drinks.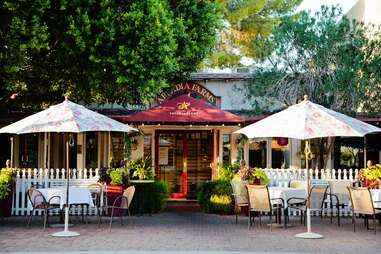 Old Town Scottsdale
Old Town may be notorious for its too-loud clubs, booze-covered pool decks, and touristy shops, but there's more to be discovered here than expensive bar tabs and cowboy stores. That's why you should head to Arcadia Farms, a cafe featuring organic and locally grown products. Breakfast, served all day, includes a lineup of fresh-baked goods, crepes, omelets, and classics like the breakfast panini, breakfast quesadilla, or smoked salmon plate. And like all good brunch spots, the menu is accompanied by a long list wine, beer, and Champagne cocktails like the Kir Royale and peach bellini.
North Scottsdale
Beer and brunch collide at O.H.S.O, a nano brewery/distillery and eatery with outposts across The Valley, including North Scottsdale. Served Saturday and Sunday from 9am until 2pm, brunch includes a 10oz beer or mimosa and dishes like Fruity Pebble French toast, avocado toast, and chicken & waffles.
Lon's at the Hermosa Inn
Paradise Valley
The recently remodeled patio space at Lon's makes for the perfect brunch setting. Each weekend from 10am until 2pm, brunch-goers can stick their fork in freshly baked pans of monkey bread or more savory options like eggs Benedict, huevos rancheros, and steak frite. Pair your order with a cocktail (the prickly pear bourbon, perhaps?) or opt for the basic bubbles.
Sign up here for our daily Phoenix email and be the first to get all the food/drink/fun in town.