If you enjoy breakfast, lunch, and a decent reason to drink before noon, then chances are you enjoy a boozy brunch. But with so many great Phoenix spots that serve it, where do you find the best in your general vicinity? This should help: here's the best boozy brunch in 10 Phoenix 'hoods.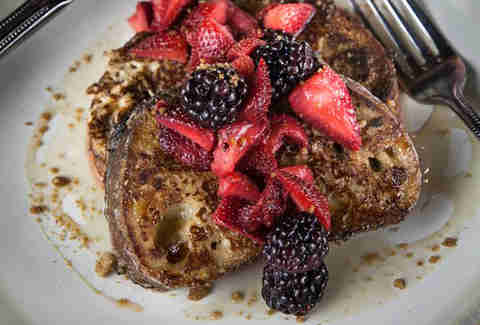 Arcadia
Crudo (address and info)
There's no doubt that Crudo, located off 36th St and Indian School Rd, is a favorite in town for both food and cocktails. That's why when it's time to brunch, it's at the top of the list. Potato croquettes with poached eggs, brisket and beet hash, pork belly poutine, and a list of sweet or savory brunch jars are all just a taste of what Chef Cullen Campbell's menu has to offer. Plus the cocktails.
Biltmore
The Gladly (address and info)
Just a hop, skip, and a jump from Crudo, The Gladly offers another unbeatable kitchen-bar team w/ Chef Bernie Kantak and bartender Brian Goodwin. Goodwin serves up a five-drink specialty brunch cocktail menu on Sundays, including curious combinations like vodka, aquavit, watermelon simple syrup, bitter lemon soda, and a Chinese five-spice pickled watermelon rind. From the kitchen, Kantak offers brunchers house-smoked pork butt pastrami hash, cornbread waffles, brioche French toast with berries, and, of course, Kantak's signature chopped salad.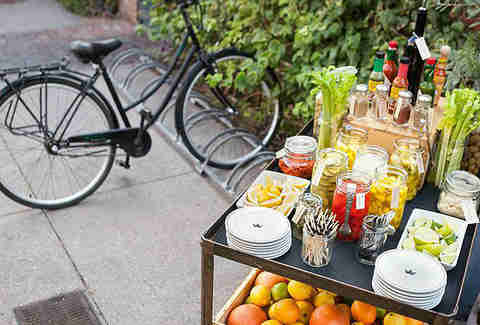 Midtown Phoenix
Windsor (address and info)
There's no reason to sugarcoat it: there's one thing that makes Windsor's Saturday and Sunday brunch stand out past the rest and that's the Bloody Mary cart. For $5, you can choose a red or green base and then walk over to the cart and freestyle it with mix-ins like pickles, olives, cocktail onions, sport peppers, pickled peppers, lemons, horseradish, and more. However, if Bloody Marys aren't your drink (why?!), go for one of the small "Pitchas of Pimm's" for $5. Oh, and you should probably get some donut holes or a crab cake eggs Benedict to sop up some of that boozy goodness.
Downtown Phoenix
Welcome Diner (address and info)
It seems like this Downtown Phoenix spot was made for brunch. You can choose to sit inside the small vintage trailer and watch the sizzling griddle cooking up sunny-side up eggs and toasting biscuits or you can get some sun on the patio while sipping mimosas, Brass Monkeys, or Bloody Marys. In terms of eats, you really can't go wrong with classics like the fried chicken sandwiches, and the biscuit-laden Welcome breakfast. If you've really worked up a hunger, check out the daily special or grab the Holy Puerco, a porcine combination of meat with gritcakes and hash served on Saturday and Sunday.
Tempe
Orange Table (address and info)
Brunch lovers felt a loss when Orange Table's original Scottsdale location shuttered earlier this year. Luckily, they didn't have to wait too long before the restaurant opened back up in a brand-new spot located near University Dr and Mill Ave. From jalapeño pecan pancakes, to green chile and corned beef flannels, to chimichurri hash, the spot has something for sweet teeth and savory fans alike. Mimosas and Marys are just the cherry on top.
Old Town Scottsdale
The House Brasserie (address and info)
You might have thought to yourself, "I want mac and cheese, French fries, a pork belly and egg sandwich on an English muffin, and kimchi fried rice all at once." Well, congratulations. Old Town's House Brasserie is the spot for you. Pull up a patio chair on the weekends and grab a pitcher of mimosas for $20, served with a full bottle of Stanford Governor's Cuvee or a ghost chili house Bloody Mary. The House Brasserie might be a little pricier than the other brunch destinations listed, but the beautiful garden-like Art Deco atmosphere makes a great stop for special occasions.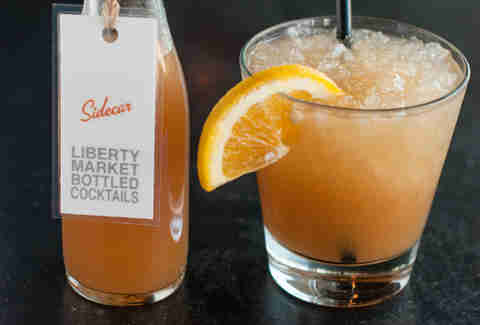 Gilbert
Liberty Market (address and info)
The gem of Gilbert's breakfast scene is definitely Liberty Market. With egg sandwiches, Southwestern-inspired chilaquiles and burritos, and several different scrambles, there's plenty to choose from on the daily menu. The Green Chili Pork Scramble with mozzarella and Cotija cheese is one of the standouts here. If you haven't stopped at the pastry case in line, then you should definitely try something a little sweeter like the Griddled Bread Pudding drizzled with maple syrup. Wash that all down with a screwdriver, sangria, Irish coffee, or one of the bar's adorable (but potent) bottled cocktails.
Paradise Valley
LON's at The Hermosa (address and info)
If you take your brunch with a view, LON's at the Hermosa Inn is a boozy weekend getaway that's worth a stop in. Whether you want to build your own omelet with a range of cheeses, meats, and veggies, or go with a grilled sirloin burger or mesquite pancakes, this is the place. In terms of libations, spirit guide Travis Nass mixes up his crisp, clean, unique, and tasty cocktails for the brunch crowd, too. If you're not ready to try something new, though, LON's offers mimosas and chipotle-infused Bloody Marys for the more basic brunchers, too.
Uptown Phoenix
Dick's Hideaway (address and info)
Need a swift hangover cure? Well, Dick's has the kicked-up New Mexican fare to do just that. With a heavy dose of peppers in most dishes, like the green chile stew and eggs or the jalapeño eggs Benedict, you can try to burn some of that hangover pain out of you. If that doesn't work, don't lose hope yet. Just order one of the huge Bloody Marys, made with an intensely spicy house-made tomato puree and served with a beer snit on the side to chase the heat.
North Scottsdale
The Herb Box (address and info)
This last spot, located at DC Ranch, is one for the dessert-loving crowd. Sure, you can get smoked salmon hash or a short rib and egg sandwich for your brunching pleasure, but the real magic of this restaurant lies in dishes like the Red Velvet or Cinnamon Buckwheat Pancakes. If you like a bit of both worlds, go for the Bourbon-Ginger Peach Brioche French Toast with crème fraiche and bacon. Add to that a $5 Bloody Mary or mimosa and you have one sweet way to spend your Sunday morning.
Sign up here for our daily Phoenix email and be the first to get all the food/drink/fun in town.