There's nothing like a dingy neighborhood dive with cheap drinks, fun games, and no pretenses. So of course we wanted to find the best dive bars in Phoenix, crack open a tallboy, and tell you all about them. They're few and far between, but that shouldn't be a problem. Every place listed here is a place where you'll wanna sidle up to the bar, order a cheap whiskey or draft, and get a greasy basket of tots. These are the places where the jukeboxes are always playing, Christmas lights are probably hanging up year round, and you're bound to leave with a couple of new friends and hazy memories.
Downtown Phoenix
Like the Carribbean, but a dive bar 
This tiki-themed spot is a Phoenix classic with an almost 70-year-old history. It's an intimate bar with a retro vibe, great music, the low prices you expect at a dive -- just don't forget to bring cash as cards aren't accepted -- and enjoy the most authentically island-y atmosphere in our landlocked area. 
Central Phoenix
Go-to venue for your next shuffleboard competition 
Pomeroy's is exactly what comes to mind when you think of a dive, which means we'd consider taking up permanent residency at the bar. The decor is proof that the spot's been around for ages, but beneath that unassuming exterior and dim lighting, there's great food, pool, and shuffleboard. Oh, and predictably cheap drinks, of course.
Tempe
Home of the Slutty Burrito and Tempe's best local music 
If you like to drink and/or like live music, then you've probably already been to Yucca Tap Room. But if you haven't, it's time to join the masses who have been won over by nightly shows, a line-up of 28 revolving taps, and a kitchen that stays open until 2am -- eliminating our desperate late-night searches for a Sonoran hotdog.
Old Town Scottsdale
A bar that makes it feel like Christmas every day 
If you're still on the fence about dive bars, let Scottsdale's oldest tavern win you over. The drinks are good, but the atmosphere -- perhaps best exemplified in the insane, over-the-top Christmas lights display -- is what makes the Coach House one of the best dives in the Phoenix area. We also love that it's open every day of the year, meaning you have no excuse not to check it out. 
Downtown Phoenix
Cheap drinks with a side of art 
Located in a repurposed house built in the '20s, Lost Leaf plays a triple role as an underground gallery (both local and national artists are featured), music venue, and bar (there's a huge beer selection with a focus on local), which makes it an incredible place to get to know Phoenix's artsy side. For an exceptionally great time, stop by during a First Friday (held on the first Friday of each month, duh) when the creative venues in Downtown all open their doors at once.
Old Town Scottsdale
Fewer dollars on drinks, more dollars on the wall 
For a neighborhood bar with a friendly vibe combined with cheap drinks, Patties is your spot. It's lively enough on Friday and Saturday nights to help you get into the weekend vibe, but you'll still be able to get a spot at the pool or ping-pong table.
Downtown Tempe
ASU's best bar for billiards
This college-town favorite on Mill Avenue is (for better or worse) known for cheap Long Islands, a party atmosphere, and bad decisions. The only thing better than the eclectic (and sometimes random) mix of killer tunes is the possibly cringe-worthy music videos the bar plays to go with them. If you're feeling competitive, you always have the option of heading to the back to play some pool on one of their many tables.
Central Phoenix
A retro haven for the modern cocktail enthusiast  
This 60s-style dive bar features a jukebox and old school cocktails that will transport you back in time while maintaining a modern, hipster vibe. The drinks are delicious, unpretentious, and cheap. And while you won't find food at this dive, we can point you in the right direction with that.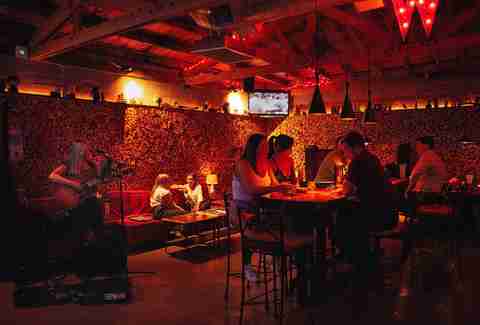 Arcadia
Arcade games meet alcohol 
This log cabin-style speakeasy can be difficult to find, but it's worth it once you do. A night at The Little Woody promises great drinks, good food, and a lot of fun thanks to the arcade-style lineup of games including skeeball, foosball, and darts. Bring those dollars.
Sign up here for our daily Phoenix email and be the first to get all the food/drink/fun in town.