Courtesy of Dilly Dally
Courtesy of Dilly Dally
There's a time and place for craft cocktails and high-end wine, but sometimes what's best for the soul is a trip to your neighborhood dive bar for cheap drinks, greasy eats, and a pretense-free evening. You know, the kind of place where the bartender knows your name, the Christmas lights stay up all year long and there's always a trusty dart board in the back for friendly competitions. If you haven't found your go-to haunt yet, or if you're in the mood to try something new, we've got your back with this roundup of Phoenix's best-loved dives. We promise you'll leave with some new friends, hazy memories, and only minimal damage to your wallet.
West Phoenix
It's almost unfair to call Thunderbird Lounge a dive because it's just that beautiful, but underneath the trendy, 70s-style décor this is a true neighborhood bar—complete with arcade games, affordable drinks, cornhole and even a cigarette machine. Plus, if you're feeling a bit upscale, they do offer wine... in a can.
Central Phoenix
Pomeroy's is exactly what comes to mind when you think of a dive, which means we'd consider taking up permanent residency at the bar. The decor is proof that the spot's been around for ages, but beneath that unassuming exterior and dim lighting, there's great food, pool, and shuffleboard. Oh, and predictably cheap drinks, of course.
Arcadia
A name like Dilly Dally Lounge invites the kind of casual loitering we all look for in a great dive bar. And while the neighborhood go-to might have had a facelift in recent years, it's as unostentatious as ever with cheap drinks, pool tables, and of course an atmosphere cultivated by neon signs and Christmas lights.
Phoenix
Wanderin Cocktails has been serving up cheap drinks for nearly 50 years in Phoenix—opening up at 6 am for those who take their morning cocktail seriously. The bar stays open until 2 am, too, so if you're ready to drink all day be sure to entertain yourself with games of pool, a bit of karaoke, and a vending machine snack between rounds of drinks.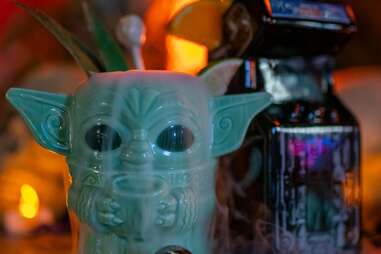 Tempe
If you like to drink and/or like live music, then you've probably already been to Yucca Tap Room. But if you haven't, it's time to join the masses who have been won over by nearly nightly shows, a line-up of 28 revolving taps, and a killer Asian fusion menu crafted by Bao Chow—eliminating our desperate late-night searches for a burrito.
Old Town Scottsdale
If you're still on the fence about dive bars, let Scottsdale's oldest tavern win you over. The drinks are good, but the atmosphere—perhaps best exemplified in the insane, over-the-top Christmas lights display—is what makes the Coach House one of the best dives in the Phoenix area. We also love that it's open every day of the year, meaning you have no excuse not to check it out.
Tempe
While the Vine might have become a favorite of Arizona State University students due to its close proximity to campus and ridiculously cheap pints—we're not prepared to let the kids have all the fun. Plus, with this dive's great menu of bar food favorites (seriously, try their wings) and rotating dining specials every night of the week mean you could stop by every day and never get enough.
Old Town Scottsdale
For a neighborhood bar with a friendly vibe combined with cheap drinks, Pattie's is your spot. It's lively enough on Friday and Saturday nights to help you get into the weekend vibe, but you'll still be able to get a spot at the pool or ping-pong table.
Arcadia
This log cabin-style speakeasy can be difficult to find, but it's worth it once you do. A night at The Little Woody promises great drinks, good food, and a lot of fun thanks to the arcade-style lineup of games including skeeball, foosball, and darts. Bring those dollars.