You never have to travel too far in Phoenix to find coffee. But if you're looking for the best spots around town, you might have to do some digging. Luckily, our coffee scene is pretty on-point, with several places doling out delicious cups in various forms (hot, iced, cold brew, etc.). From the old-school coffeehouses with delicious hot coffee, to newer establishments adding in some extra flair (translation: alcohol), the Phoenix coffee scene appears to know no bounds. So if you're really looking for that good cup -- and not just that place you quickly stop by on your way to the office -- check out these local shops.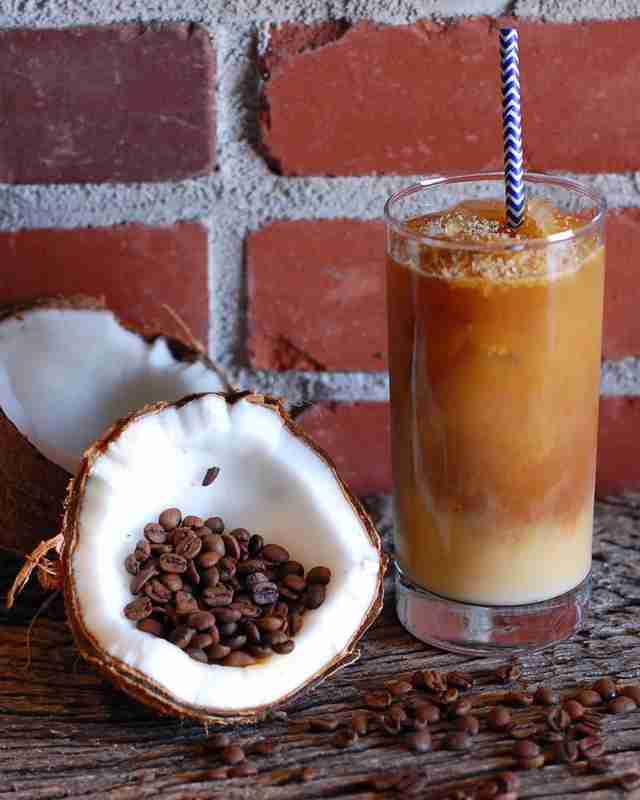 Chandler
With ample offerings of direct-trade speciality coffees and house-made syrups, this Chandler favorite offers a true crop-to-cup experience. The shop operates on a supply of Brazilian beans direct from a family-run South American coffee farm, offering speciality beans like Guji Hambela, Nitsu Ruz, Red Catuai, and the 2016 Cup of Excellence finalist, Yellow Catucai. Peixoto takes a non-traditional approach to happy hour with the Affogato Bar, which operates every day from 3pm to close. Here, coffee and gelato lovers can create their own sweet drinks with a base of nitro, matcha, espresso, or chai, and add toppings like cocoa nibs, toasted coconut shavings, or cookie crumbles.
Roosevelt Row
This Artists' District hangout is open 24 hours on the weekends and until midnight during the week, which means you can get your caffeine fix just about whenever it hits. Jobot uses beans from local roaster Cartel, and doesn't just deal in decaf and espresso; feel free to peruse the menu and get your fill of those famous crepes or tacos to go along with your coffee.
Scottsdale
Looking to spike up that java? Sip Coffee and Beer House has partnered with local roastery Cartel to bring coffee drinkers something a little different. Get your espresso or coffee infused with a little liquor by ordering off the speciality craft cocktail menu (think: espresso martini, Irish coffee, Hot Tipsy Toddy made with Cartel cold brew). Of course, it's probably best to wait until after work to try one of those, but fear not: Sip's baristas also brew regular coffee to order, even for those who have to have coffee made via Chemex, AeroPress, or French press. If you're not into the alcoholic coffee selection, this place offers more than a dozen craft beers on tap from breweries like Barrio Brewing, Papago, and Dragoon, and has 100 bottles to choose from on any given day.
Downtown Gilbert
Neighbor to the iconic Joe's Real BBQ in Gilbert's historic Heritage District, this place has been slinging coffee out of a cozy, rustic cottage since 2009. It has one of the most beautiful outdoor patios in the Valley -- filled with chirping birds, green succulents, garden gnomes, and brightly colored furniture -- and specializes in custom roasting and blending. In fact, Bergies actually works with a variety of farms from Central America to Africa, which makes for an authentic, aromatic brew.
Scottsdale
Scottsdale's newest (and only) Porsche-inspired coffee shop offers a wide selection in the 600sqft space it calls home. Owner Nico Samaras decided to open after spending most of his time collecting and restoring classic cars, transforming an old garage (outfitted with wooden floors and framed artwork) into Fourtillfour. To provide quality java, he brought in beans from San Francisco's Four Barrel Coffee. Today, the cafe offers featured espresso drinks and cold brew, as well as other specialty selections. And, perhaps unsurprisingly, this place hosts occasional meetups for Porsche lovers.
Tempe (& other locations)
Tempe's favorite coffeehouse has a longstanding reputation as one of the best in the Valley. It has a solid hold on the specialty coffee trade, roasting half a dozen varieties of single-origin beans out of this flagship spot. Today, there are six locations spread across the Valley -- and let's not forget about Tucson -- all of which hold kegs of cold brew and every killer fixin' that comes with a top-notch coffee shop.
Roosevelt Row
This Roosevelt Row favorite certainly knows how to keep things local. The coffee is sourced from Tempe's Cortez Coffee, while the loose-leaf tea comes from Tucson's very own Maya Tea Company. Stop by and take your pick of some notable drink favorites (recommendations: single-origin pour-over, nitro cold brew, macchiato, matcha tea, Thai iced tea, and the espresso spritz with agave and sparkling water), and do NOT skip over the pastries, s'mores, or macarons.
Tempe
This independently owned and operated Tempe tea room and coffee bar is brewing 12 different single-origin coffees with unlimited combos, including craft drinks like draft cold brew or the Bourbon Barrel Burundi (yes, that's coffee aged in a bourbon barrel). Added bonus: coffeeheads can learn the basics of brewing and roasting at Infusion's International Barista & Coffee Academy.
Tempe (& other locations)
This award-winning stop is one of the Valley's leading specialty coffee roasters. By roasting its own selection of specialty coffees in small batches -- including a variety of direct trade-imported beans from Peru, Costa Rica, Ethiopia, and Brazil -- the roastery ensures a high consistency and quality for every cup. This place also makes the language of coffee easy to interpret (whether you're a seasoned coffee connoisseur or just a newbie) by offering cupping classes, roastery tours, and brewing guides.
Roosevelt Row
This cyclist-friendly Roosevelt Row coffee house is equal parts bike and coffee shop (seriously). While the cafe doesn't roast its own beans, it does have an impeccable coffee and tea bar fully stocked with beverages from Press Coffee and Maya Tea Company. Stop by and have your java made however you like -- as long as it's pour-over, shakerato, or cold brew. Be sure to bring your bike for a Sunday social ride, stop by for live music on First Friday, and/or check out its Facebook page for information about the community yoga class.
Phoenix
Hand-roasted coffees, espresso, cappuccino, and homemade eats and pastries round out the menu at this local go-to. While all of it is delicious in its own way, we'd be remiss if we didn't mention the affogato and whipped cream, as those are the most popular choices on the menu (for good reason). If you're looking for something a bit more caffeinated, the Matador is the strong kick of energy you were looking for, and the cafe blanco is a great mix of smooth and creamy. But don't overlook the standard vanilla latte. This place easily has the best in town.
Ahwatukee
This place is tucked away in a strip mall, but don't let that turn you away. Inside, the sweet, sweet smell of roasted beans fills the air as the baristas behind the counter are hard at work cranking out some killer coffee. The espresso bar uses LA-based Intelligentsia direct-trade coffee and Kilogram Tea (it's organic) to make all of the drinks. Where U Bean is a wonderful spot if you're looking for a quiet conversation with friends or co-workers.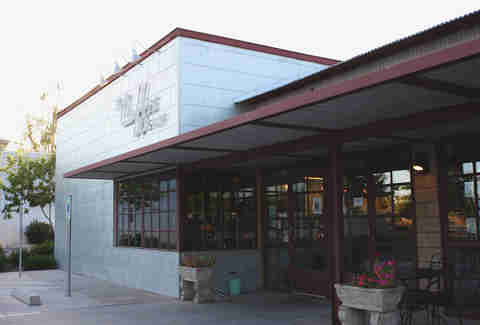 Gilbert
Located in Gilbert's Agritopia -- one of the coolest agrihoods on a national scale -- is The Coffee Shop. Once an old farm garage, this place is now a bustling coffee shop that serves sweets like whoopie pies, cupcakes, and famous omelettes alongside a lineup of caffeinated drinks that are all freshly brewed daily. It's located right next to Joe's Farm Grill, so after you're done with your order of waffles and ribs, fresh-squeezed OJ, and a burger for breakfast, grab a cup of joe at The Coffee Shop.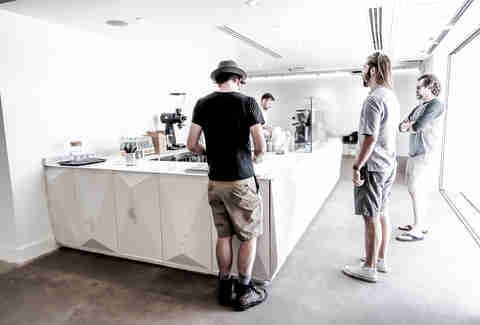 Downtown Phoenix
Located inside Palabra Beauty Salon & Art Gallery, Futuro is a new addition to the Phoenix coffee scene, but the shop is certainly leaving its mark. Some have called it "a futuristic space station," others "Morgan Freeman's white-walled heaven." To be honest, it's a weird combination of both, serving arguably the best cascara (a coffee/cherry hybrid herbal tea drink) in town. Additionally, this place offers a great drip coffee and two types of espresso, with beans from Vancouver's 49th Parallel and Swillings Coffee in Colombia. Oh, and for the record, the menu is written completely in Spanish. But don't worry: if you're not fluent, just ask the staff for help. They're damn friendly.

Sign up here for our daily Phoenix email and be the first to get all the food/drink/fun in town.