There are more than 80 brewhouses across the state (we even have our own Beer Trail), many of which are right here in the Valley. While we will always have our standbys, we're certainly not opposed to trying a new brew in Peoria or Mesa, or heading to a taphouse in Tempe. A new state Beer Bill recently raised the cap for microbrewery production, so get ready to add these new breweries to your list of places to drink; we bet you'll find a few new favorites.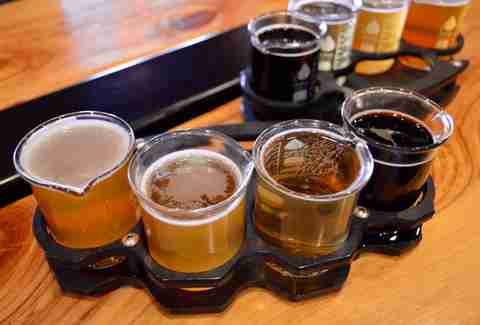 Mesa
Brought to life by a duo of homebrewers, Mesa's Beer Research Institute (or B.R.I for short) is the East Valley's realest, most badass beer drinking destination thus far -- c'mon, the beer flights are served up in brass knuckles. And the beer, mostly Belgian and West Coast-style ales, come with hardcore names like Morning Sex (a sweet stout made with cold brew from Chandler's Peixoto Coffee), War Paint, and Street Cred. The tap list is constantly rotating, and the kitchen is always cooking up new stuff, like the made-from-scratch hatch green chile burger and the machaca tacos. B.R.I also pours a handful of craft brews from the local brewing community, including northern Arizona's Grand Canyon Brewing Company and Phoenix's SunUp.
Downtown Tempe
Pedal Haus first swung open its doors about a year ago, but after a brief hiatus and a remodel revamp, the Tempe brewery is now open for business. The Belgian-American gastropub operates on a state-of-the-art brew system and churns out a variety of handcrafted European-style beers, including a satisfyingly strong IPA and tasty witbier. Pedal Haus has an expansive outdoor patio fit with fire pits, as well as a German-style beer garden with rows of picnic tables and games like ping-pong and cornhole, making this a great place to kick back with friends and grab a bite (we suggest the wood-fired pizza).
Downtown Mesa
This nano-brewery and taproom is located in a historic building in the heart of Downtown Mesa, and originated as a humble hobby. Owners Dave Valencia and Chuck Wennerlund brewed their first five gallons of beer from a kitchen and a two-car garage a couple years ago. And, to their surprise, the beer they brewed was actually pretty damn good. The small homebrewing operation turned into Oro Brewing Company, which currently operates on a three-barrel system that can produce around seven kegs of beer at a time.
Avondale
Avondale's first craft microbrewery -- one of only five breweries on the west side -- burst onto the scene in early 2015 and is already earning a high score among beer drinkers and old-school gamers. Owners Ryan and Krystina Witten are passionate about craft beer and video games, and designed their brewery with a heavy retro-gaming theme. Even the beers are game-inspired, most notably the flagships, Legend of Zymur Double IPA, and Hopsassin's Creed, a session IPA with a surprisingly citrusy, hoppy finish. The brewery's 46-person tasting room is equipped with tabletop games, Super Nintendo, NES systems, and other arcade-style games, so feel free to let your inner gamer come out when you're here. Food trucks stop by on Wednesday and Friday nights, so grab a bite and a beer for sustenance while you battle for gamer glory.
Phoenix
Brian Helton is at the helm of this Phoenix brewery, and with almost 20 years of experience and an arsenal of accolades, he certainly knows what he's doing as brewmaster (he's even a certified cicerone). Brews including the milk stout, IPA, pilsner and Scottish ale will be available year-round, but other suds -- like the chocolatey dark Munich lager or the single-hopped pale ale -- will come and go. There's also tons of cheese on tap, from local farmers and producers around the world, which feature on a weekly rotating Cheesemonger Choice Board. In addition to cheese, Helton slings grilled sandwiches, sausage boards, and even Belgian waffles. As the brewery grows, Helton plans to start bottling its beer.
Scottsdale
Scottsdale Beer Company embraces the tradition of early American brewing in a contemporary environment where grain is milled on-site and local ingredients are always used when available. On tap, you'll find a variety of different brews, from hefeweizens to Scottish ales -- including the award-winning, ass-kicking Texas Tea, aged in Templeton Rye Whiskey distillery barrels, coming in at 10.4% ABV. Described as a "mad scientist," head brewer Brad Williams has been brewing beer for two decades.
Peoria
Whether you're thirsty or hungry, you can get your fill of pub food, like made-from-scratch pretzels and brats, as well as craft beer. With 20 taps, 10 to 13 of which are dedicated to house beers, there's always ample choices at this north Peoria brewery. One of Peoria's first brews, the black IPA Haboob, has won over the hearts of craft-brew drinkers for its roasty, toasty, chocolaty notes. But if it's a true chocolate flavor that you're seeking, try the Superior Chocolate Stout -- you won't be disappointed, but you will definitely have a delicious new craving.
Tempe
It's hard to imagine The Shop's humble beginnings, brewing beer from the back of a Tempe coffee shop on a half-a-barrel system with just three kegs. Today, The Shop operates out of a brand-new space that supports a monster 20-barrel system. Officially in business since August of this year, the brewery and taproom have been keeping the people more than satisfied with a long list of creatively done brews. Head brewer Matt Johnson and his team use a collection of unique ingredients (think kumquats, bing cherries, basil, juniper berries, cacao nibs, papaya, and guava) to make their beer stand out.
Phoenix
Nano-brewery Helio Basin follows a decade and a half of dreaming, and is dedicated to quality in every aspect of the business. Helio Basin brews a wide variety of craft beer, like the hoppy, blonde-brewed Citrus Paradisi, made with Arizona grapefruit peel. But don't let its fruitiness fool you -- this beer has an impressive ABV of 8.5%. The American IPA, dark, flavorful Robust Porter, Hoppy Amber, and the fruity Blackberry Wheat are just a few of your options. Helio Basin also has a full kitchen so you can fill your stomach with something other than beer, including beer & ice cream flights. Yes, that's really a thing (which you should definitely try).
Phoenix
Vintage meets contemporary at Phoenix's Wren House, where the brewery makes use of a home that was originally built in 1922. While there are many modern updates here, including sleek subway tile and varnished wood countertops, you can still see remnants of the home's historic qualities. Don't let the unassuming exterior steer you away. The cozy taproom has a family-style table front and center, and ample seating at the bar. If you're new to Wren House, we suggest trying out the beer flights. This way you can take your taste buds on an adventure and get a satisfying sample of everything from the hibiscus-brewed Lady Banks, to crowd-favorite Jomax, an oatmeal stout, made with Press Coffee Roasters cold brew and the uber-hoppy, unfiltered Wrenovation.
Old Town Scottsdale
Old Town Scottsdale's family-owned and -operated brewery is a newcomer to the Phoenix-area brew scene, but the brewhouse staff is using its 30 years of prior experience to make waves. Goldwater Brewing is known for high-quality craft beers that push the boundaries of beer making, especially the flagship, the ever-so-popular Desert Rose. This beer is brewed with 100% organic Arizona-grown cactus fruit, and when it's finished, it comes out a stunningly beautiful crimson-red color. It has a cleverly-named lineup of beers, such as a golden ale brewed with local orange blossom honey called Winnie the Brew; Scotch'dale, which is obviously a Scottish ale, and a full-bodied one at that; and Birthday Suit, a hoppy, tropical IPA.
Downtown Phoenix
Mother Bunch is what happens when you pair craft-brewed beer, good food, an up-and-coming restaurant scene, and one badass owner. One of Arizona's top craft breweries, Mother Bunch Brewing is within walking distance of Phoenix's Roosevelt Row. The brewery is headed by one of the most legit women in the Phoenix restaurant game, Julie Meeker, and the beer is brewed by a team of beer-science aficionados, including brewer/chef Holly Arguello. Here, popcorn and bacon come together as an appetizer, you can get baked French toast until 3pm, and there's plenty of options for those who have dietary restrictions. Naturally, there's a long list of beers brewed in-house, like the Baie Rose Saison, Stripped Copper Amber, and the Cherry Popper, a smoked cherry porter that tastes just like a chocolate-covered cherry. We also like the malt-forward American red ale, Roosevelt Red. Just check the giant chalkboard for what's on tap.
Sign up here for our daily Phoenix email and be the first to get all the food/drink/fun in town.