Imagine a world without bars… it's not pretty, huh? It's almost hard to believe that the generations before us struggled through Prohibition, drinking in secret, seedy places just so that we could proudly sip our cocktails without fear today. But the idea is sort of sexy, too. Lucky for us, some of these hidden speakeasies still exist in modern-day Phoenix. From historic hidden rooms and underground basement cellars to newly constructed hideaways, this is your ultimate guide to Phoenix's speakeasy-style drinkeries.
Recommended Video
Thrillist's Best (and the Rest): What You Actually Need to Know About Natural Wine
Downtown Phoenix
This mysterious-yet-cozy 49-seat bar is located deep beneath the Renaissance hotel Downtown. Decorated in Victorian-era flair, it's one of the newest cash-only speakeasies in town where thirsty weekend drinkers can get their fill of modern cocktails and gossip about whether Melinda was a former brothel madam (or so we've heard). While there's no established address for this spot, just look for the red light in the alley. If it's on, the drinks are pouring.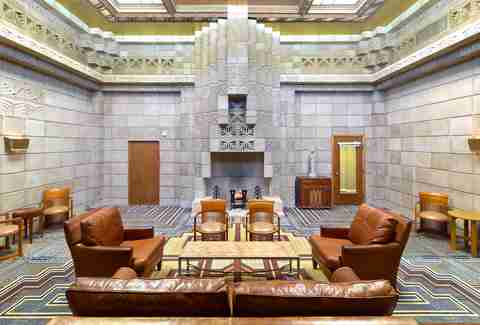 Phoenix
You've got to know the "whisper word" to get into this historic speakeasy, which originally opened in 1929. Accepting guests on an invite-only basis, the Arizona Biltmore was truly the bee's knees and heralded as a jazz-age celebrity hangout. The Mystery Room -- once a men's smoking room for drinking bootleg beverages while the resort kept watch for Prohibition raids -- was accessed only by a secret staircase, and its bottles of booze were concealed behind a double-sided bookcase that swiveled. After Prohibition ended, the resort opened its first non-secret cocktail bar in 1933. Although Prohibition is over, the Mystery Room has kept to its true social function. Look for the "whisper word" on the resort's social media pages to get access to the drinking spot on Sundays.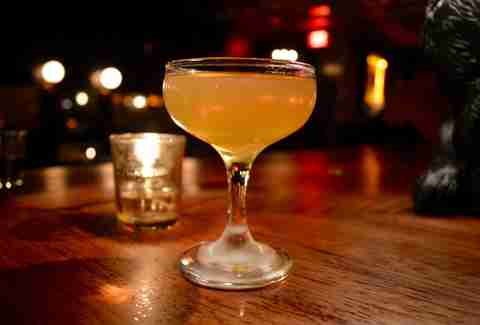 Phoenix
This second-story lounge is located above The Colony, and is one of the newest cocktail bars in Phoenix. Although it's not located underground, this hidden cocktail hangout has no shortage of Prohibition-era flair. From the drinks to the decor, Honor Amongst Thieves nails it. The drink menu is divided by martinis, signature cocktails, cheekies (small shots), and citywides (a beer and a shot). And, when you order your libation, in true speakeasy fashion, you'll likely get a "welcome shot" with your cocktail. Drinkers can use the back stairs to get in -- but be aware, seating is limited to only 80 people.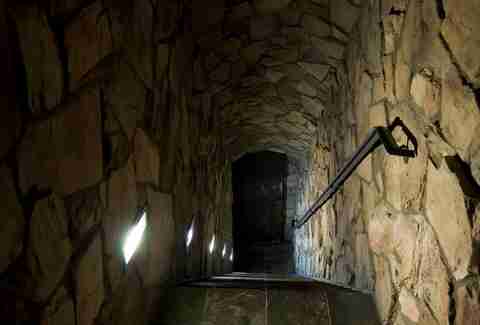 Phoenix
Translated to "smokehouse" in Dutch, Rokerij specializes in just that. Take the stairs down to the Rokerij cellar and imbibe in cocktails like margaritas and martinis, or choose from a menu filled with steaks, chops, and a lineup of small bites including grilled shrimp, chipotle ribs, blackened scallops, and bacon-wrapped jalapeños. The dimly lit underground drinkery is furnished with copper top bars, wood-clad ceilings, and plush seating areas with cushy booths. This dungeon-esque spot is a weekday happy hour must, but it's also great for brunch on weekends, where you can order favorites like huevos rancheros and a breakfast quesadilla.
Phoenix
This '60s-inspired cocktail lounge just swung open its doors -- making it the newest spot on this list. The throwback-style bar pays homage to the eccentric Phoenix nightlife of the past and the now-shuttered iconic hotspot Chez Nouz. There are no windows in this dimly lit bar, and the moody space is complemented by rich leather seating and gold-flecked velvet wallpaper. The menu features classics like lobster caprese and French onion dip, and you'll likely find 1960s staples such as the sloe gin fizz and an amaretto sour on the cocktail list.
Downtown Phoenix
This swanky restaurant and bar is housed in a former department store that was constructed in 1947 called Hanny's. Today, the name is still the same, but you won't find any dress shirts or snappy shoes. Instead expect a vast combination of great food and drink, including Champagne cocktails, wines, classic martinis and Manhattans, and a selection of beer in addition to other boozy concoctions. Be sure to take a ride in the glass-floored vertigo elevator to the basement while you're here.
Arcadia
Making its debut this year and modeled to look like the hold of a clipper ship navigating the seas, Arcadia's inconspicuous underground drinkery is unlike anything that Phoenix has ever seen. UnderTow features an ornate wooden hand-carved bar and is laden with cargo elements one might see on a ship. Currently offering about 30 different exotic drinks, including Tiki cocktails like the Scorpion Bowl, Dutchman's Demise, and the Smoking Cannon, UnderTow is bringing old-school Tiki back to life with a new twist. There's no food on the menu here… yet. Soon, hungry patrons can order a bite from a selection of about 15 small dishes put together by chef Cullen Campbell of Crudo from across the street, which will include tastes like bao, shumai, and ribs. The space is small, so reservations are highly encouraged.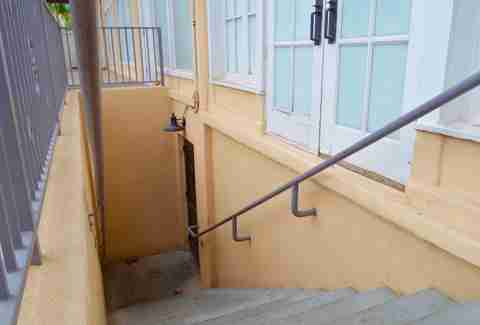 Downtown Chandler
Positioned directly below Crust, in the basement tunnels that run underneath Downtown Chandler, this craft cocktail lounge has a storied history. The space that's now The Ostrich was once a popular secret drinking destination for thirsty travelers and Arizona's elite. The low-lit, speakeasy-styled space is decorated with cozy, historic furniture, and the menu lists classic Prohibition-era cocktails alongside new concoctions like The Candlestick Maker, a mezcal-filled libation, and The Baker -- a modern take on a whiskey sour.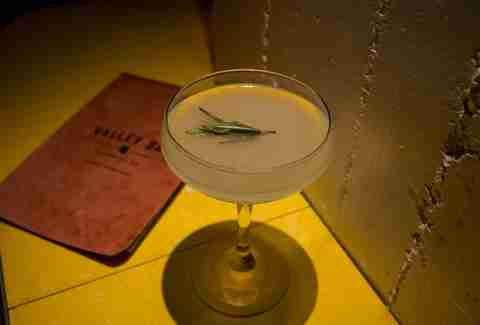 Downtown Phoenix
This destination for live music, spoken word, and performance just so happens to be located underground. To get there, you'll have to navigate an alley and take a flight of narrow steps downward. Once you're inside, make your way to the Rose Room, named after Arizona's first lady governor, the late Rose Mofford. This loungey space offers a list of more than 50 wines and a collection of unique cocktails, many of which are named after iconic, or infamous, Arizona politicians. Valley Bar also features a full kitchen which turns out eats like flatbreads, charcuterie boards, and salads. We recommend visiting on Sunday when Valley Bar offers all-day happy hour.
Scottsdale
Called Kazbar for short, this underground Scottsdale wine bar offers a vast selection of wines. And when we say vast, we mean it. This trendy haunt has more than 2,000 bottles to choose from. The cave-like space can be accessed through a backdoor entrance. Upon arrival, guests will be greeted by a candlelit space filled with wooden wine casks and plush couches. In addition to wines, Kazbar offers a selection of craft cocktails and internationally inspired bites including artisan cheeses, sliced meats, fondue, and flatbreads. There's also live music on select nights.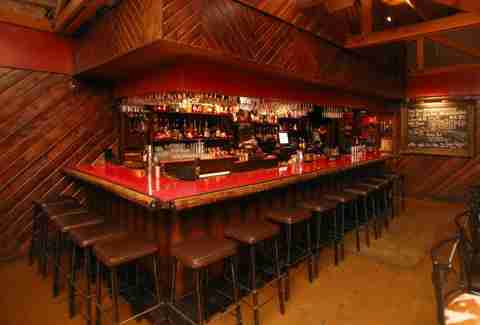 Arcadia
This bustling underground hangout is home to a handful of arcade games and an extensive whiskey collection. This "upscale dive" is decorated in log wallpaper with wood paneling and an illuminated red bar. Sidle up and order drinks like the Gun Shy Sour, Alcohol Salad, Arizona Mule, or the Wrecking Ball, to name a few.
Phoenix
Picture a dimply lit, upscale living room decked out with dark wood walls, leather furnishings, and cushy couches, and you've got a pretty accurate picture of MercBar. Modeled off of the now-shuttered NYC MercBar location in SoHo, this swanky cocktail bar has been a nightlife staple in the Valley since the mid-1990s. Bar visitors will find a good selection of both classic and unique cocktails on the menu, from the Purple Rain (made with 7 Leguas tequila, concord grape juice, lime juice, and agave) to the mint julep or classic Bellini.
Scottsdale
Scottsdale's longstanding underground seafood restaurant isn't exactly a speakeasy, but if you're looking for a culinary adventure, this spot fits the bill. Take the antique wooden stairway down three flights to the hideaway bar for happy-hour specials, fresh fish, and seafood selections. Salt Cellar has received numerous accolades for its seafood-focused menu that features ocean-dwellers from around the world, including spots like Hawaii, New Zealand, Boston, Alaska, Georges Bank, Chesapeake Bay, and the Gulf of Mexico. Salt Cellar was also one of the first places in Arizona to offer twin happy hours -- where discount drinks are available from 4pm to 7pm and from 10pm to 1am -- where a Long Island oyster shooter will only cost you a buck-fifty.
Sign up here for our daily Phoenix email and be the first to get all the food/drink/fun in town.