Courtesy of Maya
Courtesy of Maya
There are only two things that can help you beat the triple-digit heat during Arizona's unforgiving summers: the pool, and some sort of alcohol-infused drink worth sipping. The Valley is home to a number of beautiful pools and poolside bars where you can cool down and drink up -- together, these two things can help you forget that you willingly chose to live in a place where the sidewalk gets hotter than hell.
Downtown Phoenix
Hotel Palomar's Lustre Rooftop Bar perfectly mixes a little bit of luxury with just the right amount of playful. It's not your grandpappy's idea of a pool day, but it's not your 21-year-old cousins' either (see Maya's pool). Here you can get your yoga on at the summer poolside yoga series each Thursday night, or enjoy some of the rooftop cook-outs, craft cocktails, and local brew. Lustre offers poolside happy hour at the rooftop bar from 3-6pm Monday through Friday, and hosts a series of can't-miss themed pool parties all summer long. Pack some extra cash with your bathing suit -- you can expect a cover.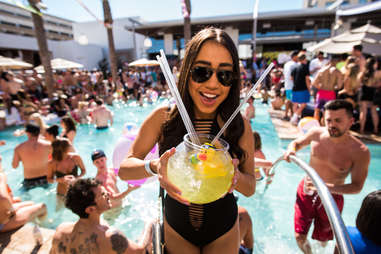 Old Town Scottsdale
This Vegas-style pool in the heart of Old Town Scottsdale is the place to be on summer weekends in the Valley. Come for the pool, stay for the cocktails. Or, should we say, cocktail -- Maya's signature cocktail, the Deep Blue, mixes Tanqueray gin, TY KU citrus liqueur, blue curacao, a splash of pineapple juice, Sprite, and soda into a delicious and epic drink. It's also served in a giant fishbowl. Sure, you can share, but you might want to down it entirely by yourself (not that we condone that, necessarily).
Scottsdale
Dubbed one of the "coolest pools" by the travel mag Travel & Leisure, Scottsdale's OH Pool Bar at Hotel Valley Ho is a great place to cool down on a scorching, triple-digit day. Not all resort pools in the Valley are open and welcoming to outside guests, but (thankfully) OH Pool usually is, with the tiny exception of holidays and events. Put your swim trunks on, dive right in, relax poolside in the comfort of your own personal cabana with an umbrella in your drink, and check out the live music on Friday afternoons. Or stop by for recovery Sundays, and have yourself a mimosa or a bite for brunch from The Valley Ho's cafe, ZuZu. In case you didn't know: real men drink mimosas.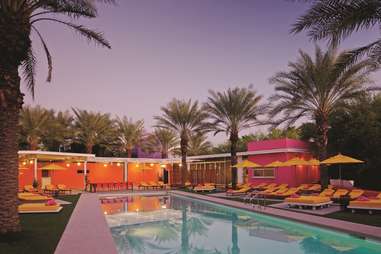 Old Town Scottsdale
You may have passed by this colorful boutique hotel located in Old Town Scottsdale dozens of times, but have you ever wondered what's inside? Well, we will tell you: amazing heated and chilled pools where you can lounge away in a cabana or daybed, or party as much as you please. The Saguaro Hotel hosts pool parties throughout the summer season on select Saturdays, as well as other events that normally require a cover charge for non-hotel guests. But don't let that keep you from checking this place out. Each day, The Saguaro offers happy hour from 3-6 pm, which just so happens to be the perfect poolside tanning hours. Get discounts on drinks ranging from fruity and slushy margs to icy cocktails. Oh, and snacks, too. Mmm, guacamole…
Old Town Scottsdale
Old Town is the place where you go when you're looking for a party. WET, located at The W in Old Town Scottsdale, is the obviously named rooftop pool you go to when you're looking to party and day drink until the sun goes down (and well into the early morning hours, if you so choose). This is not the place to go if you're looking for a relaxing day by the pool with a book. Every Friday, Saturday, and Sunday, WET hosts public pool parties (with a cover for non-hotel goers) from noon-6pm, and again from 9pm-2am. Park yourself on a lounge chair or in a cabana, order a cocktail or two from Shade Lounge, and soak it all in.
Scottsdale
Every weekend during the summer, Release at Talking Stick Resort hosts some of the most epic pool parties in the Valley. Skrillex, Tigerlily, Lil Jon, Diplo, and Bingo Players have taken over the poolside DJ booth this summer. Cabanas come in clutch here -- they have misters, ceiling fans, and bottle service. Get one, even if it's just to retreat from the sun for 10 minutes while you sip on your Mexican lager and lime. It's worth the extra dough. And, if you're smart and book a cabana, you can bring nine of your best friends -- take us, please?
Phoenix
This is one of the coolest rooftop pools in town. Although the pool space isn't as lofty as some of the other pools on this list, rest assured that it doesn't lack beauty or booze. Spend a day lounging on the sundeck with a drink in hand (be sure to try their signature Bee's Knees cocktail) and soak up the sun. You can even get tacos delivered right to your pool chair -- why would you ever leave this place? You can still enjoy this Phoenix rooftop spot even if you're not a sun worshiper. Catch a movie on the poolside Sky Wall after the sun goes down, or join fellow yogis for yoga on the roof every Sunday morning at 10:30am.
Phoenix
Phoenix's Pointe Hilton Squaw Peak is home to what is easily the largest pool on this list. Although it's not quite the place to party, the pool does have a bar, and it is stocked with booze. And like we said, the pool is massive -- it takes up four acres, and it's equipped with a towering water slide, cascading waterfalls, and even a lazy river. You could basically consider it a water park, and could easily spend an entire day here. Bring your pool float and hang out. But don't forget your sunscreen.
Sign up here for our daily Phoenix email and be the first to get all the food/drink/fun in town.
Lauren Topor is a Phoenix writer who spends the summer months poolside with a margarita in hand. Follow Lauren to the most beautiful pools around the Valley on Twitter and Instagram.