Let's clear something up right off the bat: the bars you're about to read about are not bad places, nor do they encourage bad behavior... it just always seems to end up that way. These are the places where "one last quick drink" turns into "someone help me beer bong this margarita." These are Phoenix's Bad Decision Bars.
Tempe
They don't call this place the Dirty Verde for no reason. On any given night, you might find impossibly loud punk bands playing, or just Hall and Oates tearing up the jukebox. With pinball machines and arcade games in the back, along with two pool tables, there's plenty to keep your mind occupied between pickleback shots -- a tasty combination of a shot of well tequila followed up by a half shot of pickle juice. Add a splash of hot sauce to the mix, and you have what folks around here call the "Tijuana Hooker." This is not the cradle of good decisions.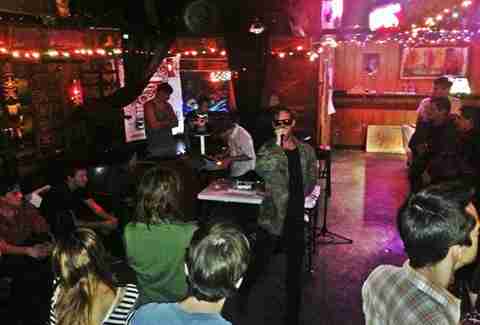 Downtown Phoenix
If any dive bar is an institution in Phoenix, it's most definitely Bikini Lounge. DJ nights on Tuesday, Friday, and Saturday range from sock hop-worthy rock & roll to post-punk to world and house music. Plus, the dark Tiki vibe is instantly lovable and the bar's longtime bartender Wes has the perfect amount of not giving a rat's hindquarters that regulars gravitate towards. Just be careful of those mini-pitchers of draft beer because they catch up with you quickly.
16th Street Corridor
On the outside, Royale's neon cursive lettering advertises cocktails, in case you had any doubt that it wasn't the kind of classy establishment that the crown heads of Europe wouldn't hesitate to attend. The actual clientele at Royale ranges from grizzled regulars telling odd (probably untrue) tales and hipsters looking for the next hip dive to stake their claim on. With several drink options at about the $1-$2 range, prepare yourself for a night of questionable choices and maybe a Jell-O shot or two.
Arcadia
There're two reasons a trip to Shady's could be dangerous: first off, the bar makes serious cocktails -- the kind of drinks you'd find in an upscale joint, but usually at a lower price. After a couple of those, you'll likely have already noticed the second reason, which is that the bar has one of the best jukeboxes in town. Sure, these might sound like good things, but together, they're a ticket to an eight-drink hangover and a parade of heavily tagged, embarrassing FB photos.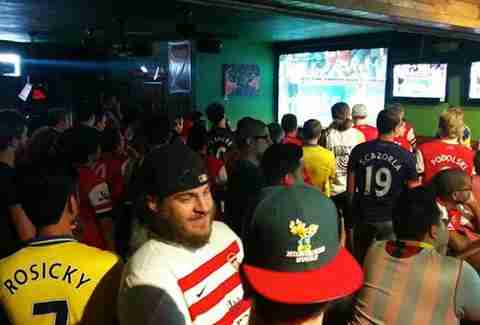 Tempe
This bar has a little bit of something for everyone. On one side, it's a good old dive bar with big booths and a stage that usually has both touring and local bands performing. On the other side, it's a craft beer lover's dream with nearly 30 rotating taps with national and local brews. And on the other side, it's the place where you will actually try to drink all of them.
Downtown Tempe
Sure, Casey's isn't a dive bar, but it's also pretty hard to go there on a weekend night and not overdo it a little. Located in a historic home with an expansive patio area, the bar is usually packed with college kids from ASU. Chances are you'll see at least 10 people you know on any given visit, making it Tempe's Cheers. However, that also means you'll probably see a few folks you wish you hadn't, too. And you will probably end up closing down the bar with them, and being forcibly herded out.
Downtown Phoenix
By day, Seamus McCaffrey's is a pretty tame spot to grab Irish food like a boxty or corned beef and cabbage. However, nighttime Seamus is a whole different story. If you went out to a concert or a game Downtown, you'll likely find yourself at Seamus after already drinking and that's when things tend to get a little raucous. It's like a brick-and-mortar Chumbawamba song: you'll take a whiskey drink, then a vodka drink, then a lager drink, then a cider drink...
Tempe
With a ridiculous name like Monkey Pants, you'd likely assume ridiculous things happen there, too. And you'd be right. Because at 1am, patrons have the opportunity to do a quick flash for a one-cent shirtless shot. With a booze price that low, you don't have to give up much in the way of cash, just a bit of your dignity. 
Sign up here for our daily Phoenix email and be the first to get all the food/drink/fun in town.