You might not know it, but Arizona produces some really great wine. Our wines have been served in the White House and at James Beard dinners in New York, and they've earned ribbons and won medals just like some of the more famous wine-growing regions in the country.
Napa Valley can eat its (delicious, rave-worthy) heart out. There are about a dozen wineries that are making just-as-good, if not better, wines in Sonoita, Arizona's southern wine-growing region. Most wines produced in Sonoita can be purchased at AJ's Fine Foods, local beverage shops like Arcadia Premium, or ordered at Valley-area restaurants including FnB, Tarbell's, and Beckett's Table. Despite a tough climate, legal challenges, and living in the shadow of other well-recognized wine-growing areas in the country, Arizona wine has taken off in the last decade.
A crash course in Sonoita's roots
Sonoita is located 161 miles south of Phoenix, about 50 miles south of Tucson, and a little over an hour southwest of the wine-growing region of Wilcox. Sonoita's roots in wine date back to the 16th century. It also happens to be the first region in Arizona to have earned the American Viticultural Area (AVA) designation. Today, Wilcox also has an AVA designation.
Just because we were among those who did it first, doesn't necessarily mean we've been on top. It was illegal to grow grapes for wine in the Copper State between 1915 and the 1980s, and there have been roadblocks since. One of those comes in the form of climate. In Sonoita, the vineyards are perched at heights ranging from 3,800ft up to 6,000ft. The hot, dry climate is as brutal to vines as it is to delicate human skin -- winemakers say it's very easy to kill vines in this area if you're not careful and diligent. If only keeping vines healthy were as easy as wearing sunblock and moisturizing.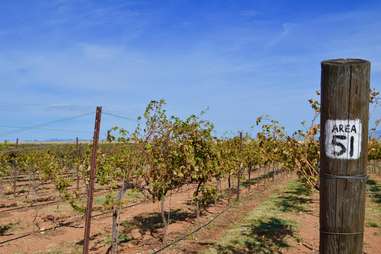 The birth of Sonoita
The growing conditions are important when creating any wine, anywhere in the world. Not only do we have a very unique (read: rough and fairly unforgiving to plants and people alike) climate, but we have unique soil. Unlike the excruciating sun and whipping wind, our dirt is something scientists and wine growers from around the world could get excited about. In fact, expert vintners compare the soil in Sonoita to France's Burgundy region.
Soil scientist Dr. Gordon Dutt is the grandfather of Arizona wine and saw Sonoita for the lush growing region it is. After testing soils from all over the state, he planted his first vines in the Sonoita soil in the early 1970s. Dutt thought that the soil and the arid climate would make the best wines possible -- and he was right. Dutt's first commercial vineyard, Sonoita Vineyards, now grows fantastic merlots, cabernet sauvignons, syrahs, petite sirah, and sangiovese, among others. But since the first vines took root, there have been some serious struggles.
Vintners battle Mother Nature every day
The climate in Sonoita is hot. It's dry. It's windy. It freezes. There are monsoons. Vines are even subject to sunburns, which can happen when an area is shaded and then exposed to direct, intense sunlight. Sun exposure can even affect the structure of the fruit, which plays into the type of wine. The climate plays such a large role in the composition of the wine, from the vine to the barrel.
"What makes a grape interesting is the story that it tells," said Todd Bostock of Dos Cabezas WineWorks. Arizona wines have elements that taste, smell, and feel like this place.
Because Sonoita is still a young growing region, winemakers are continuing to experiment to find the vines that work best. "Vines have to get to know their site," said traveling wine writer Elaine Brown, which means there's a lot of trial, error, and replanting.
With that in mind, Sonoita winemakers carefully choose varieties that will thrive in difficult conditions. Ann Roncone, who moved from the Bay Area to grow grapes at an elevation of 5,100ft in Sonoita at Lightning Ridge Cellars, said Italian, Spanish, and French varietals do well. Here, you wouldn't grow something like a pinot that typically thrives in cold and wet climates.
Harvest seasons vary throughout the region
August through October are typically dedicated harvest months in Sonoita; the climate and geography of each vineyard can vary and change harvest times. A difference of 100ft in elevation can play into harvest; Kent Callaghan of Callaghan Vineyards said there are notable differences in a half-mile distance.
The exact timing of harvesting season varies year-to-year based on how spring and summer pan out -- a mild spring makes for an early harvest and a cold winter and chilly spring mean that harvest is pushed back. Harvest is one big juggling act. After the fruit is picked from the vine it's de-stemmed, crushed, pressed, and then fermented. After harvest the vines go dormant and essentially shut down. During this time, most winemakers are bottling and getting ready for their next year.
You can visit any of the wineries for tastings of recent harvests and those from years past at tasting rooms and post-harvest events. A new-release festival at Sonoita Vineyards showcased grapes from neighbor and white pinot producer Charron Vineyards, as well as wines from AZ Hops and Vines, Wilhelm Family Vineyards (which grows cabernet sauvignon, tempranillo, graciano, tannat, verdejo, petit sirah, and grenache), Lightning Ridge Cellars, and more.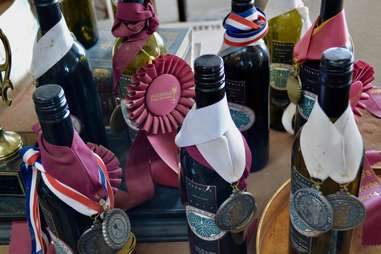 How beer is helping "Free the Grapes"
Arizona wine has experienced a boom in growth over the last eight years. And our state's craft brewers may be partially to thank. Beer legislation has directly impacted wine growth in the state. Basically, if beer can do it, wine should be able to do it too.
In 2016, the governor signed a bill dubbed "Free the Grapes," which allows the purchase of wine over the phone and online. Previously, the law only allowed shipping from large-scale vineyards that met an established criteria -- now the little guy gets to play. Arizona currently has 83 licensed wineries. And from what we have seen in recent years, we can only expect that number to expand.
In Sonoita, you could easily spend a weekend on a tasting tour of local wineries along Highways 82 and 83, or along Elgin Rd.
What's next?
Sonoita could be considered one big experiment where bold winemakers know the risks and take them anyway. Their efforts have captured the attention of aspiring growers, as more and more winemakers choose Arizona state as the place to plant their roots. Making wine in Southern Arizona may be laborious, but it's also approachable and much more affordable (from a real estate perspective) than some other growing regions.
Growth isn't just limited to Sonoita; it is happening across the state. Arizona's Verde Valley, for instance, is booming and the home of a viticulture school called Southwest Wine Center, which teaches impassioned winemakers what they need to know about making wine. There's even a wine incubator, called Four Eight Wineworks, in Clarkdale equipped with its own tasting room.
At a recent AVA meet-up Elaine Brown enthusiastically cheered, "You guys are kicking ass." In terms of American wine, she said, "It really is a frontier here."
Sign up here for our daily Phoenix email and be the first to get all the food/drink/fun in town.
Lauren Topor is a Thrillist writer who very much enjoyed the research for this article. Follow her Arizona wine adventures on Instagram.