The 10 Best Breweries in Arizona, Ranked
Lauren Topor/Thrillist
Lauren Topor/Thrillist
Arizonans love beer. We've got more than 70 craft breweries here. It's just what happens when you have the most thirst-inducing climate in the country (yes, we are including you, Hawaii). We've got Arizona Beer Week, the Urban Ale Trail, brewery tours by bus, the Great Arizona Beer Festival, the Beer Trail, and too many Oktoberfests to count. But which are the best of the local hop-smiths? We decided to find out...
Phoenix
What you're drinking: Señor Gallo
The award-winning custom beers coming out of Downtown Phoenix's newest brewery, Wren House Brewing -- formerly Westward -- have won over The Valley's brewheads. The brewery is less than a year old, but age is just a number. This place has tons of potential to earn a top spot among Phoenix-area breweries.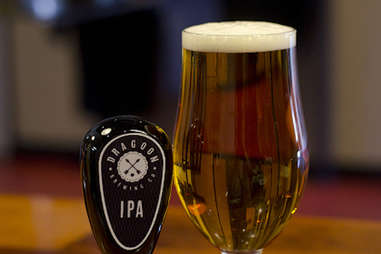 Tucson
What you're drinking: Dragoon IPA
What started as a home brewery endeavor in the mid-1990s has turned into Tucson's highly acclaimed Dragoon Brewing Company. The brewery's got seasonal and specialty brews on tap, but it only brews two beers year-round, one being the Dragoon IPA. The West Coast IPA has a high alcohol content (about 7.3%), and it's a perfect pairing for spicy foods, cheeses, and even pizza, say the beer experts.
Flagstaff
What you're drinking: Piehole Porter
Flavors of cherry, vanilla, and some hops come together to make Historic Barrel + Bottle House's Piehole Porter. Check out the nine-handle taproom to taste all of the beers. The Flagstaff brewery does lots of fun stuff like pig roasts, trivia nights, and it'll even give you a discount ($1 off pints) if you ride your bike in on Mondays. Historic also makes its own wine. But we won't go too much into that. This article is about beer... but wine is cool, too.
Gilbert
What you're drinking: Oaked and Ordinary
In 2013, Arizona Wilderness Brewing Co. was named the best new brewery in the world by the folks at RateBeer.com. That's a pretty serious honor. And it's well deserved. A standout brew is AZW's Oaked and Ordinary, an English bitter that's aged on oak staves. Like many of the state's craft breweries, Arizona Wilderness uses local ingredients to craft the perfect beer, like spruce tips from Northern Arizona for the Pine Mountain sour pale ale. Yes, we have trees in Arizona.
Phoenix
What you're drinking: Baie Rose saison
In an industry that's dominated by men, beer-science nerd and ultimate badass Julie Meeker is a standout. Mother Bunch Brewing is one of the latest breweries to open in Downtown Phoenix, and it occupies the space that was once AJ Bayless Market. From the menu to the beer, each is prepared with careful thought and unique ingredients. The Mother Bunch Baie Rose saison, a French-style saison, features star anise spice, which gives the beer a black licorice-like aroma. Take home a growler. It will give you an excuse to come back. But you don't really need one, this place is that good.
Chandler
What you're drinking: HefeWeizen
Downtown Chandler's SanTan Brewing Company has been in the game since 2007, and in the time between then and now San Tan has earned a reputation as one of the top breweries in the state. And it's one of the largest. Known for its unique Southwestern-style ales, the beer is brewed specially for hot climates like Arizona. The Hefe features the standard notes like citrus and lemon peel, but it's also got some unusual ingredients -- bananas and cloves -- which make the wheat beer unbeatable. Can't get enough? Ask for the CanZilla. They'll can your favorite brew, and you can take home the giant 32oz can.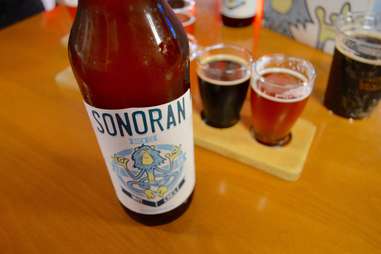 Phoenix
What you're drinking: WHT CHCLT
Sharing a space with Phoenix Ale Brewery, Sonoran Brewing Co. keeps it real when it comes to craft beer. You won't find beer snobs at the bar or have to listen to some crazy-emotional story about how the brewery came to be from some guy with a well-oiled beard (although you will find plenty of beards here). It's about the beer. And it has been since 1996. Sonoran's white chocolate ale is too good for words. You'll have to try it for yourself. Would we misguide you? Didn't think so.
Lake Havasu City
What you're drinking: Big Blue Van
Dubbed Havasu's "hippest" brewhouse, you'll find the Animal House amber, the West Coast-style India pale ale, and Big Blue Van, an American-style wheat beer with unorthodox flavors like blueberry and vanilla. It tastes exactly how it smells, which is amazing. If you're into fruity, sweet beers, this one's for you.
Tempe
What you're drinking: Koffee Kolsch
The hole-in-the-wall location off of Mineral Ave looks more like a boring office space than one of the best breweries in Tempe. Huss has a cult-like following, and it's the alternative to the big brew dogs in town. But that doesn't mean the beer doesn't stand up to them. With Chicago roots, Huss has a beer named after the ivy at Wrigley Field: Magic in the Ivy (you can try it at spring training games at Sloan Park in Mesa). And after a dispute with the city of Scottsdale, when the city wouldn't allow it to open, it introduced what's now its best seller, Scottsdale Blonde (Scottsdale and Huss are friends now). Funny thing is, it's not even a blonde; it's a German-style kolsch. Another notable kolsch, the Koffee Kolsch is the true winner here. The once-seasonal brew is now in the year-round lineup. If you love coffee and you love beer, this will be your new favorite. Huss also brews Papago's beer, and every Sunday you can do yoga in the brewery.
Tempe
What you're drinking: Kilt Lifter
There's a reason people love Four Peaks: it's the beer. Tempe's largest and biggest craft brew distributor has been top dog for some time now. Since 1996 the Four Peaks crew has been brewing up Scottish-style ales, and there's no sign of them stopping anytime soon. Never change, Four Peaks. Never change.
Sign up here for our daily Phoenix email and be the first to get all the food/drink/fun in town.
Lauren Topor is a Phoenix writer who VERY much enjoyed doing the research on this piece. Follow her at @LaurenTopor.