The Best Beer Bars in Phoenix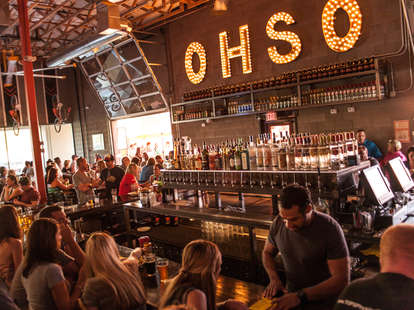 Beer might be the perfect combination of alcohol, carbonation, and hops. But any real beer drinker knows all brews are not created equal. In fact, when it comes to beer, a good variety is key. So we went on a search to find the best beer bars around town. From classic Arizona breweries like Four Peaks, to great eateries with a surprisingly knockout beer selection like Delux, we have you covered.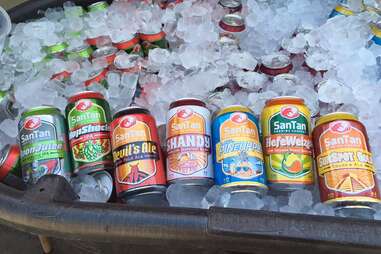 Chandler
SanTan Brewing Company is a staple in the Arizona beer scene. It's been around for nine years, and has built an extensive lineup of beers that includes year-round favorites such as the Devil's Ale and the HopShock IPA. The company also offers some delicious seasonal brews like the Grapefruit Shandy and the Sex Panther. You can find the brewery's beer at an ever-growing list of places, but there's probably no better way to enjoy one than at the downtown Chandler brewpub.

Downtown Phoenix
The Lost Leaf is an intimate space located Downtown, which gives it an eternally lively vibe, but the beer selection is what really draws us in. The menu features over 60 beers to choose from: everything from pilsners & pale ales, to local brews such as Four Peaks and Nimbus Brewing Company. If you're here, you'll never have to worry about having to drink the same old imports.
Arcadia (& other locations)
O.H.S.O. is the type of place you'll want to spend the day. Between the dog-friendly patio, the food, and (naturally) the beer, it's a great neighborhood spot that has over 40 beers on tap, including a few of their own concoctions (definitely try the Praying Monk Dubbel). This spot is open for brunch and dinner (and yes, just for drinks, too), and vows that if you don't see your favorite beer on its tap list, just wait a few days -- it's coming. Oh, and because we know you're wondering: it stands for Outrageous Homebrewers Social Outpost.

Downtown Phoenix
Angels Trumpet Ale House takes beer pretty seriously, with 31 options to choose from on tap and two nitro taps available. You won't find any run-of-the-mill beers here, just plenty of local brews, like the Sonoran Smooth Rebel or the Pedal Haus Altbier. Plus, there's the chance to pair your beer with some one-of-a-kind food items. Want to match that beer with a BBQ brisket grilled cheese? Oh yeah, you can...
Downtown Phoenix
If you're a craft beer fan, look no further than Mother Bunch. This family-owned downtown restaurant and brewery keeps a revolving list of its own beers on tap, a list that currently includes the Old Skool IPA, Cherry Popper Porter, and the Oatmeal Chocolate Milk Stout. Glasses are offered in 4oz, 10oz, 16oz, and 32oz pours, and both 14oz and 32oz growlers are also available. If you can't swing by, take advantage of the growler delivery system!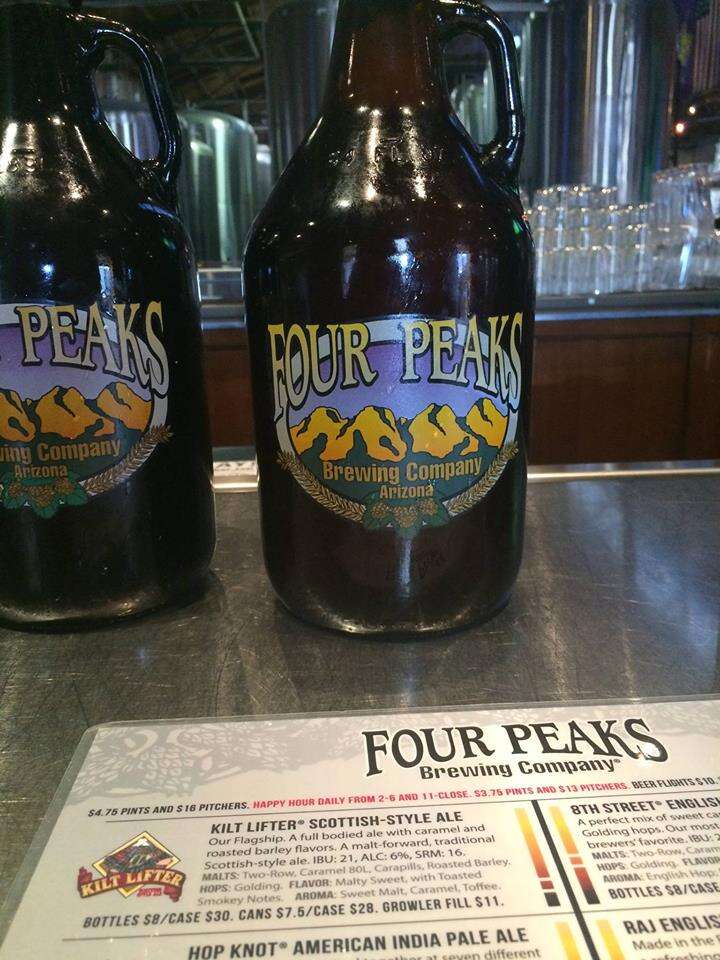 Tempe
When you ask an Arizonan about local beer, chances are Four Peaks is one of the first beers they'll recommend. This place is the home to some famous local classics like the Kilt Lifter or the Hop Knot IPA, both of which are staples in any self-respecting Arizona beer drinker's repertoire. You can easily get Four Peaks' beer all around the state, but it's better to go to the source. And if you're visiting the original Tempe location, definitely take advantage of the brewery tours.

Scottsdale
Papago Brewing Company has been filling the Valley's glasses with some great beer for 15 years now. This place always has 30 brews on tap and prides itself on never offering the same lineup twice. So if you're a regular, there's always an opportunity to try something new. (Unless you're a real barfly. In that case, have at the same beer all you want.) From local beers, like their signature Coconut Joe, to distinctive finds from across the globe, like Historic Brewing's Eternal Sunshine, or Belgium's own raspberry lambic, you're sure to find a new favorite every time you stop by.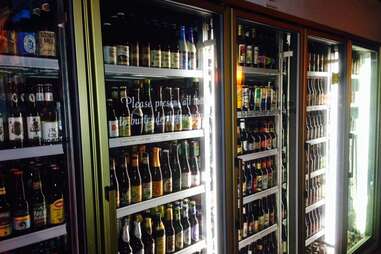 Tempe
Taste of Tops, which is operated by Tops Liquors, boasts one of the best beer selections in the Phoenix area. This place houses an ever-changing lineup of 30 craft beers on tap, plus 600 different bottles and cans... so you're not going to be leaving thirsty. Plus, if you're hungry, you can always order Thai Basil or Tessio's Pizza right to the bar. Win-win!

Arcadia
Delux is known for burgers (and sushi, oddly enough), but the beer selection is truly impressive. There's a lot to choose from, so take your time reading from the looooong menu: cruise the options between light & easy, hops & medium body, or dark & malty. Or, if you'd rather skip the "what should I get!?" panic attack, save yourself the trouble and just go for the custom beer flight. You can't go wrong with 5oz pours of three different beers for just $8.
Phoenix
This locally owned and operated family beer and wine bar knows the game of beer. Not only does The Whining Pig offer an extensive 125+ craft beer list, but there's always a staff member on hand willing to lend their expertise and steer you in the right direction to find your new favorite drink. Once you've found it, take advantage of the classic games that sit around the bar (anyone up for Cards Against Humanity or Connect Four??), and keep yourself occupied while you enjoy your new find. It's also a great spot for the daily happy hours, which go every day until 8pm. Grab yourself deals on most wines and all craft beers.
Phoenix
This place is relatively new, having just opened back in 2011, when two friends decided to up and open a microbrewery in the Valley. Today, it produces some of the best, and most underrated, beer in the state. Despite its young age, PAB's popularity will continue to grow, becoming a real staple in the Arizona beer scene -- or so we think. After all, the Camelback IPA and Biltmore Blonde brews are already becoming well-known around the state, and sure enough, that Orange Peel IPA is catching up damn soon!
Sign up here for our daily Phoenix email and be the first to get all the food/drink/fun in town.
Jamie Killin is a Phoenix writer and craft beer enthusiast -- follow her on Instagram @jamiefayekillin, or on Twitter @jamiekillin.