Phoenix wine bar owners really do go the extra mile for their customers. We've literally got a place that takes out most of the added chemicals in its selection just so you can get yourself a glass of "nude" and "honest" wine. There's also the place that tests each employee before they're allowed to serve you a glass -- just in case you ask a question (which you will). So what we're saying is: in a town filled with kick-ass tasting options, cheap happy hours, and even wine classes from an actual winery, there's really no going wrong at Phoenix's best wine bars.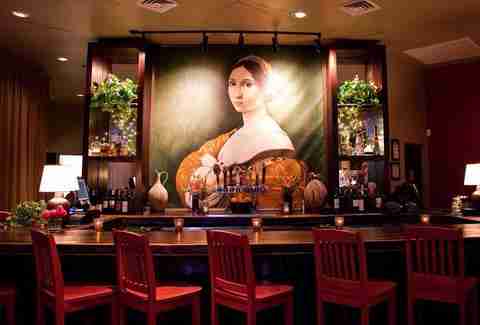 Downtown Tempe
If you're willing to brave the chaos of downtown Tempe for a classy wine (and pizza) session, this is a fantastic spot. Inside you'll find a dimly lit, classically decorated cozy restaurant with a full wine bar offering daily specials on vino. The happy hours, which are from 3-6:30pm every day, offer $5 off all wine glasses $10 and below. Limited time weekday bottle specials begin at $19, and on Sundays, diners can really test out the selection: purchase one item and get the other free when you order a bottle after 6:30pm. For a more entertaining visit, we suggest taking advantage of the patio and watching the spectacle that is Mill Ave.
Old Town Scottsdale
You know Arcadia Farms for the homemade granola parfait that often saves your Sunday mornings, but the Scottsdale spot also curates a great wine selection and will (occasionally) offer wine tastings. The rustic space and ever-changing Mediterranean-inspired cuisine, matched with the charm of favorites such as croissants and muffins, is what makes this place stand out. And sure, Wine Down Wednesdays, where all the wine is 50% off, doesn't hurt either.
East Mesa
Mesa is Arizona's third largest city, so its lack of great food and wine spots can be frustrating. Fortunately there's D'Vine, a cozy bar offering reds, whites, and more by the glass, bottle, and even flight. D'Vine prides itself on removing the "snootiness" from the vino world by educating its customers through tastings every Tuesday night with an in-house Mixologist. But if you have a question about the selection any other night, feel free to ask the staff -- each member is tested about the wines before being allowed to serve you.
North Scottsdale
This family-owned wine spot focuses on offering a diverse spread of reds and whites from all across the world. On top of its selection -- which includes an "interesting" section -- the bar has a fantastic food menu with great local ingredients. Our personal favorite is the Light My Fire! pizza, which layers chorizo sausage, pepper jack cheese, and cilantro… on a pizza! The happy hour is every day from 3-6pm with $3 off any glass of wine, and on Sundays, be sure to bring along your dog for the HH! (Don't worry, it's allowed…)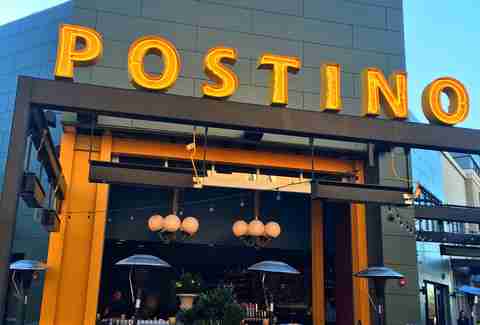 Arcadia (& Other Locations)
Priding itself on being a "neighborhood WineCafe," Postino's vino selection is so great that it has six locations, with number seven opening up this spring. Not only does it provide a great ambience inside -- largely because of the comfortably rustic setting -- but the specials always appear to be on point. From 11am-5pm every day, this place offers $5 wine glasses, and on both Mondays and Tuesdays (after 8pm), grab yourself a bottle of house wine and bruschetta for just $20.
Downtown Phoenix
Right next to the legendary Pizzeria Bianco in the historic Thomas House is Bar Bianco, a colonial wine bar that offers some great local Arizona selections. Sit back and have a glass of vino courtesy of Dos Cabezas while you wait for your pizza. Or better yet: have a few with some friends.
Old Town Scottsdale
Olive & Ivy is known for its great Italian-Mediterranean fusion menu, but we don't think it gets nearly enough credit for the quality wine selection. With over 100 different reds alone, this is the perfect place to expand your palate and try something new. Stop by Monday-Friday between 3 and 6pm for the daily happy hour specials where all featured red and whites are just $5 for a glass.
Downtown Tempe
According to Caffe Boa, there are nearly 200 allowed "additives" that can go into wine. Because of that, each bottle or glass offered here is "nude" and contains the least amount of chemicals possible. And with a food menu that is also organic, the bar works hard to make sure its wines taste good and are healthy for you. The way that's done is by removing all oxygen and using "adaptive thermostats" that allows the restaurant to serve you vino at the perfect temperature.
Old Town Scottsdale
With a constantly rotating wine list, there's always something new to try at 5th and Wine. And what better time to do so than during its happy hour: Monday-Friday from 3-6pm. If you'd rather a more private setting, the bar offers wine tasting parties. Feel free to fill the tasting room (a covered outdoor patio) with up to 40 of your favorite people and experience 5th and Wine together.
Old Town Scottsdale
If you're a true wine aficionado, or just curious about how wine is made, we recommend doing a tasting at Su Vino Winery. With over 40 medals earned because of the selection, Su Vino stands out because it offers customers the chance to have wine literally made just for them. Stop by the winery for a drink, a tasting, and maybe even a lesson (or two) about the industry. The staff is happy to help.