Winter in Pittsburgh is one of the harshest out there this side of Minnesota. But these nine bars are so suited for winter drinking, you might actually be imparted with the gumption to leave your weekend hibernation chamber, aka your bed of a thousand blankets, to cheer on the Penguins on the South Side. With everything from a centuries-old hot cocktail to coffee "corrected" (with liquor, duh), these bars will get you to stop longing for drinks-on-the-patio weather.
 

Recommended Video
Thrillist's Best (and the Rest): What You Actually Need to Know About Natural Wine
Best winter cocktail
Address and Info
Mt. Washington
This winter, the Summit is serving up Glogg, a traditional warm, mulled wine cocktail that's been curing the winter blues for centuries. It's a heady brew made with cabernet, port, brandy, tea, simple syrup, cloves, cardamom, orange, cinnamon, raisins, and almonds. Bartenders scoop this cocktail from a steaming vat into clear glass mugs, and top the drink with slivered almonds.
Best fireplace
Andys Wine Bar
Address and Info
Downtown
The futuristic fireplace in the lobby at the Fairmont hotel isn't just beautiful, it's emanating warmth, too. Bar service is available in the lobby from the hotel's Andys Wine Bar, which has plenty of seasonal cocktails on the menu. Try the smoked cherry rye cocktail, a mixture of Templeton rye, Carpano Antica, and house-made cherry almond bitters.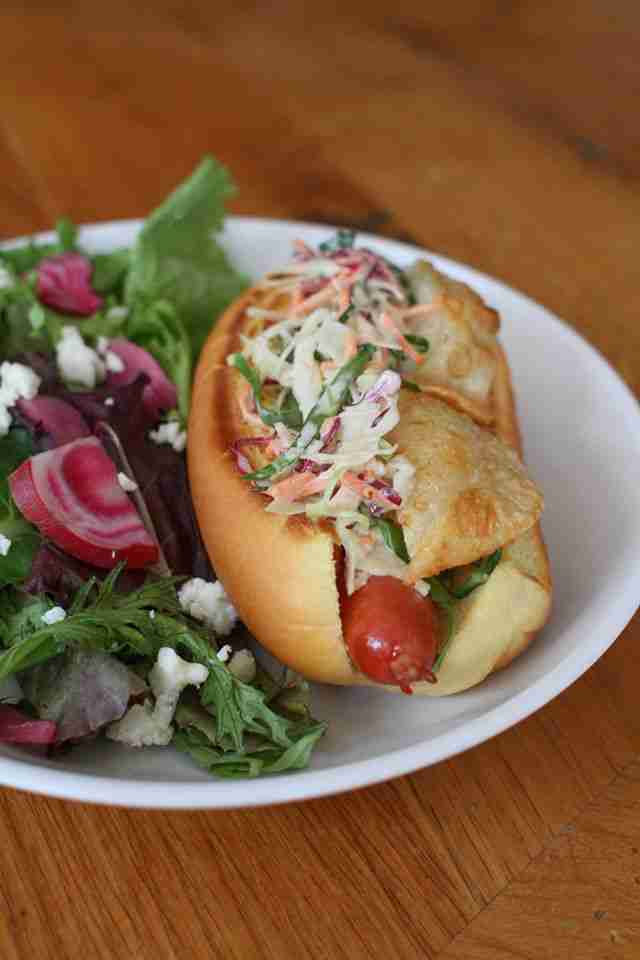 Best trivia night
Franktuary
Address and Info
Lawrenceville
Tuesday Trivia Night at Franktuary is so intensely engaging you might even forget about the frigid temperatures outside. There's a draft beer special, tough trivia (sometimes with quirky categories like 'worst movies by good actors'), and hot dogs, of course.
Best place to forget about winter
Brillobox
Address and Info
Bloomfield
It's hard to think about the chill outside when you're sweaty from dancing so hard at Brillobox. Twice a month, the Pandemic Dance Party brings what it accurately describes as "drinking, dancing, stomping, yelling." It's a dance party fusion of tropical bass, Bhangra, Bollywood, Balkan beats, and much more.
Best to watch winter sports
Primanti Bros.
Address and Info
South Side
If you can't sit rinkside, the South Side location of this quintessential Pittsburgh bar-restaurant is the place to watch the Penguins play. Any time Pittsburgh teams are on the TV, the South Side turns into a cross-town cheering section, and Primanti Bros. is at the center of it all.
Best hot drink
Address and Info
Downtown
The caffè corretto (or espresso corretto) pairs a shot of steaming espresso with booze (think sambuca or Cynar). Literally "corrected coffee" in Italian, the drink is a potent after dinner pick-me-up.
Coziest vibe
Monterey Pub
Address and Info
North Side
With antique, carved mahogany booths and a friendly neighborhood vibe, this Irish pub on the North Side is the epitome of cozy. Guinness and Smithwick's are on tap, along with several other beers on draft and in bottles. What's more, the atmosphere is relaxed enough for casual clothes -- wear that three-sizes-too-big knit sweater and jeans with no worries about the dress code.
Best dark beer list
Hough's Taproom & Brewpub
Address and Info
Greenfield
Among its 73 rotating taps, Hough's is serving Lagunitas Cappuccino stout and Ommegang Lovely, Dark and Deep during the winter season. Left Hand Milk stout nitro, another dark beer favorite, is on draft year-round.
Bar you can wear your ugliest sweater to
Sonny's Tavern
Address and Info
Bloomfield
Wear that ugly sweater with pride at Sonny's Tavern. The more sequins, tassels, and pom-poms, the better. Order a PBR Pounder, and compare sartorial choices with your Millennial brethren.
Sign up here for our daily Pittsburgh email and be the first to get all the food/drink/fun in the Steel City.
    
Rossilynne S. Culgan is a Pittsburgh native who is always cold, and, thus, is grateful for Glogg. Follow her: @rossilynne.