These days, even Pittsburgh's diviest dive bars have craft beers on the menu. So what sets apart a true "beer bar" in these parts? These spots hit the mark with a large number of fresh drafts in a variety of different styles, all served by knowledgeable staff, likely in stemware that you're pretty sure makes the beer taste better. Note: we're talking about beer bars, not breweries (of which there are plenty in Pittsburgh) located within the city limits.
Recommended Video
These Onion Rings Are Stuffed With Cheeseburgers
North Shore
The beer list at The Beer Market is gigantic -- we're talking several hundred options -- though you can narrow it down in advance by visiting the bar's website and entering your preferences in the beer search filter. Search by brand, style, country, or region. Selections range from dunkelweizens to IPAs, and ciders to stouts. Pro tip: The Beer Market allows "order-in delivery service," meaning you can order a pizza (or tacos or sushi) straight to the bar.
 
Bloomfield
You know what goes well with beer? Pizza. And Caliente Pizza & Draft House does both so, so well. More than 20 beers are on tap, and the draft list comes equipped with a helpful description of each one, describing each beer's aromas, flavors, and hoppiness. For something extra special, try the Kegs in the Cellar Series, featuring beers that have been aged for maturation, such as imperial stouts and Belgian strong ales. Even more rare, the bar unveils a fresh firkin -- a barrel to serve cask-conditioned beer, usually something experimental -- once every month.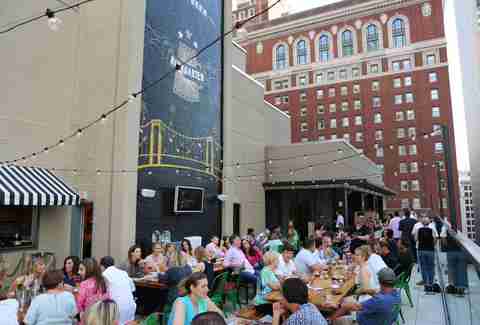 Downtown
European beers steal the show at Biergarten, the rooftop bar perched atop Hotel Monaco Downtown. The entire beer list is a delight for fans of imported brews, and a few special ones include: Bière Du Boucanier, Lindemans Kriek, Aecht Schlenkerla Rauchbier, and Leffe Brune. Oversized party games like Jenga and Connect Four are available on the patio.
 
South Side
The regularly updated draft list at Carson Street Deli & Craft Beer Bar seamlessly blends a variety of local, regional, national, and international options. Weekly beer samplings offer a chance to try and talk about new brews. In warm weather, spend an evening in the outdoor beer garden with some brews and a deli sandwich.
Greenfield
With 73 rotating drafts and more than 150 bottles, Hough's takes beer very seriously. The neighborhood bar focuses on domestic microbrews and features a different brewery each month, turning over many of the taps to that brewery's beer. Recent featured breweries with tap takeovers have been Southern Tier, Great Lakes, and Brooklyn Brewery.
South Side
Giant coolers of bottled beer run the length of the long bar at Smokin' Joe's Saloon. More than 350 bottled beers are available, and the bar focuses on bringing to Pittsburgh the work of new breweries from around the world. Sixty beers are on tap, making the four-beer sampler a good way to try several beers in an evening. The saloon has a sports bar vibe, with seven TVs, darts, and a pool table.
 
Downtown
At Il Tetto, the long line of taps spans nearly the entire rooftop bar. On draft are 32 beers offering a good mix of lighter & darker beers, domestics & imports, and a variety of flavors. The rooftop beer garden maintains a lively party atmosphere among the skyscrapers weekend after weekend. 
Squirrel Hill
All beers at Independent Brewing Company are brewed by Western Pennsylvania brewers. Despite its name, the venue itself is not a brewery. Instead, its name is an homage to a pre-Prohibition group of Pittsburgh brewers who banded together to promote local brews and compete against national companies. Today's Independent Brewing Company serves a rotating draft list, featuring brewers such as Draai Laag Brewing, Brew Gentlemen Beer Company, and Hitchhiker Brewing Company.
 
South Side
Inside the drafthouse, which maintains an industrial aesthetic, 40 craft beers are on tap, such as Founders All Day IPA, Terrapin Hopzilla, and Bell's Two Hearted Ale. The tap list changes regularly, and seasonal options are also updated often.
South Side
Piper's Pub is the closest you can get to being in the British Isles without ever leaving Pittsburgh. Fresh pints are filled to the brim with Irish stouts and Scottish ales; domestic brews are also on the menu. Bartenders are meticulous about the taps, and they're well-versed about the ever-changing beer list, easily tailoring suggestions based upon customers' preferences. Stop by on Saturdays for a football (soccer, but don't call it that there) match.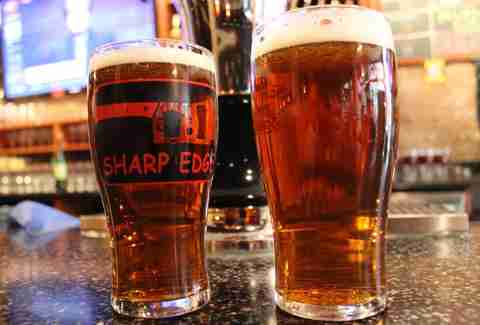 Downtown, East Liberty
With two locations in the city, Sharp Edge gives you double the places to get your fill of Belgian and craft drafts. The long draft list is heavy on strong Belgian ales, such as Gulden Draak and Grimbergen. For the adventurous beer drinker, Sharp Edge offers a rotating mystery brew.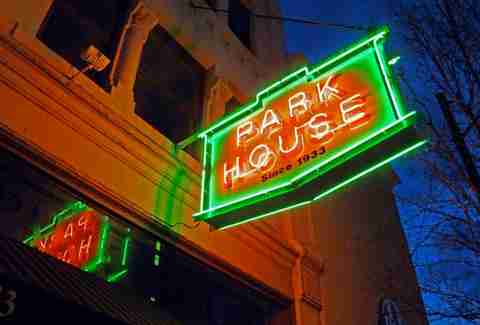 North Side
The Park House building dates back to the 1890s, and the bar dates back to the end of Prohibition, making it one of Pittsburgh's first licensed drinking establishments. These days, it still has a stamped tin ceiling and ornate woodwork, and has evolved into a popular spot for live music. The beer list contains 50 craft beers, with about 15-20 on tap, such as Lagunitas, Deschutes, and Ommegang. Fresh popcorn and peanuts are free at the bar. 
 
Lawrenceville
The 40-tap bar at Industry regularly features local breweries, including Industry's own Copper Ale and IPA. Look for the light-up tap handles to signal which taps are Industry's own brews. Stay tuned to the TV screens around the bar, which scroll through the draft list, providing details about each beer and a measure of how much beer is left in each keg. 
 
Sign up here for our daily Pittsburgh email and be the first to get all the food/drink/fun in the Steel City.
Rossilynne S. Culgan (@rossilynne) is a Pittsburgh native who will challenge anybody in the city to a game of giant Jenga at Biergarten.