Over the last 15 years, Pittsburgh has become a food and tech hub -- and what do foodies and techies like to pair interesting dishes and innovation with? Beer, of course. From Beerfest to the nation's first black brew festival Fresh Fest, there's never a shortage of craft beer events in the 'Burgh, just as there's never a shortage of craft breweries. It can be hard to focus on the highlights when the field's this crowded, so we've taken it upon ourselves to narrow things down a bit.
Here are 12 Steel City craft breweries that locals and visitors alike should visit at some point, including classic establishments, up-and-comers, and joints with special releases that cause lines to wrap around the building. Whether or not these are the best breweries is for you to decide, but these are the ones that are on everyone's lips -- or at least, the ones that deserve to be.
Est. 2005 | Homestead
Just a little bit past the Waterfront shopping destination is this brewery located in the historic Homestead neighborhood. The outside of Voodoo Brewery is unassuming, appearing to be an old warehouse except for the VB logo on the doors, but inside it works its magic with long tables, graffiti-riddled walls, and a required beard for entry (just kidding). Voodoo beer releases like ManBearPig (named for South Park) and Black Magick cast quite the spell when announced on social media, as lines wrap around the building just for a chance to purchase them (the limit is usually two bottles). While Voodoo has locations around Western and Central Pennsylvania (and even DC), it originated about 2 hours up I-79 in Meadville, PA. 
Key beers: Good Vibes, Voodoo Love Child
Est. 2014 | Millvale
Hardcore Nittany Lions fans, this is the brewery for you. Started by two Penn State alumni, Grist House has become a craft beer haven for folks in Millvale, and will soon become one for South Hills residents when it launches its larger space. Even though Grist House is considered a Hoppy Valley brewery (be prepared for standing-room-only situations during PSU football season), it tolerates all sorts of beer enthusiasts and non-enthusiasts -- serving wine and chardonnay for those who just aren't looking for a tasty brew. For those into refreshing, fruit-infused beers, try the Fire on the Hill IPA, with peach, tangerine, and a hint of lavender, or Flood Line which boasts pineapple and tangerine. Oh, and don't forget to bring your dog -- this joint is dog-friendly! 
Key beers: Hazedelic Juice Grenade, Black in the USSR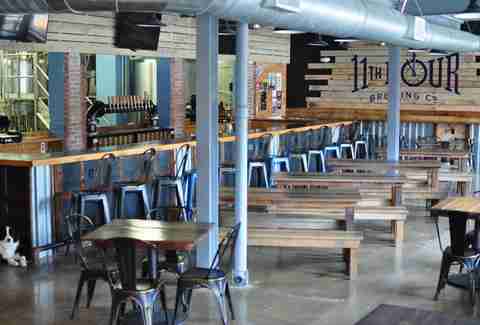 Est. 2017 | Lawrenceville
Despite the name, there's nothing "eleventh hour" about husband-and-wife team Matt and Keana McMahon's labor of love, as there's a lot of attention and care that goes into this industrial-chic establishment, which boasts reclaimed, refurbished, and recycled objects (broken clocks all pointed to the 11th hour!). That attention overflows into the brews, too, like the kicky Burning Phoenix Jalapeno Pale Ale or the Double Nocturnal Rainbow Imperial Milk Stout. Wednesday through Fridays in the spring and summer, Eleventh Hour welcomes the Blue Sparrow Global Street food truck in the front patio area, featuring delicious food offerings like cheesy kimchi fried rice (which tastes like pepperoni pizza rice). Located around the corner from Piccolo Forno and Round Corner Cantina, Eleventh Hour Brewery is a hidden gem in Lower Lawrenceville.
Key beers: Cult Logic, Makeshift Dynamite
Est. 2011 | Millvale
Strange Roots wasn't always known as "the sour beer place." Before it came onto the scene in 2018, people might have known it as Draai Laag Brewing Co., which had been around since 2011. However, with the evolving craft beer scene, founder Dennis Hock decided to expand, changing the name to focusing on a wider variety of beers and ales inspired by the area's surroundings. For example, the Grand Blu peach ale is an annual release that's matured with the same organism used to make cave-aged blue cheese, and refermented with peaches. In addition to sour beer, Strange Roots also serves smoked meat sandwiches and tacos, and if you're going to a concert up the road at Mr. Small's, sometimes they'll run deals -- if you show them your ticket, they'll give you a discount. 
Key beers: R2 Koelschip, The Plague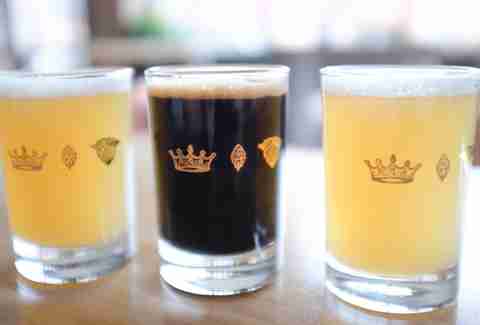 Est. 2016 | Sharpsburg
Dancing Gnome is #sorrynotsorry when it comes to IPAs, as they "unapologetically brew hop-pronounced styles" like Exquisite Beast brewed with English malt, and generously hopped with Denali, Mosaic, and Amarillo hops; and Stained Glass Ceilings, which is described as "hopped with a truly absurd amount of Amarillo, Mosaic, and Citra hops." Wednesday through Sunday, food trucks like Blue Sparrow and Alberta's Pizza stop outside so you can wash down your suds with some vittles -- and you may even want to stay outside if the weather's nice. Dancing Gnome fills up fast, so get there early or be prepared to stalk a table of people until they leave. 
Key beers: Infinite Highway, Lustra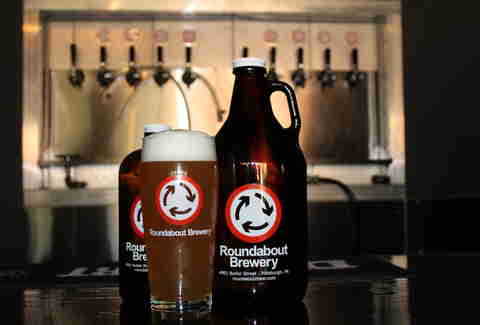 Est. 2013 | Lawrenceville
Roundabout Brewery is a tiny blink-and-you-might-miss-it spot along Butler Street between Lower and Upper Lawrenceville, and while it doesn't seat many, it's got some of the friendliest bartenders in the city (which could be why the seats are always filled). The brewery lives up to this charm by delivering Pies and Pints nights on Tuesdays, where you can have a pint and a lamb pie (and sometimes sausage rolls, too) for $9. Roundabout also has some of the most unique beers in the city, like the Earl Grey pale ale, which has a hint of tea flavor; and the Raspberry Pot Hat Cider, an effervescent tart creation that almosts tastes like Prosecco. 
Key beers: Ginga Wheat, Pacific Ring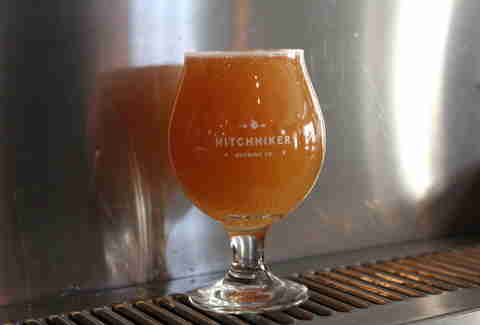 Est. 2014 | Sharpsburg
Unlike a lot of craft breweries in the area, Hitchhiker Brewing is located in a large corner warehouse, meaning it's not too hard to find a place to sit or stand. The brewery boasts sleek, mechanical decor, along with pinball machines and board games for entertainment. Keep an eye out for when they open up the corner garage door: these are some of the best seats in the house, allowing you to look out and people-watch (or maybe even watch for friends who are meeting you there). There's also a back patio for when the weather is nice and a schedule of food trucks. Dark, sour, hoppy, or ale -- Hitchhiker has something for everyone on tap. They even have more experimental beers, like Mashmallow: a rich dessert stout brewed with Count Chocula cereal and Leona's ice cream. Stick out your thumb, and work your way up the road to this brewery. 
Key beers: Bane of Existence, Myrcene
Est. 2004 | East Liberty
East End Brewing was on the forefront of the craft beer movement in Pittsburgh when it came on the scene, and it's still a force in the 'Burgh today. At its East Liberty location, patrons have their choice of indoor and outdoor seating, and a variety of events like Grains to Glass tours, trivia nights, and more. Since this brewery has been a local fixture for years, it celebrates its deep roots by featuring Pittsburgh artists on its walls. While East End has a lot of hoppy brews, there are also year-round non-hoppy offerings like the classic Fat Gary Nut Brown Ale, which combines dark malt character with a light sweetness. If you're all about the hop, though, the Bigger Hop Imperial IPA is considered the grandfather of East End hop beers. 
Key beers: Big Hop American Ale, Monkey Boy
Est. 1986 | Troy Hill
Like any good hipster drinker, Penn Brewery was doing craft beer before everyone else -- all the way back in the '80s. Penn has the most classic Yinzer vibe of all the breweries in the city, housed in a historic building that used to house the Eberhardt & Ober Brewery. Though it specializes in German-style beer like the mahogany Penn Dark lager (and delicious cuisine like wurst and schnitzel), Penn also serves more trendy beers like Cheater Juice IPA, Berliner Weisse sour, and flavored stouts like German Chocolate Cake. For biking groups hitting the river trails, make Penn a pit stop as it's considered the city's unofficial biker-friendly brewery. They even have the tools to patch you up if you hit the skids (and it's not just the beer's fault). 
Key beers: Penn Pilsner, Chocolate Meltdown
Est. 2018 | Homestead
Hitting up a craft brewery, a restaurant, a bowling alley, and a music venue may sound like too much for a single evening… unless you visit Enix Brewing in Homestead, where it's all in one place. Enix actually has its origins in Spain, having developed two breweries in Madrid before coming to (of all places!) Pittsburgh. The beer list and food menu fuse a bit of this European flavor while respecting Pittsburgh history, with empanadas and tortilla espanola (Spain's version of the frittata), and brews like Vienna-style Levine Lager -- which was named for the former hardware store the brewery occupies -- and German-style Club Lanes Kolsch, a classic, well-balanced light beer that's an homage to Club Lanes bowling alley. When it's nice out, head to the beer garden for some live music.
Key beers: Yusi Fruit, Club Lanes Kolsch
Est. 2017 | Larimer
Couch Brewery takes its name quite literally, with a funky orange couch and retro seating that gives the whole space a living-room vibe. The appropriately named brewskis follow that trend as well, like Recliner, a medium-bodied oatmeal stout with roasted coffee and chocolate overtones; or Plush, which has a nice floral and citrus aroma over a light malt. Don't be surprised if retro programming like The Joy of Painting is on the TV while you play board games and activities like Jenga. For Bob Ross enthusiasts, they even have "Happy Little Trees" painting classes, and for pet-lovers, they have Pints for Paws fundraisers to benefit abandoned and unwanted senior dogs. Plus, every Wednesday night, Couch Brewery hosts Bingo, where you get a chance to win prizes. For a brewery called couch, this place definitely has enough activities and events to get you off one. 
Key beers: Siesta, Ottoman Empire
Est. 2014 | Braddock
The expectation is in the name: these aren't mere brew bros, but Brew Gentlemen, and the Braddock-based brewery cultivates this sophistication further with chic lighting and rustic decor. That refinement carries over into the beer, too: the White Sky chai wheat features a hint of tea flavor that's bright without being overwhelming, and General Braddock's IPA (the flagship beer) has a soft balance of malt and citrus flavors. Table Beer is the brewery's interpretation of Belgian tafelbier, which is traditionally served with meals, and while Brew Gentlemen doesn't have an in-house kitchen, they welcome food trucks like Gyros N'At, PGH Tortas, and more every week. Braddock is a little out of the way compared to other breweries in Pittsburgh, but it's definitely worth the trip.  
Key beers: General Braddock's IPA, Mexican Coffee
Sign up here for our daily Pittsburgh email and be the first to get all the food/drink/fun in the Steel City.