The Absolute Best Cocktail Bars in Pittsburgh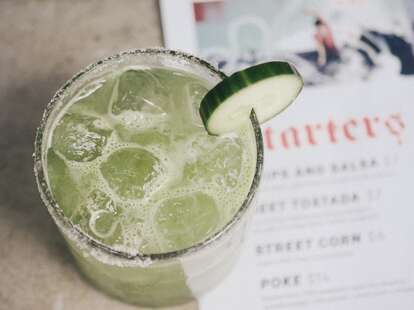 The business of finely crafted cocktails is booming in the 'Burgh. This trend can bring sticker shock (when was the last time you remember receiving a bill for less than $10 for your negroni?), but with it comes a quality that we haven't seen, well…. ever (when was the last time you had a negroni that good?). Bartenders become artists when they're carefully executing every blend and pour. The best of the best drinks can be found at the cocktail bars below, each one worth every penny.
Downtown
täkō is primarily a place to binge on carnitas tacos and guac. But as with its sister bar/restaurant Butcher and the Rye, the staff are skilled at preparing a creative list of margaritas, like aloe and elderflower, and twists on classics libations. Try the Neville Island Tea, a Pittsburgh (and arguably improved) take on the famous Long Island blend, made with Appleton rum, mezcal, Pimm's, blood orange, and pisco.
Strip District
Smallman Galley doesn't stay open later than 10pm on the weekdays, but now we have until midnight on Fridays and Saturdays to drink (and eat). In this restaurant incubator, the bar features cocktails made with local spirits like Maggie's Farm Rum, and pays homage to local sports with Pittsburgh Pirate-themed drinks during the baseball season. The Dock LSD -- a tip of the hat to Dock Ellis and his drug-infused no-hitter -- is a balanced combo of gin and Chartreuse.
Squirrel Hill
Kitsch is king at this deliciously delightful Tiki bar in Squirrel Hill. Swirl your Kokomo (vodka, lime, and ginger beer) or any of the other potent themed creations with a shark swizzle stick, and sip from a colorful straw. Each cocktail will transport you to island living, and you might very well need a vacation after conquering one of the shareable drinks, the Krakatoa (three kinds of rum, lime, honey, falernum, pineapple, bitters, and nutmeg) and the Poko-Lulu Bowl (rum, bourbon, lemon, orange, pawpaw, and orgeat), with friends.
Oakland
A cozy spot that's equal parts sophisticated and casual, Butterjoint features a menu that focuses as much attention on age-old classics like a Sazerac as on new concoctions like the Get Off My Lawn, a bourbon paired with cold brew coffee. Don't know what to order? Trust your drink designer and order up a Mercy of the Bartender, and take your chances with whatever they feel like mixing up.
Lawrenceville
A 1920s vibe radiates from this rehabbed bank-turned-restaurant. A visit to the bar, with plush stools and a beautiful backdrop of liquor bottles accessed by ladder, is as close to time travel as you can get in 2016. It's truly a "menu that celebrates the entire history of American cocktails," as Tender Bar promises, while breaking out of classic cocktail devices in its house cocktails. Once you've been knocked out from trying great choices, grab a final Corpse Reviver with gin, lemon, and absinthe.
Lawrenceville
Grapperia celebrates the not-oft-celebrated-in-Pittsburgh grappa, an Italian grape liquor usually sipped as a digestif. Here, it's featured in drinks like the Italian 75, with grappa, balsamic vinegar, and prosecco, or the Blackberry Smash with grappa, blackberries, prosecco, lemon, and maraschino. Grappa-less cocktails are also on the menu, along with extensive amari and wine lists.
Mount Washington
Good vibes and fun times are shaken together here with themed nights like Bingo Tuesday and Name That Tune Wednesday. But the drinks are serious business at this darling spot on Pittsburgh's most scenic hill. Beautifully crafted cocktails like a Leora, made with blackberry, basil, and strawberry vodka, show off the skills from behind the bar. Too fancy? Order a boilermaker while shouting out "I Wanna Dance With Somebody!"
East Liberty
Be prepared to run into every hip person in town as you wade through the impossibly cool Ace to score a drink at the lobby bar. The prices aren't terribly outrageous, with cocktails clocking in at $10, and the well-curated list, though short, has a drink for all of the vodka, gin, bourbon, and rum lovers. The Fourth River Mule, named for the 412's fourth river legend, is a star, featuring local Boyd & Blair vodka, ginger, turmeric, honey, and a touch of lime. If you aren't a cocktail fan, you can always score a big old can of Narragansett.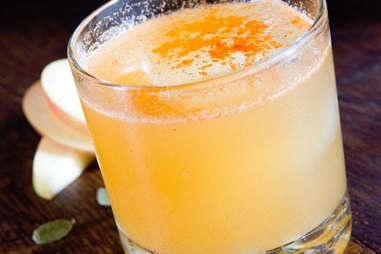 South Side
If you don't know Acacia is on E Carson St, you will miss it. The windows along the sidewalk are boarded up, with just the glow of single lightbulbs to gently signal, "Hey, there's a great secret inside." The secret, or the fact, is that Acacia cocktails are the shit. With a menu of artful cocktails that rotates seasonally, and experts behind the bar, Acacia offers a nice respite from the busy street outside.
Downtown
There is not one, but two bars at Butcher and the Rye. Downstairs features a wall of whiskey as its showpiece, and upstairs' low-lighting lounge vibe is a haven for cocktail sipping. Since opening in 2013, the bar program has been recognized twice as a semifinalist for a James Beard award. So what does that mean? Go get your drink on here, and down the modern takes on classic beverages. You can't go wrong with any of the barrel-aged draft cocktails, a six-month aged negroni, or… really anything on this extensive menu.
Strip District
Bar Marco braved the early days of Pittsburgh's aforementioned cocktail boom to become one of the city's (and country's) stalwart purveyors of quality cocktails -- we just can't really tell you what those drinks are exactly, since it doesn't have a menu. Just tell your bartender what kind of spirits you like, what sort of flavors you're feeling, and he or she will mix you an expertly crafted, impromptu boozy beverage.
Sign up here for our daily Pittsburgh email and be the first to get all the food/drink/fun in the Steel City.
Laura Zorch drinks every cocktail as if it were juice. Not a good look. Follow her at @eatpgh.