The Best Speakeasy-Themed Bars in Pittsburgh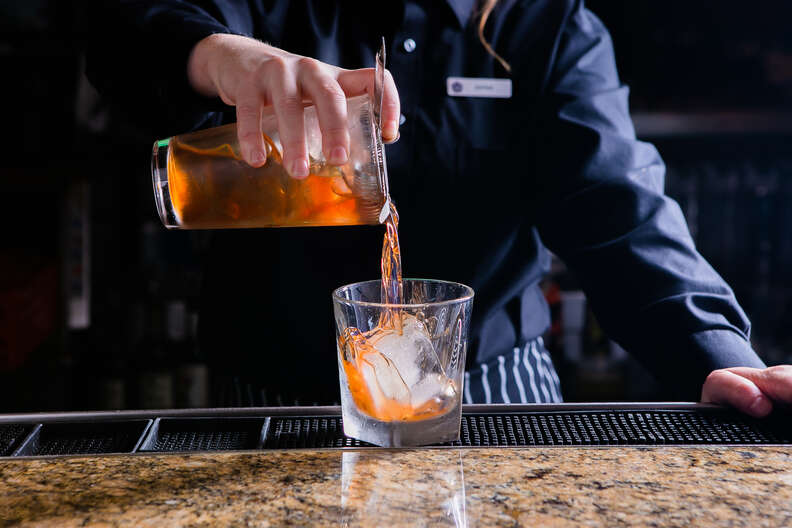 Speakeasy

| Courtesy of Omni Hotels & Resorts
Speakeasy

| Courtesy of Omni Hotels & Resorts
A speakeasy is an idea we're all familiar with. Most of us can close our eyes and envision it; a windowless room illuminated only by fringed lamps and the gold flickering light bouncing off a wall of whiskey bottles, deep velvet chairs, the clinking of ice in tumblers, the low hum of jazz and secretive banter. But unless you have a time machine, visiting a real speakeasy is something you won't be able to tick off your bucket list -- at least not one that illegally serves booze in a prohibition-era America (aka a terrifying time to be alive). While you'll never know the thrill of drinking questionable bathtub gin underground with the constant threat of a police raid, you can enjoy these spots around Pittsburgh that nod to an era of hidden entrances, secret passwords, and beer barons.
South Side
True to its theme, Acacia is hidden in plain sight along East Carson: a street more commonly associated with EDM and coronaRitas than low key lounges and fine whiskey. The front windows are boarded up and the entrance is a glass door lined with newspaper that makes it look like an out-of-business storefront (which isn't an entirely uncommon sight in Pittsburgh). But inside you'll find a warm and intimate lounge with vintage glassware and a rotating list of classic and signature cocktails like the Hot Sharwood, a blend of apple brandy, curry powder, toasted sesame, overproof rum, cream of coconut, and lime. Acacia's dedicated bartenders can also whip up any classic drink you might want, and they're big on educating customers about the history of their cocktails.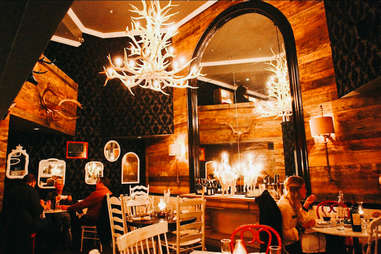 Downtown
If an early 20th-century library was transformed into a speakeasy, it would be Butcher and the Rye. The two-story space is adorned with dark wood and leather seating, and in place of books, you'll find a sky-high wall of one of the largest selections of whiskeys (600-plus bottles) from around the world. The second floor houses the Rye Bar, which focuses on highly specialized craft cocktails like the Salinger's Sling, featuring rye whiskey, orange cognac liqueur, demerara, and house coffee bitters. The windowless bar is expansive but intimate and dark, with vintage cleavers and oil lamps lining the walls. Guests will find lots of nooks and crannies with comfortable seating, including a library lounge and rooms where taxidermied pheasants and a full-size bear will watch over you as you sip on a glass of whiskey.
East Liberty
In true Speakeasy style, Commerce Bar is only accessible to patrons willing to venture off of the beaten path. In an alley in East Liberty, you'll find a door that leads to a warmly lit room reminiscent of an underground, Prohibition-era bar complete with vest- and bowtie-clad bartenders. A split cocktail menu offers a selection of both era-appropriate drinks and new takes on classics like the Tariff Cocktail, which includes Cappelletti Aperitif, pineapple gomme, lime, salt, mezcal, pineapple rum, and bitters. That said, your favorite drink of the night could also be determined by a roll of the dice: you'll be given three dice (one spirit and two flavors) and a roll to determine what kind of drink the bartender will concoct. Combinations are boundless and, with skilled bartenders at your command, every cocktail is bound to be a winner. While we can't give you the exact location of Commerce Bar, we can tell you that you can enjoy a glass of whiskey served alongside a Lil Chunky's Chicken Deluxe on some vintage china.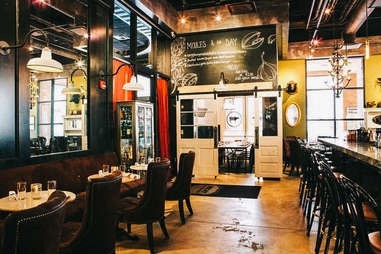 Downtown
Meat and Potatoes' speakeasy vibe is derived from its decor -- which is 1920s on steroids. The large dining area is adorned with antique mirrors and anchored by a 25-seat black lacquer and marble bar. Edison bulbs and vintage sconces abound among the deep booths and velveteen chairs. The gastropub also barrel-ages two house cocktails and has an absinthe fountain, as well as an impressive menu of refined comfort food. Before you try the lobster risotto or bone marrow, though, be sure to order a cocktail from their drink menu that's split into two sections: "Prohibition" and "Repeal."
Downtown
Dwelling beneath Ten Penny on 10th Street and Penn Avenue, this social club is both well-hidden and exclusive. Upon entering through a sliding oak door and down an ivory white staircase, you'll find yourself surrounded by dark wood, plush leather sofas, and the smell of whiskey. Penn Society relishes in its exclusivity by offering a thoughtful collection of wine on tap, a small collection of beers, and a cocktail program created by Corey Bardell. Featuring high-end liquors and ingredients, the cocktail selection values quality over quantity but keeps its flavor profiles simple, with most cocktails containing less than five ingredients. The Cherry Way (featuring homemade cherry syrup) and The Phipps (featuring a homemade lavender syrup) are both standouts that highlight the bar's dedication to quality. The club is open to non-members for a small cover fee, but Penn Society members enjoy perks like extended after-hours access, VIP areas, and member lockers that, in true prohibition spirit, allow you to have cocktails made with your own supply.
Butler
Beneath Butler's Grand Ballroom at Cornerstone Commons resides a dark and smoky lounge lined with brick walls. The foundation of the building was laid in 1905 and is exposed on the interior making it clear you're underground once you enter the bar. The entrance is clearly marked but the winding architecture leads you down to a basement level that, upon entering, is a bit like stepping back in time. A walk-in humidor stocked with a huge selection of cigars is one of RB's most unique features along with a slew of prohibition style cocktails like Gin Rickeys, Bees Knees, and Old Fashioneds.
Downtown
Authenticity is in short supply for bars trying to emulate an almost century-old era, but Speakeasy has serious roots. The space, located underneath the lobby stairs of the Omni William Penn Hotel, was once a legitimate speakeasy. With talk of Prohibition already circling when Henry Clay Frick began planning for his grand hotel in 1910, he preemptively added an underground bar that would feature whiskey from his grandfather's Old Overholt distillery. After Prohibition was repealed, the room became storage space for decades, until reopening as a bar on December 5, 2012 (the anniversary of repeal). Among the decor, you'll find Overholt whiskey bottles from the 1910s and antique "Prohibition prescription" signs from a defunct Bloomfield pharmacy; one sign dated 1926 prescribes a "pint of whiskey" with the symptom listed as "insomnia." And in true Prohibition fashion, Speakeasy still has its original escape route running along the foundation and up a set of stairs to Oliver Avenue to be used in case of police raids.
Lawrenceville
On the side of the building that houses the lively taqueria Round Corner Cantina, there's a red door with a small, cryptic sign hanging above it. From there, a winding staircase filled with red neon signs, muffled music, and the smell of a binchotan grill lead to Umami. This izakaya may not be the most obvious choice for a collection of speakeasy-inspired bars, but Umami's discreet position above Butler Street and dark, intimate interior earn it a place on this list. And, unlike its fellow bars, Umami boasts a full menu of sushi and robata, as well as Pittsburgh's largest selection of Japanese whisky, all of which is served until 2am on weekends.
Sign up here for our daily Pittsburgh email and be the first to get all the food/drink/fun in the Steel City.